What's Up With This 'My Top Surgery Went Well' Meme Template?
Over the past few months, a meme dubbed ""My top surgery went really well":https://knowyourmeme.com/memes/my-top-surgery-went-really-well has popped up in odd corners of the internet, confusing many who come across it. The template shows three characters: the first says, "My top surgery went really well"; the second says, "That's great! My bottom surgery is next week. I can't believe we're both goth and trans; the third says, "I'm a communist."

It's a bizarre template with a meaning that is difficult to parse, which is where we come in. Here, we'll try to break down the elements that have caused this template to trend.
Where Did "My Top Surgery Went Really Well" Come From?
While it's unclear who created the template, its first documented appearance was on the subreddit /r/stupidpol in March of 2019. The original featured Eric and Ariel from The Little Mermaid having the conversation, while Sebastian says "I'm a communist!"

What Is the Meaning Of The "My Top Surgery Went Really Well" Meme?
This is where things get tricky. There are a couple of ways to interpret the image. It could easily be read as a way for the leftist and trans communities to troll right-wing internet users by insisting that classic Disney characters Ariel and Eric are transgender, and Sebastian is a communist. One need only look at the conservative reaction to a live-action Little Mermaid casting a Black actress to see how simple it is to rile up the right by tweaking the identities of pre-existing characters.
Left-leaning internet users also have a history of claiming characters are trans just to goad a reaction out of critics. In 2019, around the same time the Ariel/Eric image was first posted, some internet users started a campaign insisting the canonically genderless Minecraft Bee was trans.

Whatever the intent of the original piece was, the meme was initially shared among those who find identity politics and gender ideology tiresome. After all, /r/stupidpol is a subreddit devoted to "critiquing capitalism and identity politics from a Marxist perspective," and it gained much more attention on /r/comedyheaven, a subreddit for jokes that are "so bad" they've "ascended." This suggests that, at least initially, users thought the image was cringeworthy.
However, the meme has developed in interesting ways in the three years since it was first posted, as variations seem fairly split between people who use the template sincerely as a way to make trans headcanons and people who use the template ironically to poke fun at the template itself.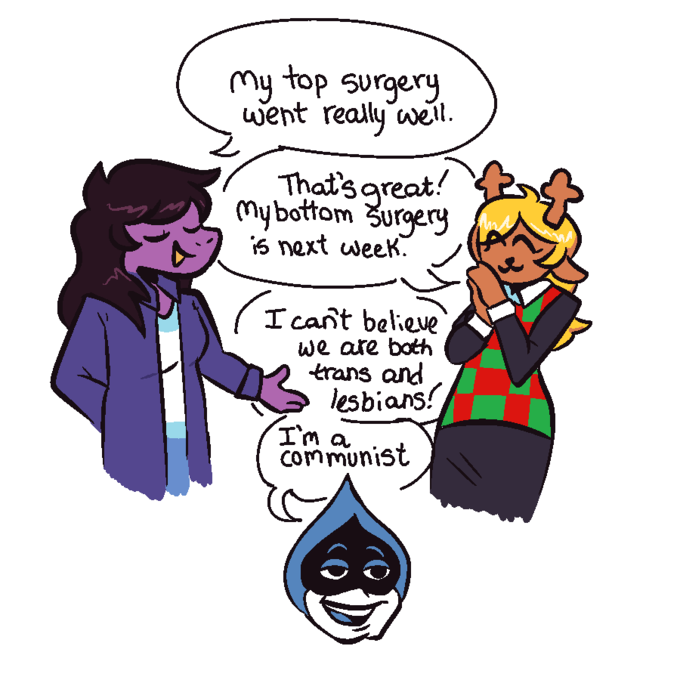 All of this is to say that "My top surgery went really well" is one of the rare memes that have multiple meanings. It's seen legitimate use as both fan art and an ironic meme vehicle, plus it seems to have been applied by both sides of the political spectrum.
Of course, some people may just enjoy the non-sequitur dialogue of the third character declaring "I'm a communist," or some other phrase that has no relevance to the discussion between the other two.

---
For more information, check out the Know Your Meme entry on My top surgery went really well.