My Top Surgery Went Really Well
This submission is currently being researched & evaluated!
You can help confirm this entry by contributing facts, media, and other evidence of notability and mutation.
About
My Top Surgery Went Really Well is an exploitable meme format based on text added to a coloring book page of Disney's The Little Mermaid in which the characters Ariel and Prince Eric are having a conversation with speech bubbles. The meme has seen several redraws since it was first posted in early 2019, with the characters being replaced by ones from other media.
Origin
The original coloring book page depicting a goth Ariel and trans Prince Eric was first posted by Redditor opi to the /r/stupidpol subreddit on March 27th, 2019 (shown below).[1] The original poster of the image is currently unknown.

The page shows Ariel colored in a dark goth color scheme and the following text conversation written in speech bubbles:
Eric: My top surgery went really well.

Ariel: That's great! My bottom surgery is next week.

Eric and Ariel: I can't believe we're both goth and trans!

Sebastian: I'm a communist.
While the original post only received 66 upvotes in four years, the coloring book page saw several reposts to various other subreddits in the following weeks. The earliest repost was on the subreddit /r/comedyheaven on April 25th, 2019, where it received over 1,600 upvotes also in four years.[2]
Spread
Exploitable edits of the original comic began spreading on social media in the years after the original post. For example, Twitter user @bongwater777[3] posted an edit featuring Metal Gear characters on April 6th, 2021, gaining over 590 retweets and 2,800 likes in nearly two years (shown below, left). On September 23rd, 2022, Twitter artist @OkamiWolven[4] made a parody featuring Bayonetta, Dante and Raiden, gaining over 7,000 retweets and 38,000 likes in six months (shown below, right).


Various Examples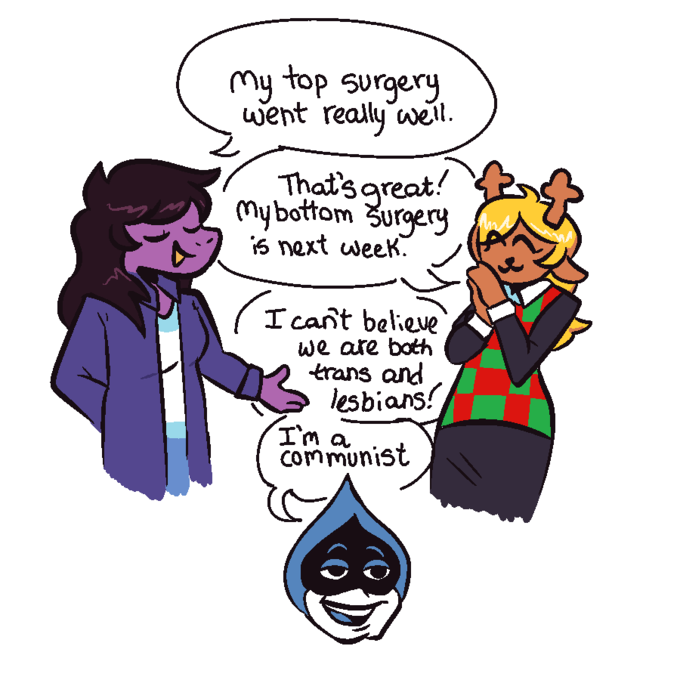 Search Interest
External References
Recent Videos
There are no videos currently available.