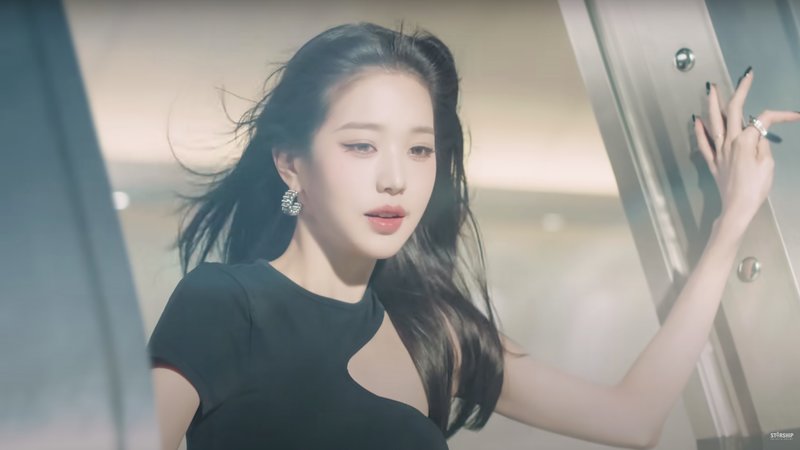 What's With These Memes Of K-Pop Idol Wonyoung Jumping Out Of A Plane?
If you've ever wandered into the K-pop corner of the internet, chances are you've heard a popular TikTok sound that goes "That's my life, it's something something fantasy — SMACK." At this point, you may be confused: What is this song? What's this big smack? Why are people falling down in their videos? You've just stumbled across a meme about Wonyoung jumping out of a plane.
Where Does "Wonyoung Jumping Out Of A Plane" Come From?
The edits are made from the music video for "I Am," currently the latest single from budding K-pop superstars IVE. In the clip, idol Jang Wonyoung jumps out of a plane with no parachute, which makes for a neat transition into the group singing the chorus on the wing of a (presumably) separate plane.
The clip is certainly a little goofy, and initially, K-pop stans had fun cracking jokes, particularly referencing one of the group's earlier singles, "Love Dive."
However, it wasn't until @portfolio_paulm posted an edit of the clip that saw Wonyoung land on the ground with a huge, perfectly timed THUD that the clip became a viral meme.
The video is an immaculate edit, as Wonyoung's crash landing fits perfectly in time with the music. From there, K-pop fans on TikTok couldn't hear "I Am" the same way again, as the "thud" became intrinsic to reposts of the song on the app. Some of the typical K-pop dance challenge videos for "I Am" that appear alongside every release began referencing the meme, adding a moment where all the dancers flop on the ground.
Who Is Wonyoung?
In addition to the meme being funny for simply showing the logical conclusion for Wonyoung's stunt, it gets funnier with a little bit of context about Wonyoung herself. Since debuting as a member of IZ*ONE, Wonyoung has developed a brand as a sort of rich, glamorous, princess-y type. For example, she's appeared in "Get ready with me"-style videos for Vogue, and in a video where IVE was supposed to act rebellious in promotion of their single "Kitsch," she notably barely shakes her head while the other members flail wildly.
All this is to say that Wonyoung, an idol who barely shakes her head when given the opportunity to "cut loose," may possibly be the least likely idol to ever jump out of a plane.
It's also possible that IVE is aware of the meme. In a recent TikTok, IVE member Liz does a parody of Wonyoung jumping out of the plane, along with a POV of what that likely looked like. Most of the commenters agreed: "THEY KNOW 😭."
---
For more information, check out the Know Your Meme entry for Wonyoung jumping out of a plane.