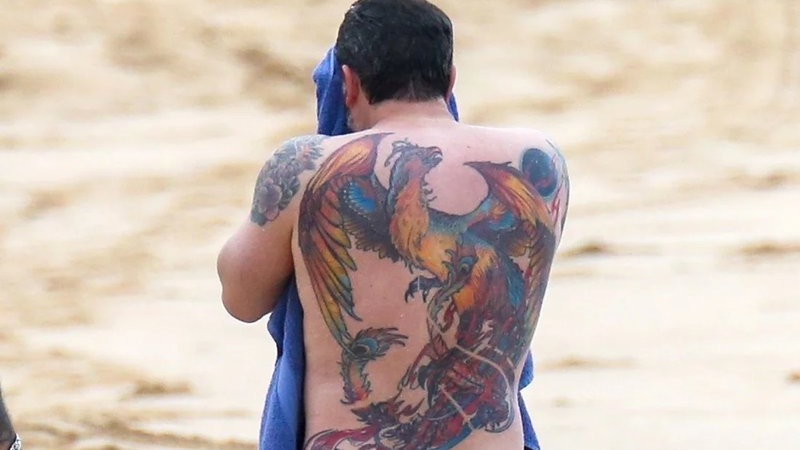 Ben Affleck's Back Tattoo
This submission is currently being researched & evaluated!
You can help confirm this entry by contributing facts, media, and other evidence of notability and mutation.
About
Ben Affleck's Back Tattoo refers to ongoing speculation and jokes about Academy Award-winning actor, writer and director Ben Affleck's colorful, phoenix back tattoo.
Origin
On July 7th, 2015, a picture of Ben Affleck getting into a car revealed a portion of a back tattoo. In an article for People,[1] a quote from Affleck from 2000 revealed his thoughts on his tattoos. He said, "I was young. It was fun and cool. I'm sorry now, but it is a good lesson in decisions that have important and long repercussions."

Spread
Later that year, on December 9th, a photograph from the set of his film Live By Night revealed much of the tattoo, which showed a large colorful phoenix (shown below, left).[2]
Several months later, on February 29th, 2016, actor, recording artist and Affleck's former wife Jennifer Lopez appeared on the late night talkshow Watch What Happens Life with Andy Cohen. During the interview, Cohen asked her what she thought of the back tattoo. She said, "It's awful. I would tell him that. I would tell him[…]His tattoos have too many colors." Since being uploaded to YouTube, [3] the interview clip (shown below, right) received more than 1.9 million views.

In March 2016, actor and former wife Jennifer Garner was asked about the tattoo in an interview with Vanity Fair.[4] She said, "You know what we would say in my hometown about that? 'Bless his heart.' A phoenix rising from the ashes. Am I the ashes in this scenario? I take umbrage. I refuse to be the ashes."
On March 19th, 2016, in an interview with Extra, Affleck told host Mario Lopez that the tattoo was fake. When asked, he said that the tattoo was "fake for a movie."[5]
Confirmation
On March 16th, 2018 the media outlet Popsugar[10] posted an article from the set of the film Triple Frontier. Among the photographs was a picture of Affleck shirtless with his tattoo exposed.
That day, Twitter[11] user @Cinesnark tweeted the photograph of the back tattoo with the caption "Ben Affleck: The phoenix tattoo is fake for a movie. Also Ben Affleck:" The post (shown below) received more than 660 retweets and 4,200 likes in five days.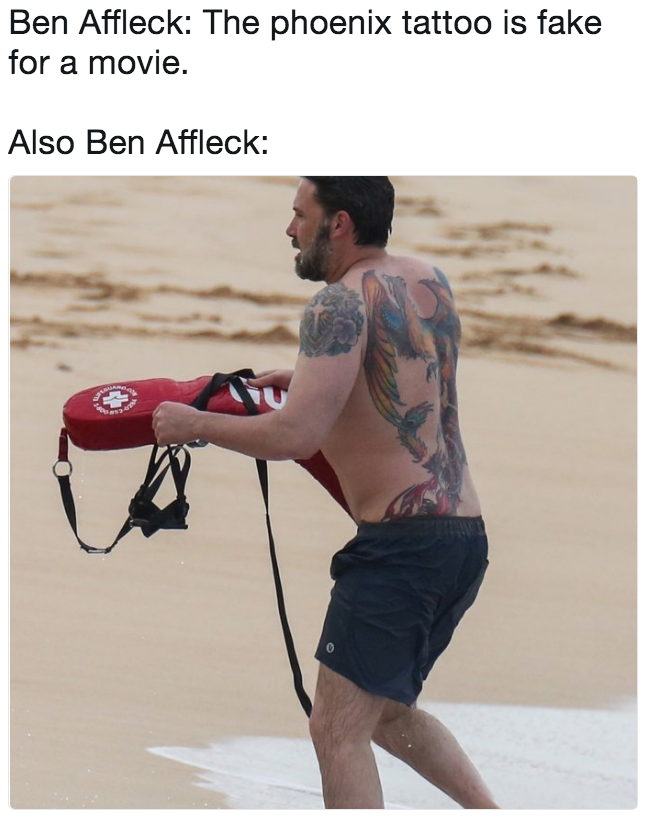 The next day, People[6] magazine published the photographs. Additionally, Twitter [7] user @RafiDAngelo tweeted the picture with the caption, "Next time you're feeling sad, remember that you're not Ben Affleck so you (probably) don't have a tattoo so big and so ugly and so universally ridiculed that you had to lie and say it was only temporary and just for a movie when it is so clearly not." The post (shown below, left) received more than 1,400 retweets and 5,700 likes in three days.
Over the next few days, more people on Twitter began posting jokes about the tattoo. Twitter[8] user @ChaseMit tweeted, "Ben Affleck's back tattoo looks like it was ALSO directed by Zack Snyder." The post (shown below, center) received more than 3,600 retweets and 16,000 likes in two days. Twitter[9] user @MissBritHayes tweeted, "Ben Affleck definitely knows all the words to at least one Limp Bizkit song that wasn't a radio single." The post (shown below, right) received more than 990 retweets and 5,400 likes in 24 hours.
On March 19th, Redditor [13] posted about the tattoo in the /r/OutOfTheLoop subreddit. They wrote:
"It appears to be an objectively gorgeous and well done piece. Are there some high resolution pictures I haven't seen that reveal it to be of low quality? Is it the the idea itself? Is it because it's a specific Phoenix from a children's program or some other embarrassing source? Because he's an actor and so it might be considered unprofessional to cover so much of oneself in ink? I think it's beautiful and well done and I'd bet most "tattoo people" would agree, so why all the hate?"
On March 20th, Twitter[12] published a Moments page about the tattoo.



New Yorker Article
On March 28th, The New Yorker[14] published an article titled "The Great Sadness of Ben Affleck," which discussed rumors about Affleck's failed relationships and emotional state, while describing his tattoo as "enormous" and "garish." That day, the official @NewYorker Twitter feed posted a link to the article along with the message "Ben Affleck's is the kind of middle-aged-white-male sadness that the Internet loves to mock" (shown below).

The following day, Affleck replied to the tweet with the comment "I'm doing just fine. Thick skin bolstered by garish tattoos" (shown below).[15] In less than 24 hours, the tweet gathered upwards of 4,000 likes and 1,100 retweets.

Search Interest
External References