This submission is currently being researched & evaluated!
You can help confirm this entry by contributing facts, media, and other evidence of notability and mutation.
About
Blexit is a portmanteau meaning "black exit" made in reference to a political movement to mobilize African Americans away from supporting the Democratic party. While the term has been used for various other causes, particularly in regards to black Americans, this particular use is a politically motivated movement started by Candace Owens the Director of Communications of the conservative advocacy group Turning Point USA.
Origin
The earliest known usage of the term "Blexit" was posted by Candace Owens on February 23rd, 2018. That day, she tweeted, [1] "It was great meeting and speaking with @Nigel_Farage today. I'm thinking maybe I should name my movement #Blexit (Black-Exit from the Democratic Party). #Blexit2020 #MAGA." The tweet received more than 1,500 retweets and 5,300 likes in less than one year (shown below).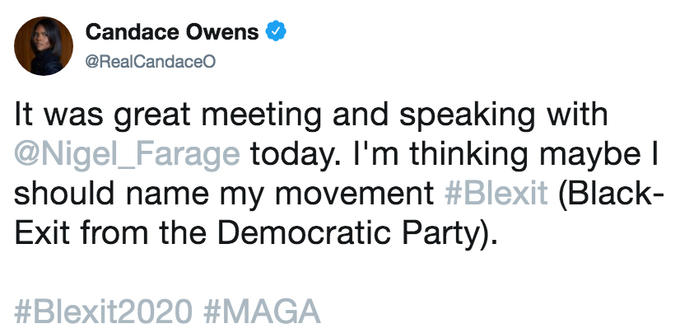 Spread
Kanye West-Designed Shirts
On October 27th, 2018, the New York Post[2] reported that "Kanye West designed T-shirts urging black people to bail on Democrats." According to the Post, the shirts premiered at Turning Point USA's Young Black Leadership Summit in Washington, D.C. (shown below). Owens said of the design, "Blexit is a renaissance and I am blessed to say that this logo, these colors, were created by my dear friend and fellow superhero Kanye West."

On October 29th, Owens tweeted a statement about the reaction to the shirts, where she states that West helped her "design the 'X' fir BLEXIT." She captioned the statement, "#BLEXIT is about the beautiful stories of so many black people who have awakened themselves to the possibilities of our future, as Americans. The press is trying to use Kanye's name to create drama and further divisiveness which is WRONG." The post received more than 1,700 retweets and 5,000 likes in 24 hours.[3]
Some reacted negatively to West's involvement. Twitter[4] user @KevinMKruse tweeted elements of the Blexit website. He tweeted, "Hey, @kanyewest. You don't know what you're talking about here on your new Blexit site: https://blexit.com Every one of these is pretty much a lie." Twitter[5] user @adamcbest tweeted, "Kanye West is making 'Blexit' merch to encourage a black exit from the Democratic Party. What he actually seems to be encouraging is acceptance of the Republican Party's decades-long racist effort to silence black voices via mass incarceration, voter suppression & gerrymandering." The tweet received more than 2,800 retweets and 8,100 likes in 24 hours (shown below, right).



Search Interest
External References
Recent Videos
There are no videos currently available.