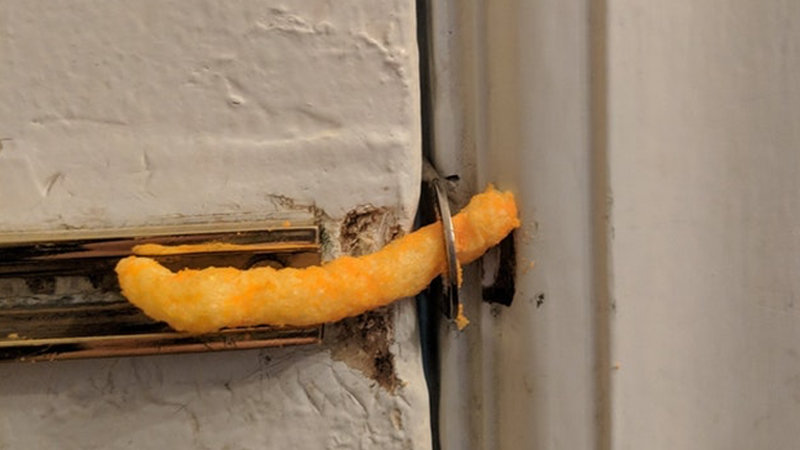 About
Cheeto Lock is an image macro series in which people caption a photograph of a cruchy Cheeto snack food being used as the lock for a door. The image is generally expresses a lazy or non-committal solution to a problem.
Origin
On May 20th, 2018, Redditor [1] kt000545 published the image in a thread on the /r/DiWHY subreddit entitled "My friends lost the lock to their bathroom." The post (shown below) received more than 820 points (93% upvoted).

Spread
Less than two weeks later, people online began posting the image as an expression of a poor solution. On June 1st, Twitter [2] user @MalwareJake tweeted, "Embedding the admin username and password in the HTML comments of your web application…" The post (shown below, left) recevied more than 950 retweets and 2,300 likes in five days. On June 3rd, Redditor[8] 90059bethezip posted the tweet in the /r/ProgrammerHumor, where it received more than 26,000 points (94% upvoted) and 320 comments in three days.
Three days later, on June 4th, Twitter[3] user @franzakeem tweeted, "Me putting my foot down and telling my friends I'm not drinking tonight." The post (shown below, center) received more than 40,000 retweets and 135,000 likes in two days.
The following day, the WorldStarHipHop Instagram [4] page published the tweet and received more than 317,000 likes in 24 hours. Additionally, Redditor [5] published the post in the
/r/MemeEconomy subreddit, where it received more than 1,300 points (97% upvoted) and 600 comments in 24 hours.
On June 6th, Redditor[6] PowerUldi published a two-panel object label in which a team of law enforcement officers are breaking down a door. In the image, the battering ram is labled "dick pic," the door is labeled "the girl I like" and the Cheeto lock is labeled "I have a boyfriend." The post (shown below, right) received more than 26,000 points (92% upvoted) and 250 comments in less than 24 hours.
That day, Redditor[7] asked the /r/OutOfTheLoop subreddit, "What is the meme with the cheeto in place of a doorbell???"



Various Examples






Search Interest
External References
Recent Videos
There are no videos currently available.