Fully Automated Luxury Gay Space Communism
About
Fully Automated Luxury Gay Space Communism is a phrase associated with far left movements on the internet. It envisions an idealistic society where gender norms have been abolished to such an extent that there is little to no difference between gay and straight, and due to automation, luxury is available to all people. Some communities substitute "queer" for "gay" as it is perceived as more inclusive. Other communities replace "Communism" with more specific ideologies such as Anarchism. The term has inspired the creation of communism-themed memes and image macros.
Origin
Fully Automated Luxury Communism, listed on Wikipedia under "Post-scarcity Economy,"[5] is a philosophy which first began appearing in works of science fiction and academic theory. On November 10th, 2014, a prominent believer in the philosophy, Aaron Bastani, uploaded an explainer of Fully Automated Luxury Communism to YouTube (shown below).
The Guardian[4] interviewed Bastani for an article on the philosophy published March 18th, 2015. It is unclear when "Gay" and "Space" began being attached to the ideology, though merchandise with "Fully Automated Luxury Gay Space Communism" appeared on Amazon in the summer of 2015.[6]
Spread
On November 5th 2016, Redditor BlackBeatles305 submitted the question "What is Fully Automated Luxury Gay Space Communism?"[1] to /r/Communism101 where it received 231 upvotes. On December 4th, the same question was posted to /r/OutOfTheLoop [2] where it received 1821 votes. The top comment compared the concept to sci-fi author Iain M. Banks' utopian society known as "The Culture." On November 17th the Facebook page Fully Automated Luxury Gay Space Communism[3] was created, posting communist-themed memes. As of April 3rd, 2017, the page has over 2,200 likes.

Various Examples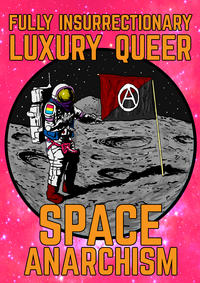 Search Interest
External references