This submission is currently being researched & evaluated!
You can help confirm this entry by contributing facts, media, and other evidence of notability and mutation.
About
Cleaning the Apple Card refers to a series of memes that mock the instructions for removing grime from the Apple Credit Card. Many joked about Apple's instructions that inform people not to place the credit card in pockets with loose change or keys and leather and denim.
Origin
On August 20th, 2019, Apple[1] published a document entitled "How to clean your Apple Card." In the document, Apple instructs, "Some fabrics, like leather and denim, might cause permanent discoloration that will not wash off." Additionally, the document states, "Don't place your titanium Apple Card in a pocket or bag that contains loose change, keys, or other potentially abrasive objects."

Spread
Following the post, people began mocking the instructions, retweeting a report by AppleInsider[2] and joking about the document. For example, Twitter user @maccormier tweeted,[3] "'Don't put the Apple Card in your wallet. Hang in a floating glass frame in a dimly lit, year round 70 degree, humidity controlled location. No flash photography please.'" Within two days, the tweet received more than 24,000 likes and 4,000 retweets (shown below, left).
Throughout the day, others shared jokes about the instructions (examples below, center and right).



Various Examples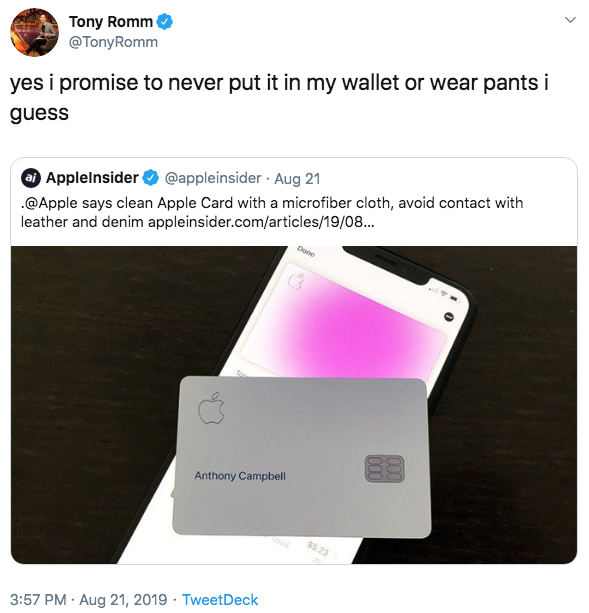 Search Interest
External References
Recent Videos
There are no videos currently available.