About
Dad Joke Dog is an advice animal image macro series featuring a three image set of a dog and a baby. The first image features the set up of the joke with the dog turned to the baby, the second image features the punchline with the dog turned slightly away, while the third is a reaction shot with both the baby and the dog turned to the camera. The jokes are corny, stereotypical dad jokes similar to those featured on Pun Dog.
Origin
On May 15th, 2014, Redditor Problydrunkrightnow submitted a vertical-oriented image macro of a dog cracking a joke about NASA to a baby in an /r/AdviceAnimals[5] post titled "Their expressions were too good to pass up" (shown below). While the image itself was originally titled "Discussion Dog,", it was soon re-dubbed "Dad Joke Dog" by Redditor waylaidbyjackassery in the comments.

Spread
That same day, Redditor Lobo2ffs[1] submitted several derivative images featuring more corny dad jokes and bad puns under the nickname "Dad Joke Dog."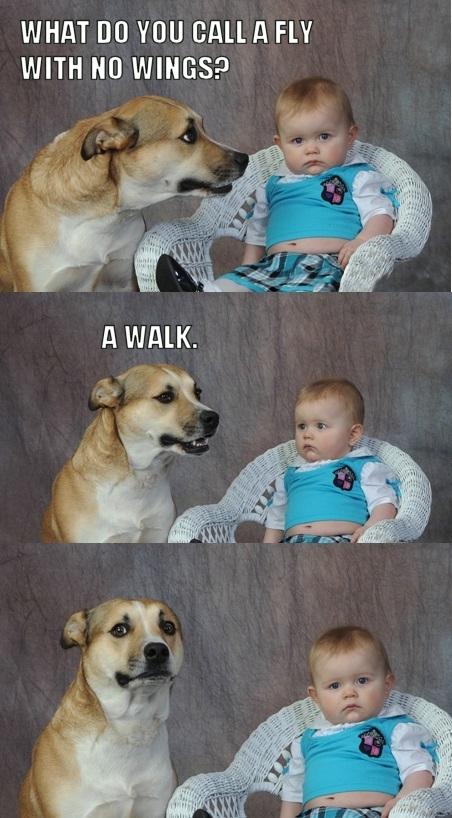 Also on May 15th, 2014, the Tumblr blog TastefullyOffensive[2] re-blogged the original image set and a second example[3] of the meme. In less than a week, the photo set gained over 23,000 notes, while the second example gained over 15,000 notes. On May 16th, WeKnowMemes[4] featured an example of the meme.

Notable Examples






Search Interest
External References
Recent Videos
There are no videos currently available.