This submission is currently being researched & evaluated!
You can help confirm this entry by contributing facts, media, and other evidence of notability and mutation.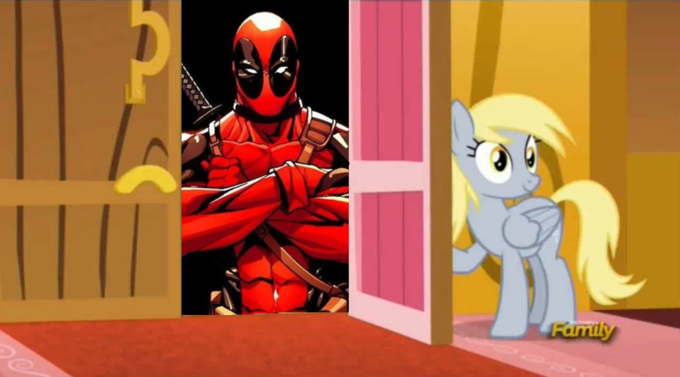 About
Derpy's Door is a Photoshop meme of fan-favorite background pony Derpy Hooves from My Little Pony: Friendship is Magic slamming the door in S5E09 Slice of Life. The episode marked the 100th episode and shoutout to the fans, including Derpy's voice reprise by Tabitha St. Germain.
Origin
The episode Slice of Life[1] is the 100th episode of the Hasbro animated television series My Little Pony: Friendship is Magic, focusing on popular background ponies instead of the Mane 6. The episode was hinted at by the staff of the show in conventions such as San Diego Comic-Con 2014 and PonyCon Australia 2015 leading up to its airing. Near the end of the episode, Derpy Hooves is depicted slamming a door shut and saying "All set, Mayor!", shutting out the approaching Mane Six.
The scene is shown in its entirety in the following video,[5] uploaded by Nonpareil on June 14th, the day after the episode aired. As of November 2015, the video has over 5400 views.
Spread
Popular variations of the meme can be found on Derpibooru,[2] including a GIF of the original scene.[6] It was submitted on June 13th and has 268 net karma, making it the highest-rated image related to the meme on the site.

Examples have also been posted to sites such as DeviantART[4] and Pinterest[5] (shown below). The scene is also referenced by the MLP wiki[8] and TV Tropes.[9]


Various Examples






External References
Recent Videos
There are no videos currently available.