Donald Trump's Letter From Pickle
This submission is currently being researched & evaluated!
You can help confirm this entry by contributing facts, media, and other evidence of notability and mutation.
About
Donald Trump's Letter From Pickle refers to a letter written by a 9-year-old boy named Dylan (nickname Pickle) to President Trump that was read by Sarah Huckabee Sanders at a White House press briefing in July 2017. Online, the validity of the letter has been the subject of debate, leading some to write humorous parody letters and share them.
Origin
On July 26h, 2017, White House Press Secretary delivered the White House press briefing, reading statements from the administration and answering questions from the media. At the start of the briefing, she decided to read a letter from a 9-year-old boy named Dylan, who goes by the nickname "Pickle" (video below).
While she read the letter, Twitter[4] user @briantashman tweeted, "Sarah Huckabee Sanders is reading a letter from a 9-year-old nicknamed "Pickle" who had a MAGA hat birthday cake. I am not making this up." The tweet (shown below) received more than 150 retweets and 500 likes.

Spread
That day, Sarah Huckabee Sanders posted the letter from Pickle on Twitter.[1] The tweet, which contains an image of a letter that looks like it was written by a child, received more than 870 retweets and 3,400 likes in 24 hours.

Within minutes of the picture being uploaded to Twitter, people began posting mock versions of the letter that made jokes about President Trump's policies and controversies that ultimately question whether or not Pickle exists. One of the most popular, post on July 26th, came from Twitter user @jimpjorps[2] posted a letter that read "Release the piss tapes." The post (shown below, left) received more than 250 retweets and 1,200 likes.
Several news outlets reported on the response to Pickle, including HuffPo,[5] TIME,[6] Death and Taxes,[7]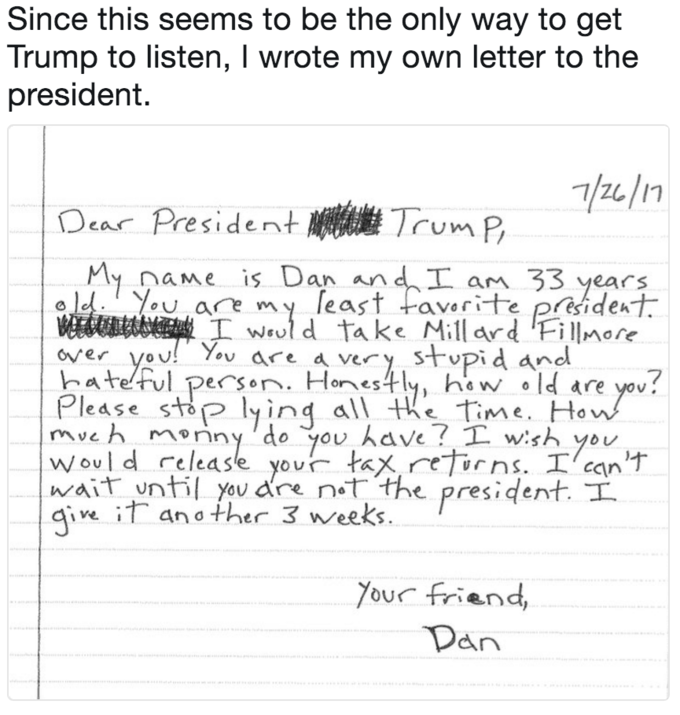 However, some were quick to comment on media response to pickle. Twitter[3] user @benshapiro wrote, "Hey media, you're mad at 9-year-old nicknamed Pickle?" along with a gif of a Deal With It sunglasses landing on a pickle with the caption "Dill With It." The tweet received more than 380 retweets and 1,500 likes in less than 24 hours.

Various Examples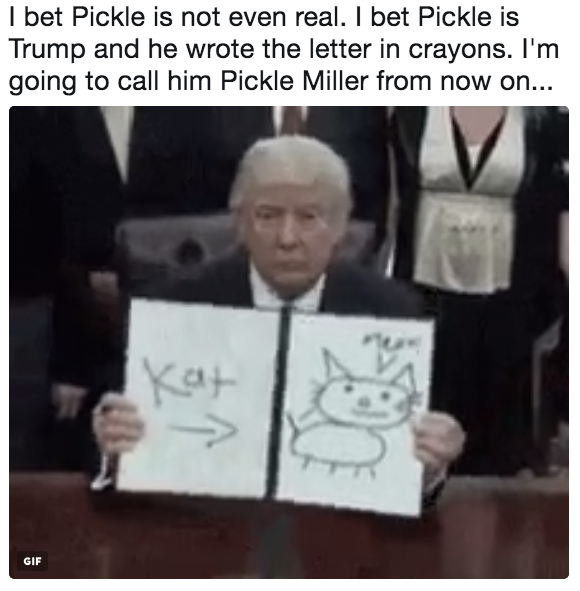 Search Interest
External References
Recent Videos
There are no videos currently available.