Donald Trump's "Sad" Tweets
About
Donald Trump's "Sad" Tweets refers to 2016 Republican presidential candidate Donald Trump's frequent use of the word "sad" to end messages published on his official Twitter feed.
Origin
On June 19th, 2015, Trump tweeted that The Today Show host Brian Williams was "very sad!" after watching an episode of the morning talk show (shown below).[7]

Spread
On November 13th, 2015, Trump posted a tweet criticizing Republican presidential primary rival Carly Fiorina for making "false statements" about him, ending the message with the word "sad" (shown below).

On January 22nd, 2016, Slate[2] published a post highlighting nine Trump tweets ending with "sad!". On March 3rd, The Washington Post[5] published a similar listicle titled "47 Things That Have Made Donald Trump 'Sad' Since He Launched His Campaign." On March 20th, a Quora[6] user submitted the question "Why does Trump use 'Sad!' so much in his tweets?" On April 23rd, Democratic presidential candidate Hillary Clinton posted an article about Trump, ending the tweet with the word "Sad!" (shown below). Within four months, the tweet gained over 2,700 likes and 1,500 retweets.[4]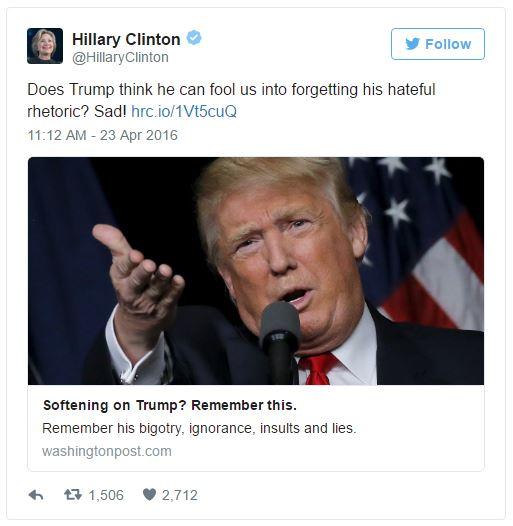 On June 28th, Gawker[8] published an article titled "Where Are They Hiding Donald Trump's Phone?", which speculated that a Trump campaign staff member was running his Twitter account based on a tweet ending with the word "sad" without an exclamation point. On August 9th, data scientist David Robinson published an article on his blog Variance Explained[3] investigating which of Trump's tweet were written by staff, which speculated that an anonymous staffer was imitating Trump's cadence:
"A lot has been written about Trump's mental state. But I'd really rather get inside the head of this anonymous staffer, whose job is to imitate Trump's unique cadence ('Very sad!'), or to put a positive spin on it, to millions of followers."
On August 18th, 2016, NPR interviewed several data scientists examining Trump's Twitter account, who mentioned the frequent usage of "sad!" at the end of his tweets.
Various Examples






Search Interest
Not available.
External References
Recent Videos
There are no videos currently available.