Warning: This page contains material that may be considered not safe for work.
Overview
The Boob Ribbon, also called as "That Ribbon" (Japanese: 例の紐, Rei no Himo), refers to the peculiar character design of the character Hestia from the Anime and Light Novel series Is It Wrong To Pick Up Girls In A Dungeon? (also known as DanMachi). Due to the odd nature of the design, a number of discussions were spawned by fans of the series, questioning whether the design could boost cleavage in real life.
Background
Is It Wrong To Pick Up Girls In A Dungeon first began as a series of Light Novels, beginning circulation in 2013, and later adapted into an anime by studio J.C. Staff, first airing on April 3, 2015. The series follows adventurer Bell Cranel, a young boy who attempts to explore the mysterious Dungeon, so that he can pick up girls, despite the fact it is usually him who ends up requiring assistance. He is accompanied by Hestia, a goddess in charge of watching over Bell, who is notable for her use of a blue ribbon which she hangs over her arms in an attempt to help support her breasts.


Notable Developments
The anime adaption of the series first started airing on April 3rd, 2015. Hestia's unique design resulted in a large fandom following for the character shortly after the anime started airing. Within the first 3 weeks, Hestia fanart on the Japanese image sharing website Pixiv increased to more than 1,000.[1] According to Pixiv's daily view tracker (shown below), the views peaked on April 9th, 2015, with 722,886 views. In that same period, on the online image boards Danbooru[2] and Gelbooru,[3] Hestia's tag had surpassed 1,300 images, making up the largest quantity of the fanart for the show which contained 1,400 images.[4][5] Many of these images of Hestia prominently feature the ribbon.

A particular scene featuring Hestia that managed to gain popularity originated from the opening scene of the second episode of the anime, featuring Hestia and Bell Cranel doing a dance while brushing their teeth (shown below). Shortly after, the single serving website hestia.dance[6] was created, featuring solely Hestia and Bell dancing to the Fairly OddParents' song My Shiny Teeth and Me.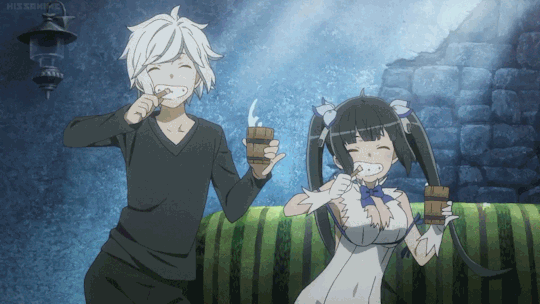 Real Life Ribbon
Following the popularity of Hestia's Ribbon, on April 8th, 2015, various Japanese Twitter users started to test if the ribbon could boost cleavage in real life. Many however ended up disappointed by the results, saying the ribbon didn't give the desired effect. On that date, Japanese twitter user @aiya23mt08cos[12] posted a video of her attempt to replicate the string, coming to the conclusion that the string would not work. As of April 17, the tweet has over 6,000 retweets and 4,500 favorites.
| | |
| --- | --- |
| "My boobs just won't lift up like Hestia's…"[10] | "Nope, sorry, this is all I got."[11] |
Following the usage of the ribbon by Japanese women, the developments were subsequently covered by western media as well. Western sites that covered this include Mirror[7] and Dailymail.[8] In Japan's otaku cultural center Akihabara, stores started to sell Hestia's ribbon or even giving them away for free.[9]

Search Interest
External References
All Videos 1 total
This gallery contains videos that may not be suitable for public viewing.
All Images 79 total
This gallery contains images that may not be suitable for public viewing.