DanMachi / Is It Wrong to Try to Pick Up Girls in a Dungeon?
This submission is currently being researched & evaluated!
You can help confirm this entry by contributing facts, media, and other evidence of notability and mutation.

About
"Is It Wrong to Try to Pick Up Girls in a Dungeon?" (Japanese: ダンジョンに出会いを求めるのは間違っているだろうか Danjon ni Deai o Motomeru no wa Machigatteiru Darō ka), also known as DanMachi, is a Japanese fantasy comedy-action light novel and anime series written by Fujino Ōmori, illustrated by Suzuhito Yasuda and published by SB Creative. Since the publication of the first volume in January 2013, Ōmori's light novel series has spawned a spinoff serial side story under the title "Sword Oratoria," as well as a manga adaptation in three volumes and an anime TV series.
Premise
Set in the fictional realm of Orario, the story follows the adventures of Bell Cranel, a 14-year-old traveler and the sole member of the Hestia Familia, as he explores a vast, dangerous underground maze known as "Dungeon" alongside many other adventurers from various Familia clans in search of massive treasures the labyrinth is said to contain. However, as suggested by the series title, the would-be-hero soon realizes the place contains more than monsters and treasures after a series of chance encounters with beautiful women.



As the adventurers explore the many floors of the Dungeon, they often encounter a wide range of hostile monsters, such as goblins and dragons, whom they must defeat in order to take their shards and craft magical items out of them, as well as other tradable goods for bartering. Each adventurer in Orario belongs to a clan, known as Familia (ファミリア Famiria), which is named after and serves at the pleasure of its god or goddess, wherein the members' roles are structured by their hierarchical rank within the clan[2][3], as well as letter grade ratings of their skills and attributes, much like in role-playing games.
History
Fujino Ōmori originally wrote the story under the name of Familia Myth and submitted it to 4th GA Bunko Award, winning and receiving an offer for publication, releasing the first light novel volume at January 15th, 2013. A manga adaptation began serialization in Square Enix's Young Gangan magazine, on August 2nd, 2013. The series also inspired a light novel and manga spin-offs.



On October 24th, 2014, Yoshitsugu Matsuoka, a voice actor, announced his casting in a new anime series adaptation to be produced by the animation studio J.C. Staff in a Niconico livestream.[12] The anime series premiered in Japan on April 3rd, 2015 (shown below). The next day, Sentai Filmworks announced it has acquired up the license for digital and home video release in North America during its Anime Matsuri panel.
Reception
The light novel series enjoyed critical acclaims and commercial success in Japan. In 2012, Ōmori won the Great Prize at the 4th GA Bunko Award for his work, and the series ranked fourth in Takarajimasha's annual light novel guide book Kono Light Novel ga Sugoi! [13] In December 2014, Yen Press began publishing the English-translated version of the series in North America. As of June 2015, the light novel series has sold an estimated 1.5 million copies.
Fandom
The series quickly developed a substantial online following after the anime's premiere. As of June 24th, 2015, the Japanese illustrator social network Pixiv contains over 4,200 images tagged "ダンジョンに出会いを求めるのは間違っているだろうか,"[5] over 3,600 images tagged "ダンまち"[6] and over 5,300 images tagged "ヘスティア,"[7] The online artist community DeviantART has over 960 submissions submitted under the keyword "DanMachi"[3] and over 9,110 submissions submitted under the keywords "Hestia",[4] being a pivotal character of the show. The /r/danmachi subreddit[14] has over 1,000 subscribers. The fandom's presence can also be found on Tumblr[8][9], 4chan /a/ board,[1][2] and the DanMachi Wiki.[11]



Related Memes
Boob Ribbon
The Boob Ribbon, also called as "That Ribbon" (Japanese: 例の紐, Rei no Himo), refers to the peculiar character design of the character Hestia. Due to the odd nature of the design, a number of discussions were spawned by fans of the series, questioning whether the design could boost cleavage in real life, and inspiring fanart and cosplays.



Teeth Brush Dance
Teeth Brush Dance refers to a memorable scene from the anime opening where Bell and Hestia brush their teeth while dancing. The scene became an exploitable.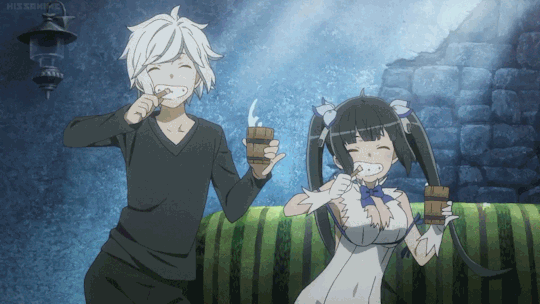 Search Interest
External References