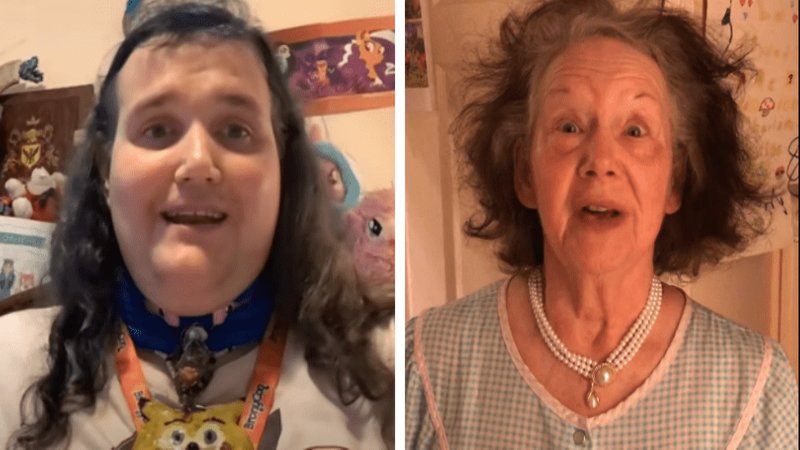 Chris-Chan Mother Incest Allegations
Warning: This page contains material that may be considered not safe for work.

Overview
Chris-Chan Mother Incest Allegations refers to the discovery, arrest and court battle of Chris-Chan for the alleged rape of their elderly mother Barbara. Fans of Chris-Chan, called "Christorians," have dubbed this the "series finale" as Chris-Chan has been involved in so much online drama that each major incident has been declared its own saga.
Background
The audio leak that started the initial controversy was first posted on July 30th, 2021, to the YouTube[1] channel Dr. Retard and obtained 340,000 views in four days (shown below). In the audio, Chris-Chan confides to an unnamed female on the phone about how they went about the act of allegedly sexually assaulting their mother Barbara. The audio itself goes into graphic detail, and later in the same day, there were screenshots of a text conversation that added credence to the audio leak.
The outcry online was immediate, with many people who were unaware of who or what Chris-Chan and Sonichu were becoming quickly acquainted with the lolcow. The calls for action were swift, and within two days, Chris-Chan faced the law.
On August 1st, 2021, Chris-Chan was arrested by the police, who picked them up at a hotel in Virginia. This event was captured on livestream by Ethan Ralph of The Ralph Retort, a holdover niche internet micro-celebrity from the GamerGate era. The livestream was captured and posted on YouTube[2] by the channel BasedShadman, who received 120,000 views in one day (shown below).
Since the initial audio leak prior to the arrest, people have been making memes out of the situation across numerous sites and platforms. This is the common response by people when a lolcow does something that is considered crazy but within their character, and the reason why this event blew up was that it managed to outdo everything else Chris-Chan has pulled so far, as well as be shocking enough of a thing to create a splash in bigger mainstream markets. Twitter[3] user @adachiscastle gained 1,500 likes on his tweet about the impact the incest had on Twitter when it out-trended the Olympics for some time (shown below).
Did you ever think you'd see the day when Chris Chan was bigger news than the Olympics? pic.twitter.com/Yhe1Dn5ry6

— Adachi Tohru 🍰💖 (@adachiscastle) July 30, 2021
Even as early as July 30th, people were starting to discuss what the endgame of this would look like with a trial date and more Chris-Chan fighting the law again. This is touched on in a tweet from Twitter[4] user @Actually_Tina, who postulates that neither Chris-Chan nor Barbara could be considered of sane mind in the court of law, earning 550 likes in two days (shown below).

This uncertainty about legal interpretations presented itself more thoroughly when the charges against Chris-Chan were officially brought up. Officially, Chris-Chan is charged with incest, however, some contend that the law in Virginia does not have the legal definition updated to allow for mother-daughter incest to be considered a real offense. Because Chris-Chan identifies as a woman, named Christina, there are plenty of people confused at how it would legally work, and memes being made about the lawyer having to navigate that fact and the rest of the Christory.
Online Reactions
Memes about the event come in all different types, as there are multiple instances that people have chosen to meme. The actual act of the incest itself and its implications have been memed in several ways. On July 30th, the Twitter[5] account DYormom tweeted in the style of Chris from the Total Drama television series, earning over 3,300 likes in three days (shown below).

With the arrest made and court approaching, memes about the lawyer who will have to represent Chris-Chan began spreading online. The general consensus from many online is that the lawyer responsible for the case will have a mental breakdown and need therapy afterward. This is shown visually through the meme tweeted[6] by @ChelleDoggo on August 1st that received 2,7000 likes in one day (shown below).
chris-chan's lawyer pic.twitter.com/yY4UaxpJQB

— CHELLE D☯GGO (@ChelleDoggo) August 2, 2021
Developments
Null's Letters From Prison
On September 24th, 2021, Null, the creator of KiwiFarms, posted what appeared to be handwritten letters from Chris-Chan that had instructions to relay the contents of the letters to Null. In the letter, Chris-Chan allegedly confesses to several things: being the second coming of Jesus, being one with the universe and knowing all of its secrets, having merely been saving Barb by healing her sins in the same way they used to do in Israel 2,000 years ago and of only borrowing money that they had full intentions of paying back.
The letters themselves proved to be further fuel on the fire, as many people started to pick at the writing style, the contents and the overarching narrative being portrayed through them. On September 25th, 2021, Redditor[7] TrashClear438 posted a Left Exit 12 meme about Chris-Chan, which received 1,200 upvotes in three days (shown below).

Kenneth of Onion Farm's Letter
On October 4th, 2021, Chris-Chan sent a letter to Kenneth from Onion Farms, a website in a similar vein to Kiwi Farms. The letter was uploaded to the subreddit[8] /chrischansonichu/ on October 10th, 2021, where it received 1,300 upvotes in one day (shown below). In the letter, self-named 'Jesus Christine Weston Chandler Sonichu' addresses Kenneth in the third person, continually calling themselves the incarnation of Jesus, Ready Player One, and the Avatar. After name dropping several fictionalized characters such as Fox McCloud, Jenny Wakeman, Danny Phantom, Inuyasha, and Papa Smurf, as well as all Original Content characters. Notably, Chris-chan claims to be accepting donations and prayers at their temple, and that all prayers to Jesus in the past 40 years have been sent to Christine, despite only being 39 years old. There is commentary on the meatballs and chicken that is offered inside the prison, followed by asking their followers to appeal to President Joe Biden to ask for a pardon.
Grand Jury
On July 29th, 2022, it was confirmed that Chris-Chan would have their case go before a Grand Jury for the point of gathering together the evidence and seeing if there was enough to proceed with a trial by jury. The update to the court situation was uploaded onto YouTube by the channel RevSaysDesu[9] where it obtained over 66,000 views in two days (shown below).
Various Examples






Search Interest
External References