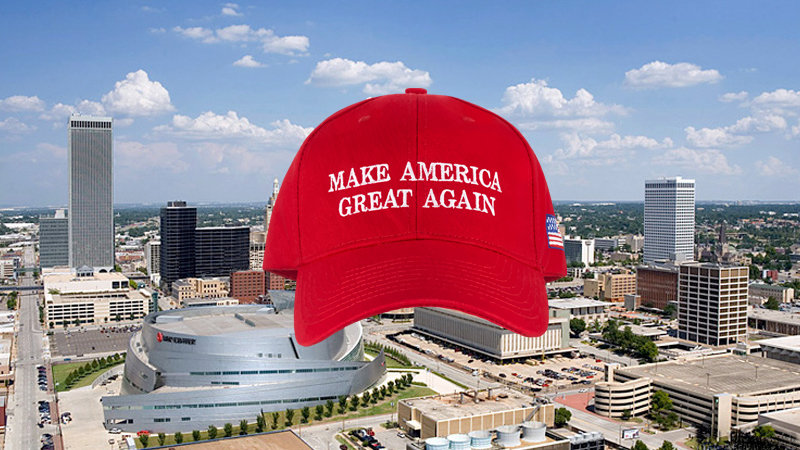 Donald Trump's June 2020 Tulsa Rally
This submission is currently being researched & evaluated!
You can help confirm this entry by contributing facts, media, and other evidence of notability and mutation.
Overview
Donald Trump's June 2020 Tulsa Rally was a Trump reelection campaign rally held on June 20th, 2020, at the BOK Center in Tulsa, Oklahoma. The event was the first campaign rally for President Donald Trump's reelection campaign for the 2020 U.S. Presidential election. Critics derided the announcement of the rally, citing concerns over the spread of the coronavirus as well as outrage over having the rally in Tulsa, the site of the 1921 Tulsa race massacre, and initially planning to hold the rally on Juneteenth, which commemorates the emancipation of slaves throughout all of the United States.
Background
On June 10th, 2020, President Trump announced his plans to hold the first of several campaign rallies for his 2020 reelection campaign in Tulsa, Oklahoma, on June 19th, 2020 (shown below).
President Trump announced that he plans to hold his first campaign rally since the coronavirus pandemic in Tulsa, Oklahoma on June 19 and named Florida, Texas and Arizona as places for upcoming rallies pic.twitter.com/rBJ9Te07bv

— Mona Salama (@MonaSalama_) June 10, 2020
Developments
Criticisms
Date Change / Juneteenth Controversy
Following the announcement, many criticized the president for holding a rally in Tulsa on June 19th, Juneteenth. Democratic Representative Karen Bass told NBC that holding a rally there on June 19th was "disrespectful to the lives and community that was lost during the Tulsa race riot."[1] She continued:
This was a massacre of innocent Black inhabitants by White supremacists in a span of 24 hours. This was the worst act of racial violence to date, and yet this is the place that the president, who has pursued nothing but a hostile and oppressive agenda for black people since his inauguration, has chosen to celebrate.
On June 11th, Twitter user @RedTRaccoon tweeted a video about the history of the Tulsa Race Massacre. They wrote, "For those that don't understand the significance of Trump going to Tulsa on Juneteenth, I want you to watch this video. This isn't a coincidence, it's by design." The tweet received more than 1,7 million views, 13,000 likes and 11,000 retweets in less than two weeks (shown below).
For those that don't understand the significance of Trump going to Tulsa on Juneteenth, I want you to watch this video.

This isn't a coincidence, it's by design. #TulsaMassacre pic.twitter.com/wYLCUjq1Ji

— Ted Corcoran (Red T Raccoon) (@RedTRaccoon) June 11, 2020
After days of criticism, Trump moved the rally. He tweeted, [2] "We had previously scheduled our #MAGA Rally in Tulsa, Oklahoma, for June 19th – a big deal. Unfortunately, however, this would fall on the Juneteenth Holiday. Many of my African American friends and supporters have reached out to suggest that we consider changing the date out of respect for this Holiday and in observance of this important occasion and all that it represents. I have therefore decided to move our rally to Saturday, June 20th, in order to honor their requests." The initial tweet received more than 130,000 likes and 30,000 retweets in less than two weeks (shown below).

Health Concerns
Health officials expressed concerns over the rally, scheduled to take place during the coronavirus global pandemic. The site of the rally, the BOK Center, holds 19,000 seats. On June 12th, many noted a liability waiver that registrants were required to acknowledge before completing their registration. This waiver absolves the Trump campaign of responsibility if an attendee contracts the coronavirus at the rally.[3] It reads:
By attending the Rally, you and any guests voluntarily assume all risks related to exposure to COVID-19 and agree not to hold Donald J. Trump for President, Inc.; BOK Center; ASM Global; or any of their affiliates, directors, officers, employees, agents, contractors, or volunteers liable for any illness or injury
On June 15th, Dr. Bruce Dart, the executive director of the Tulsa County Health Department, expressed great concern over the rally.[6] He said, "Regardless who is hosting this rally, we would recommend you not attend large events. If you want to stay safe, don't go."
On June 17th, Dr. Anthony Fauci, the head of the National Institute of Allergy and Infectious Diseases, said he would not attend the event.[5] He said, "I'm in a high-risk category. Personally, I would not. Of course not." He continued, "Outside is better than inside, no crowd is better than crowd."
On June 19th, the Washington Post[4] reported that the "Oklahoma Supreme Court rejected an appeal of a lawsuit attempting to block President Trump from holding an indoor campaign rally Saturday in Tulsa that many feared could worsen the spread of coronavirus."
The Trump campaign's communications director, Tim Murtaugh, stated on Saturday that six staffers who had helped to set up the campaign rally had tested positive for COVID-19 [14] and that they, and people with who they had close contact with, would not be attending the event.
Trump's Criticism of Protesters
On June 19th, 2020, President Trump warned against protests at his rally. He tweeted,[7] "Any protesters, anarchists, agitators, looters or lowlifes who are going to Oklahoma please understand, you will not be treated like you have been in New York, Seattle, or Minneapolis. It will be a much different scene!" The tweet received more than 215,000 likes and 72,000 retweets in less than 48 hours.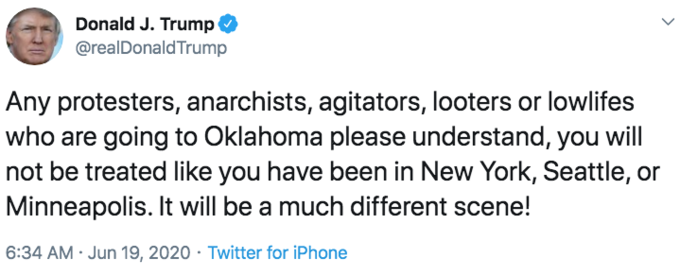 Trump stated during the rally, "We just saw it outside. You saw these thugs that came along these people call them protesters, isn't it beautiful?"[11] The campaign claimed that protesters had prevented people from entering the BOK center and blocked metal detectors, though multiple journalists say they did not see this happen.[10]
The Tulsa Police had reported just one arrest during the protests. They tweeted [10] after the event that "there are multiple groups of demonstrators with varying viewpoints in the area adjacent to the rally. Overwhelmingly these encounters have been peaceful with everyone attempting to share their views."[12]
Use of the Tom Petty's "I Won't Back Down"
During the rally, the Tom Petty song "I Won't Back Down" was played.[8][9] The estate of Tom Petty later tweeted an image that it had not given permission for the campaign to use the song and it had "issued an official cease and desist notice to the Trump campaign"


West Point Ramp Video / Drinking Water
During the speech, President Trump refuted reports of his failing health by drinking a glass of water with one hand. The week prior, President Trump lifted a glass of water with two hands and carefully walked down a ramp at West Point Military Military Academy, where he delivered a commencement address. In Tulsa, Trump said he drinks water that way to prevent spills:
I look down at my tie because I've done it, I've taken water and spilled down onto your tie, it doesn't look good for a long time, and frankly, the tie is never the same.
He also claimed that his arms were tired from saluting "600 times."
After he sipped from the glass in a performative manner, the crowd applauded.
Some online mocked the president for the comments. In particular, a video of actor Henry Winkler drinking a glass of water with one hand received more than 3 million views, 196,000 likes and 27,000 retweets in less than three days (shown below).
One hand pic.twitter.com/nrCOW27Yuk

— Henry Winkler (@hwinkler4real) June 22, 2020
'Kung Flu' / Coronavirus Comments
Before bringing up the video of himself at West Point from the previous week, Trump used the term 'Kung Flu' to refer to the Coronavirus outbreak, a term which had received previous criticism for being seen as racist.
- it's a disease without question has more names than any disease in history. I can name 19 different versions of names. Many, call it a virus, which it is. Many, call it a flu. What difference?"
Trump said that he asked health officials to "slow the testing down." He said:
When you do testing to that extent, you're gonna find more people, you're gonna find more cases. So I said to my people slow the testing down.
A White House official said that he was joking.[17] However, Trump tweeted on June 23rd [] that 'With smaller testing we would show fewer cases!' (Shown Below
Cases are going up in the U.S. because we are testing far more than any other country, and ever expanding. With smaller testing we would show fewer cases!

— Donald J. Trump (@realDonaldTrump) June 23, 2020
Turnout
Prior to the rally, Brad Parscale, Trump's reelection campaign chairman, had tweeted that there were more than a million ticket requests for the event.[13] Tulsa city officials had expected over 100,000 in downtown Tulsa. However, AP News reported that the BOK center, which holds more than 19,000 people, was around a third empty at the official start of the rally.[10] Before the rally began, the campaign canceled an overflow stage for the event due to low turnout. The campaign had claimed that protesters had blocked people from entering though no evidence of this was seen or provided.[10][18]
Before the rally, there had been calls by people on TikTok, Twitter, Facbook and other social media applications to register for the free event and not attend.[15] TikTok user Mary Jo Laupp uploaded a video[16] on June 11th, 2020 in response to Trump's initial rally on Juneteenth, telling followers that people could reserve 'two free tickets per cellphone number, instructing them to reserve and not show up if they wanted the rally to "see this 19,000 seat auditorium barely filled or completely empty." In 10 days, the video received over 706,000 likes (shown below).
This call to reserve seats and not show up was also shared among the K-Pop community.[12][15] Many of these posts among both communities were deleted relatively quickly in an attempt to hide this action from the Trump campaign.[12]
Principle deputy principal deputy communications director for the Trump campaign, Erin Perrine, was quoted as saying "Leftists do this all the time. They think if they sign up for tickets that will leave empty seats. Not the case at all. Always way more ticket requests than seats available at a rally. All they are doing is giving us access to their contact information." [15]
Herman Cain's Death
Herman Cain attended the Tulsa Campaign rally. That day, Cain's verified Twitter[20] account tweeted a photo of himself and others (shown below), most of whom were not practicing social distancing or mask-wearing guidelines, including Herman Cain himself. The tweet said, "Here's just a few of the #BlackVoicesForTrump at tonight's rally! Having a fantastic time!"

Herman Cain later tested positive for Conavirus on June 29th, 2020, and on July 1st, his complications became serious enough to require hospitalization. [21][22] This was announced on his Twitter on July 2nd (see below).

On July 30th, Herman Cain died from complications related to the virus. [23]
Related Memes
Vote Trump 2020 Family Band
Vote Trump 2020 Family Band Video is a viral video featuring a group of adults and children singing a song about voting for President Donald Trump in the 2020 United States Presidential Election.
Welcome to #Tulsa. People are already in line. Also, re-election songs. #MSNBC pic.twitter.com/P96d1HeMbD

— Cal Perry (@CalNBC) June 18, 2020
Search Interest
External References