Ontario High School Teacher Kayla Lemieux's Prosthetic Boobs Controversy
Warning: This page contains material that may be considered not safe for work.
This submission is currently being researched & evaluated!
You can help confirm this entry by contributing facts, media, and other evidence of notability and mutation.
About
The Ontario High School Teacher's Prosthetic Boobs Controversy refers to a controversy regarding a transgender (MTF) Oakville Trafalgar High School teacher in Canada named Kayla Lemieux wearing large, oversized prosthetic breasts with visible nipples to class. In late 2022, an administrative email surfaced that aimed to calm parental outrage over Miss Lemieux's appearance. Images of her wearing tight T-shirts in a classroom setting surfaced on social media sites like Twitter and 4chan afterward, causing memes, reactions and discourse en masse.
Origin
On September 14th, 2022, Twitter[1] user hippojuicefilm started a thread of videos and photos taken from currently unknown Snapchat users, starting with a video of a woodshop teacher at a Canadian high school working on a circular saw. The primary tweet of hippojuicefilm's thread received roughly 1,000 likes in six days (shown below).
On September 15th, 2022, a quote retweet from Twitter[2] user twammit gained 2,600 likes in five days in which they claimed to have found the high school teacher's name (shown below). On September 16th, 2022, feminist news outlet Reduxx[3] published an article about the teacher, revealing that her name was Kayla Lemieux and that she was a Manufacturing Technology instructor at Oakville Trafalgar High School in Oakville, Ontario. According to Reduxx, the teacher recently transition over the summer of 2022, coming back to school for the new year as a transgender MTF.
At first, I thought this might be a hoax, but I did some googling and it's real. I found the name of the teacher and high school. There are multiple shots by different students on different days. This teacher is somehow allowed to act out their fetish in front of minors every day https://t.co/thumS59nqJ

— twam (@twammit) September 16, 2022
The majority of the photos (shown below) were leaked from a Twitter user named luvisrawg who later deleted the tweets and changed their username. However, evidence[4] of the thread is still accessible online, as well as screenshots of it (shown below, bottom right).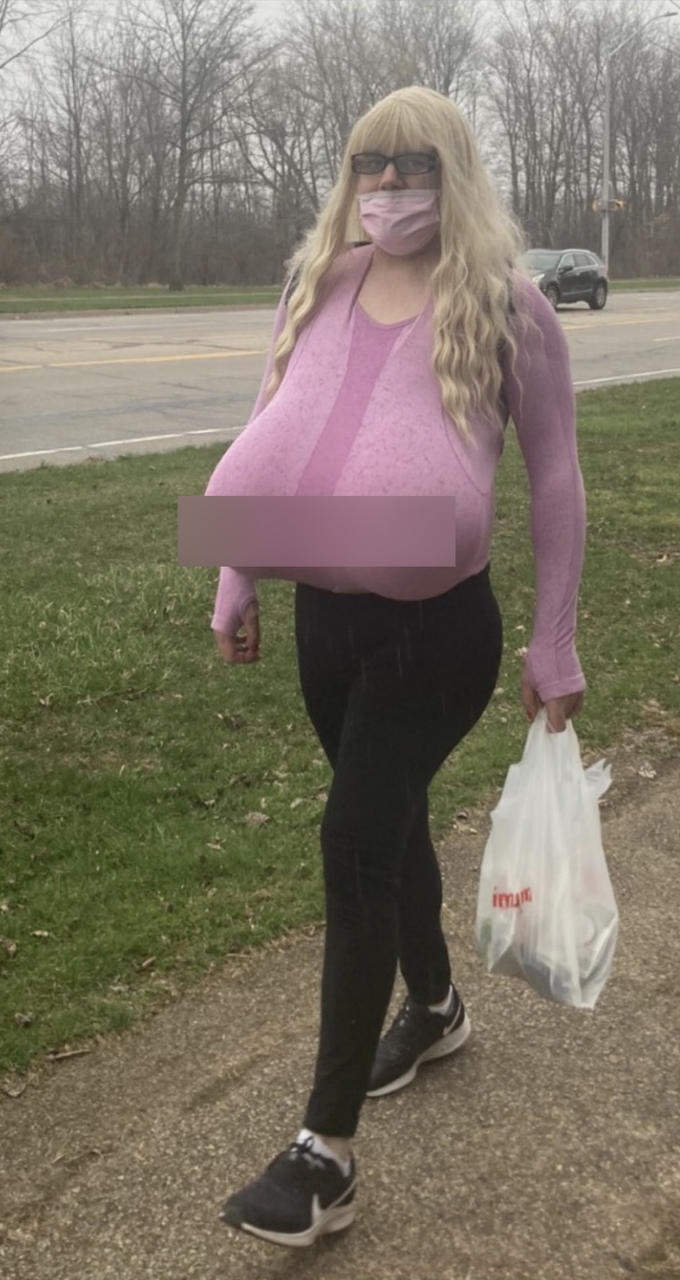 Developments
Reactions and Memes
In the days that followed, more Twitter users became aware of the photos, captioning them in tweets. For instance, on September 17th, 2022, Twitter[5] user RamboJohnJ22 tweeted, "This is a high school shop teacher. for real," gaining over 7,000 likes in three days (shown below, left). On September 17th, Twitter[6] user and Reduxx writer MrAndyNgo tweeted a link to the article, gaining over 5,100 likes in three days (shown below, right).


The discourse spread to 4chan on September 16th when an anon posted a screenshot of Reduxx's headline to /pol/[7] (shown below). Many anons added to the thread, inspiring discourse and memes. For instance, on September 16th, an anon posted a line-drawing GIF to /pol/[8] that showed the teacher sawing one of her breasts off.

Oakville Trafalgar High School Response / Email to Parents
On September 16th, 2022, Twitter[9] user MsGerlee tweeted a reply that included a screenshot of an email she'd received from Oakville Trafalgar High School about Kayla Lemieux's prosthetic breasts (shown below, left). The school's administration ultimately supported Lemieux's appearance, stating, "Oakville Trafalgar High School recognizes the rights of students, staff, parents/guardians and community members to equitable treatment without discrimination based upon gender identity and gender expression." Although MsGerlee's reply received only four likes, on September 18th, 2022, Twitter[10] user ClownWorld_ tweeted the statement screenshot and received roughly 16,300 likes in two days (shown below, right).


Tucker Carlson 'Exploding Milk Porn' Segments
In segments about Lemieux aired on consecutive nights, Tucker Carlson baselessly claimed that Lemieux's breasts were so large because she was attempting to emulate "a style of Japanese pornography that roughly translates as 'exploding milk porn.'" The segments were tweeted by @shoe0nhead (shown below) and flabbergasted social media users. Some Twitter users noted that Carlson was likely referring to a pornography genre known as "爆乳", which simply means "big breasts."
WHAT IS HAPPENING pic.twitter.com/eA201VxVAA

— shoe (@shoe0nhead) September 20, 2022
THE MAN DID IT AGAIN

THIS IS FROM TONIGHT

THIS IS WHAT ALL YOUR BOOMER RELATIVES JUST SAW ON TV pic.twitter.com/mDnG1L2DeQ

— shoe (@shoe0nhead) September 21, 2022
New York Post's "Dresses As Man Outside Of School" Article
On February 17th, 2023, the New York Post[11] published an article titled, "Trans teacher with Z-size prosthetic breasts dresses as man outside of school, neighbor says," in which writers Jack Morphet and Andy Tillett relayed an account from an anonymous neighbor of Lemieux that she does not wear the prosthetic breasts and other feminine clothing at all the times. Instead, the neighbor alleged that Lemieux "puts the breasts on to teach, occasionally when he goes for a walk or when the cops visit." The New York Post provided its own photos taken of Lemieux both dressed with the prosthetics and not (shown below).


The New York Post posted a tweet[12] about its article on February 17th, 2023, gaining roughly 12,000 likes in three days.
Kayla Lemieux Placed on Leave
On March 1st, 2023, following the New York Post article that reported she only wears the prosthetics when in school and dresses as a man at other times, news broke that Kayla Lemieux was placed on leave by Oakville Trafalgar High School. According to reports from The Daily Beast,[13] the decision was due to "growing outrage from parents about the size-Z prosthetic breasts she apparently wears to teach in the classroom."
Heather Francey, a spokesperson for the Halton District School Board, said that while Lemieux is not on any active assignments from the school board, she remains employed.[14]
Following reports spreading online in early March 2023, renewed discussions about Kayla Lemieux and her removal from the school appeared on numerous social media platforms, as well as being discussed by various content creators and podcasters. For example, on March 2nd, Tim Pool discussed her removal on his Timcast YouTube channel in a video that received over 40,000 views, 4,600 likes and 1,300 comments in roughly two hours (seen below).
Search Interest
External References
All Videos 2 total
This gallery contains videos that may not be suitable for public viewing.
All Images 27 total
This gallery contains images that may not be suitable for public viewing.