This submission is currently being researched & evaluated!
You can help confirm this entry by contributing facts, media, and other evidence of notability and mutation.
Overview
PogChamp Twitch Ban refers to the live-streaming site Twitch banning the PogChamp emote from its platform on January 6th, 2021. The reason for the ban stems from a tweet by Ryan "Gootecks" Gutierrez (whose face is the emote) that same day after he tweeted about the "Save America" protests in D.C., which the company stated, "encouraged further violence." The announcement sparked a debate around the controversy regarding the emote and Gootecks on social media following the ban.
Background
On January 6th, 2021, during the protests taking place in Washington D.C., Gootecks posed a question on his Twitter[1] account regarding the woman who was shot and killed by police during the storming of the Capitol Building. The tweet was posted around 5 p.m. and received over 4,300 likes and 2,000 retweets in 20 hours (seen below).

At around 9 p.m. that same day, Twitch then announced on its Twitter[2] account that they'd made the decision to remove the emote from the platform citing Gootecks "encouraging further violence" via his tweet. The announcement received over 259,000 likes and 60,000 retweets in 15 hours (shown below).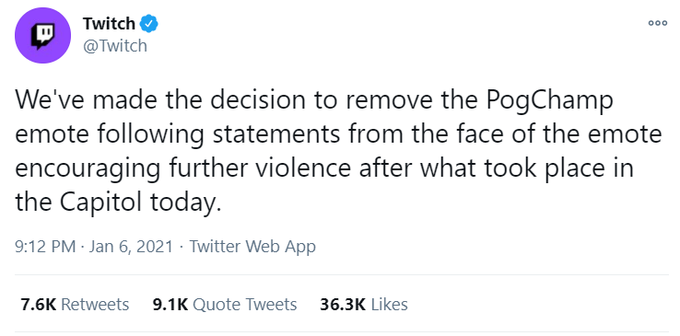 Twitch continued elaborating on the ban and their plans to replace it in additional tweets in that chain (seen below).
"We want the sentiment and use of Pog to live on – its meaning is much bigger than the person depicted or image itself– and it has a big place in Twitch culture. However, we can't in good conscience continue to enable use of the image. We will work with the community to design a new emote for the most hype moments on Twitch."
Developments
Online Reactions
Initially upon Twitch's announcement of the ban, many were confused as to why the decision was made, including several Twitter users in the replies beneath the original. One such example was tweeted by Twitter[3] user Scrubings on January 6th, 2021, who asked what happened to PogChamp, which included a screenshot of Gootecks' tweet that received over 2,100 likes in 17 hours (shown below). Other Twitter[4] users, such as Sausage Mouse, then replied stating that the justification for the ban was unwarranted.

News of the ban rapidly spread elsewhere online to sites such as Reddit, where a thread on the /r/LivestreamFail[5] subreddit accumulated over 34,800 upvotes, 3,000 comments and numerous Reddit Awards in 14 hours after the tweet was shared. Media outlets like The Verge[6] and Polygon[7] also reported on the story that same day.
On YouTube, several big content creators also began uploading their reactions to the announcement, including YouTuber[8] Memeology 101 who received over 187,000 views, 14,000 likes and 4,100 comments in less than 24 hours (seen below, left). On January 7th, YouTuber[9] Pegasus also uploaded a video discussing the ban, receiving over 170,000 views, 18,000 likes and 4,000 comments within one day (seen below, right).
Also online, several users began making memes about the ban either poking fun at its ban or commemorating it through humorous edits. One such example was posted by Redditor ggundega on January 7th to the /r/tommyinnit[10] sub, accumulating over 5,200 upvotes, 214 comments and numerous awards in nine hours (shown below, left). That same day, Redditor Deathvapor22 shared another variant on the /r/shitpostcrusaders[11] sub, accumulating over 8,300 likes, 180 comments and several awards in 12 hours (shown below, right).


Push For KomodoHype Emote Replacement
Following the ban, several users on multiple platforms and sites also began pushing for various replacement options to use instead of PogChamp. One of the most prevalent was the KomodoHype emote, depicting a komodo dragon with a similar expression of hype to the original PogChamp image. One such post was made by Redditor superposhposh to the /r/xqcow[12] subreddit where it received over 660 upvotes in 19 hours (seen below).

24-Hour Rotation Solution
On January 8th, 2021, Twitch announced it would be introducing a new "PogChamp" face every 24 hours, picking from popular streamers on the platform. The first face chosen was that of Kenny "Unroolie" McWild.
You know what? In the spirit of figuring out 2021 together, let's just roll with it for now!

Get ready for a new PogChamp every 24 hours, starting today. https://t.co/R16EyASsFx

— Twitch (@Twitch) January 8, 2021
Meme Examples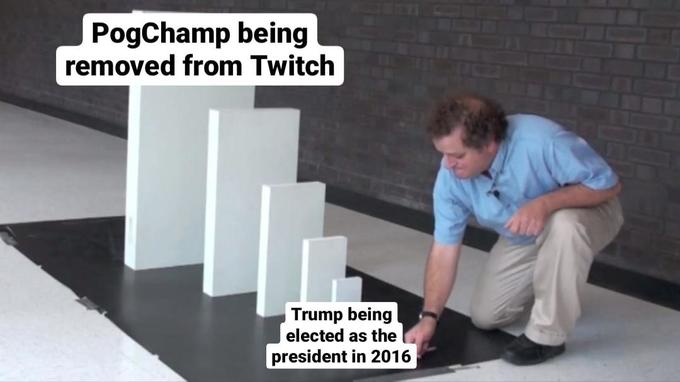 Search Interest
External References