About
KomodoHype is a global Twitch emote featuring a photograph of a Komodo dragon opening its mouth, resembling the expression seen in the PogChamp emote featuring streamer Ryan "Gootecks" Gutierrez. In early January 2021, Twitch removed the PogChamp emote after Gutierrez posted a tweet asking if there would be "civil unrest for the woman who was executed inside the Capitol," commenting on the death of a woman who was fatally shot while storming the U.S. Capitol Building with a mob of pro-Trump protesters. As a replacement for PogChamp, many began using KomodoHype or pushing for it to be officially made the new PogChamp emote on the platform. In mid-February 2021, Twitch officially replaced PogChamp with KomodoHype.
Origin
The image used in the emote originates from a stock photo of a Komodo dragon opening its mouth wide that was first posted online sometime in 2008 (seen below). According to the image-search site TinEye,[1] the original photo appeared on Daqi.com on April 16th, 2008, though the site has since been taken down.

The image was spread around online for several years through memes, Photoshop edits and numerous threads on the /r/photoshopbattles subreddit where it was edited into various images. One such example of an edited version being created early on comes from Deviant Art[2] user vkdragonfire who posted a variant to look like Smaug the dragon on November 8th, 2013 (shown below, left). A thread featuring actor Benedict Cumberbatch on /r/photoshopbattles[3] also saw an edited version (shown below, right).


The photo was added to Twitch as an emote sometime in 2015 where it became an expression for hype or excitement during intense moments of streams, although it was also used sarcastically in the opposite fashion (seen below).[4]

Spread
Although the emote was largely dwarfed by more popular emotes on Twitch, the image was widely discussed around the web after its introduction and even appeared in several memes. One such example was posted by Redditor RiksuM on June 11th, 2020, to the /r/xqcow[5] subreddit, receiving 311 upvotes in six months (seen below, left). On June 26th, Redditor CloudNEINHitler posted another example of the emote used in a meme to the /r/xqcow[6] sub, receiving 143 upvotes in six months (seen below, right).


PogChamp Removal
On January 6th, 2021, during the storming of the Capitol Building, Gootecks (whose face is the PogChamp emote) posed a question on his Twitter[7] account regarding the woman who was shot and killed by police during the storming of the Capitol Building, resulting in Twitch then announcing on its Twitter[8] that they'd made the decision to ban the emote (shown below).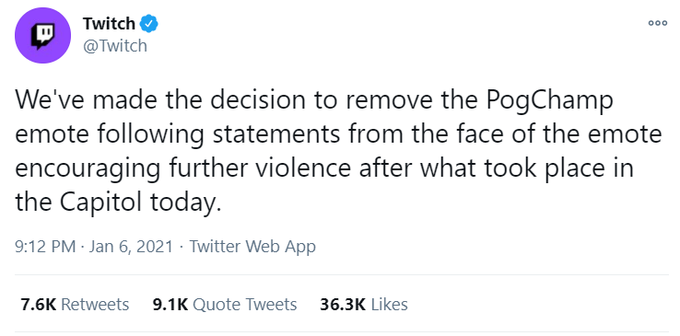 Within the same thread announcing Twitch's removal of PogChamp, several users began pushing for KomodoHype to replace the emote. Twitter[9] user RealMizkif replied with one such example that same day, receiving over 24,000 likes and 350 retweets in 40 hours (seen below). Various media outlets reporting on the ban of PogChamp that day also noted the community's push for KomodoHype to replace Gootecks' emote, such as esports.com[10] and ClutchPoints.[11]

On January 7th, YouTuber[12] Aztrosist uploaded a video on the topic of replacing PogChamp with the komodo emote, receiving over 46,000 views, 6,300 likes and 285 comments in less than 24 hours (seen below, left). That same day, YouTuber[13] hatter also shared a video supporting KomodoHype to replace PogChamp, receiving over 1,300 views and 64 likes in less than 24 hours (seen below, right).
On January 8th, Twitch replied to Twitter[14] user day9tv, who suggested that the PogChamp emote display random faces with similar expressions to the original emote in a rotating selection, announcing that a new PogChamp would be swapped out every 24 hours starting that day (shown below).

KomodoHype Replacement
On February 12th, after the PogChamp emote was replaced with a 24-hour rotating selection of similar faces, Twitch announced on Twitter[15] that it would be officially replacing the PogChamp emote and random rotation with the KomodoHype emote. The tweet received over 1 million views, 38,000 likes and 5,500 retweets in four days (seen below).
The community has spoken!

Let's fire up the PogChamp Machine and activate the new face of Pog. pic.twitter.com/idQ2cNtMiH

— Twitch (@Twitch) February 12, 2021
In the replies to the tweet, several Twitter users expressed their disappointment or anger for KomodoHype replacing both PogChamp and the rotating selection, with several top replies receiving thousands of likes.[16][17][18] One such reply was posted that same day by Twitter[19] user 12Oatmea1 who included the original image of PogChamp, accumulating over 9,600 likes and 210 retweets in four days (shown below).

Search Interest
External References