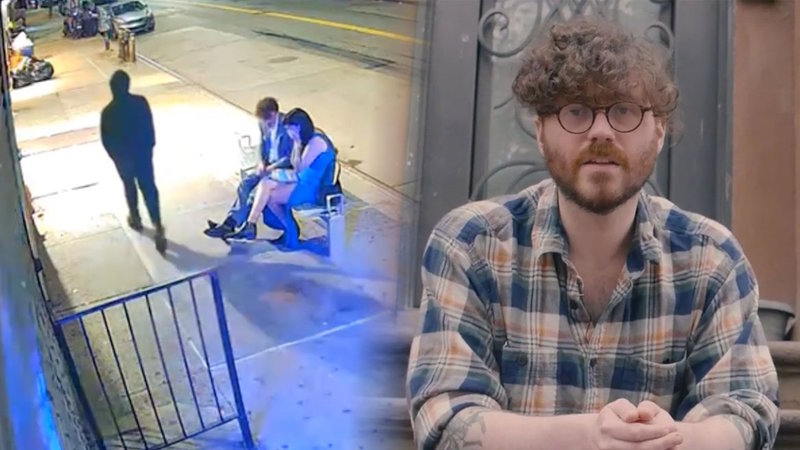 This entry contains content that may be considered sensitive to some viewers.
This submission is currently being researched & evaluated!
You can help confirm this entry by contributing facts, media, and other evidence of notability and mutation.
Overview
The Stabbing of Ryan Carson refers to the murder of Ryan Carson, a 32-year-old social justice activist, by an unidentified Black man in Brooklyn, New York, in early October 2023. The stabbing, which followed the recent murder of another journalist and activist, received widespread media coverage and sparked discourse on X / Twitter, Reddit and 4chan, among others.
Background
On October 2nd, 2023, the New York Post[1] reported on the murder of 32-year-old Ryan Carson, who was stabbed to death in the early hours that same day. According to the article and later reports,[2] Carson, a social justice advocate and a published poet, was with his girlfriend were waiting for a bus in Brooklyn, New York when he engaged a seemingly disturbed stranger who kicked parked scooters near them. The stranger aggressively approached Carson, and, after a brief altercation in which Carson attempted to de-escalate the situation, attacked him, chasing him down the street (CCTV footage shown below). During the chase, Carson tripped over a bench, with the aggressor stabbing him in the chest three times before fleeing the scene. Carson was rushed to Kings Country Hospital Center but could not be saved.


On October 3rd, CCTV footage of the stabbing was acquired by the New York Post and circulated on social media.[3]
Online Reactions
The news followed a same-day report[4] of Philadelphia-based journalist and activist Josh Kruger being shot seven times in his own home and an earlier report of tech CEO Pava LaPere's murder in Baltimore,[5] with all three incidents forming a single discourse, primarily within right-wing circles as users sought to draw connections between the victims' activism and their deaths.
For example, on October 3rd, 2023, X[6] user @RyanGidusky wrote, "This is the third prominent white liberal who has been killed in the last 72 hours," with the post gaining over 890 reposts and 5,800 likes in one day (shown below, left). On 4chan, several threads[7][8] about the incident were created and reached the post limit in early October 2023 (example shown below, right).


The discourse on X and 4chan was accompanied by memes as users joked about Carson's girlfriend's reaction to the stabbing and about the description of the suspect not being provided to the police. For example, on October 3rd, X[9] user @plantationdrip posted a Blade Runner meme that received over 50 reposts and 610 likes in one day (shown below, left).


Additionally, multiple users reacted to the news with Scott Adams Cutouts and other similar images.[10]
News of Carson's slaying was also widely discussed on Reddit in early October 2023 on various subreddits such as /r/news[11] and /r/NYStateofMind.[12]
Search Interest
External References
Recent Videos
There are no videos currently available.