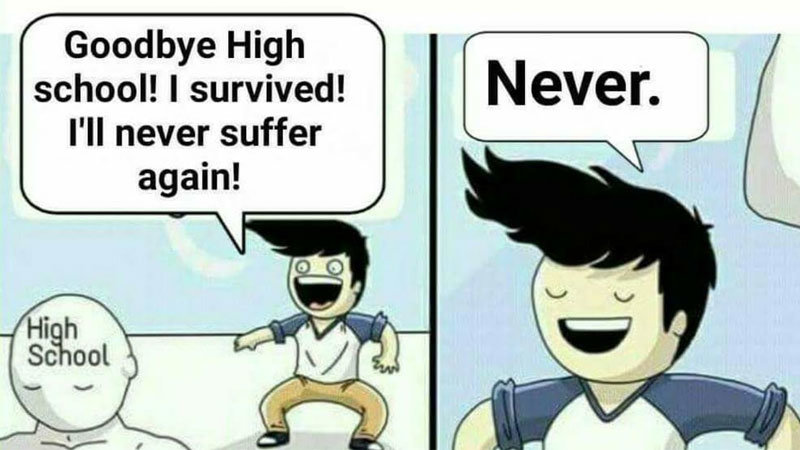 This submission is currently being researched & evaluated!
You can help confirm this entry by contributing facts, media, and other evidence of notability and mutation.
About
Goodbye High School! is a series of exploitable webcomics in which a character points an laughs at the personification of school as different, more powerful life events stand behind him, implying that the worst is far from over.
Origin
On January 8th, 2018, the webcomic As Crônicas de Wesley published a Portuguse-language comic in which a boy laughs at the personification of high school and says, "HAHA! Adeus ensino médio! Eu sobrevivi!! Nunca mais vou sofrer…" This roughly translates to "Goodbye, high school! I survived!! I will never suffer again." Behind the character, however, the personification of college and job, which are greater in size and hold weapons. When posted to Facebook, [1] the post (shown below) received more than 76,000 reactions, 60,000 shares and 5,300 comments in four months.

Spread
On January 11th, an English-language of the comic was uploaded to Imgur anonymously. [2] The comic received more than 38,000 views in four months.
The following day, an extended version of the comic was post on the /r/Memes subreddit by Redditor jorkundra.[3] In this version a fifth panel, featuring the foot from the Monty Python films labeled marriage about to crush all three characters. The post (shown below, left) received more than 700 points (95% upvoted) and 30 comments.
On January 14th, FunnyJunk [4] user creepybaby shared an even longer version, featuring a giant dragon labeled "raising kids." The post (shown below, center) received more than 110 upvotes and 4,000 views in four months.
Several months later, on April 8th, Redditor look_at_this published a variation of the comic with the addition "making doctor appointments yourself" in the /r/MemeEconomy":/memes/meme-economy subreddit. The post (shown below, right) received more than 14,000 points (93% upvoted) and 190 comments in 24 hours.



Various Examples






External References
Recent Videos
There are no videos currently available.