This submission is currently being researched & evaluated!
You can help confirm this entry by contributing facts, media, and other evidence of notability and mutation.
About
I Hate Clichés is a phrasal template that features a mock conversation between the writer of the post and a theoretical author in which the post's author claims to dislike clichés before expressing passion for them. The conversation follows the following format:
Me: I hate clichés
Author: [Names a cliche]
Me: [Expression of excitment]
Origin
On February 24th, 2018, Twitter [1] user @jeonkiie tweeted, "me: I hate cliches! author: gang/mafia au, ceo au, enemies to lovers trope, vampi--" (shown below).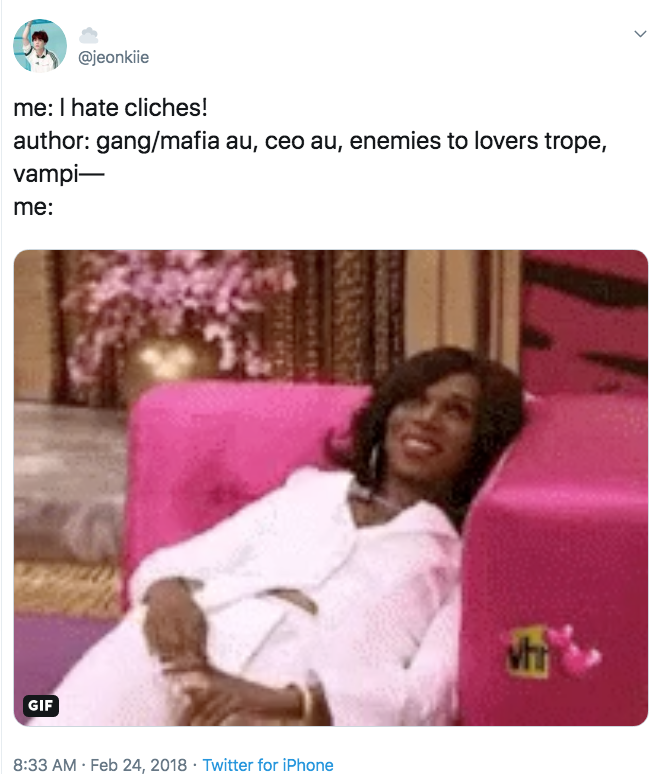 Spread
The following year, on July 26th, 2019, Twitter[2] user @toffee_arts tweeted, "me: i fucking hate clichés / author: and so they're fake dating but one of them falls in love / also me, crying: ohmygod they're fake dating but one of them falls in love." Within one week, the tweet received more than 75,000 likes and 27,000 retweets (shown below, left).
on July 29th, 2019, Twitter[3] user @justabookeater_ posted a variation of the tweet in which they express disdain and then a love for "the grumpy one is soft for the sunshine one." The tweet received more than 221,000 likes and 59,000 retweets in five days (shown below, center).
Following the posts, other Twitter users shared variations of the format (examples below, right).
Several media outlets coverd the meme, including Mashable, [4] The Daily Dot [5] and more.



Various Examples






Search Interest
External References
Recent Videos
There are no videos currently available.