This submission is currently being researched & evaluated!
You can help confirm this entry by contributing facts, media, and other evidence of notability and mutation.
About
Indestructible Balloon refers to a series of exploitable webcomics that showcase a yellow balloon labeled "Positive Attitude" destroying a bullet labeled "Minor Setback." Online, people have re-labeled the balloon and bullet for humorous effect.
Origin
On August 1st, 2018, the comic Shen Comix[1] published on Twitter a six-panel comic featuring a yellow balloon labeled "Positive Attitude" being shot with a bullet labeled "Minor Setback." When the bullet reaches the balloon, the bullet crumbles. Within 10 days, the post (shown below) received more than 10,000 retweets and 39,000 likes.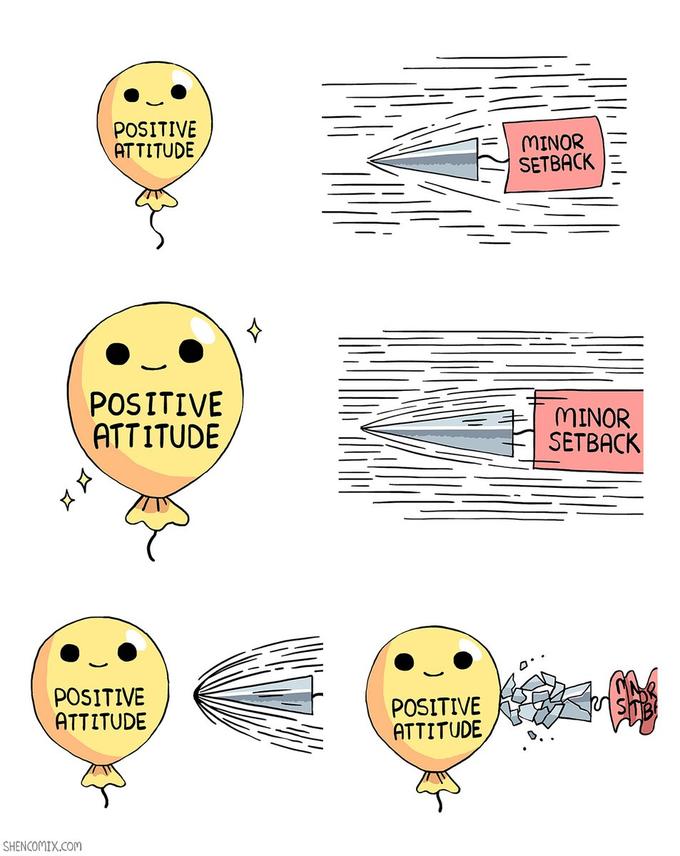 Spread
Shortly after posting the image on Twitter,[3] users responded by editing the image to reflect their feelings on "minor setbacks." Twitter[3] user @beiuet tweeted the format with the bullet causing a nuclear explosion. The post (shown below, left) received more than 40 retweets and 300 likes in 10 days.
Less than one week later, the image was posted on the /r/MemeTemplatesOfficial subreddit by Redditor[4] mik3lik3. The image (shown below, center) replaced the balloon's label with "My love for Fallout" and the bullet "Fallout 76 haters."
On August 10th, Redditor [2] jeranga posted a reformatted version of the comic, replacing the labels with "My dog's love for me" on the balloon and "all my failures" on the bullet." The post (shown below, right) received more than 54,000 points (91% upvoted) and 345 comments in less than 24 hours.



Various Examples







h2. External References
Recent Videos
There are no videos currently available.