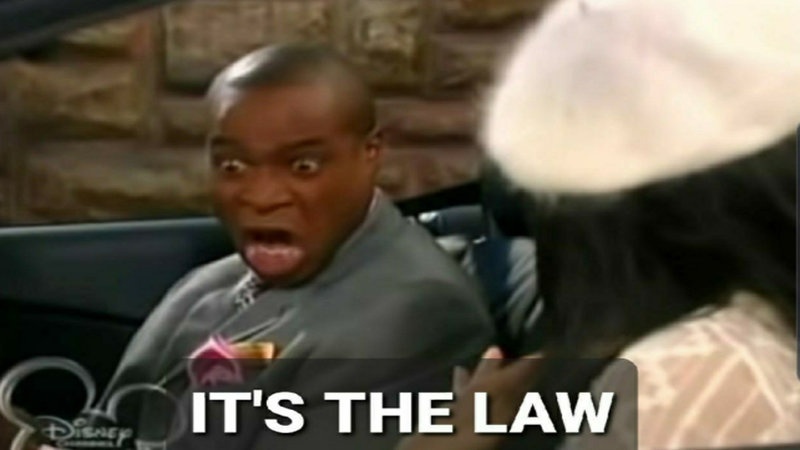 This submission is currently being researched & evaluated!
You can help confirm this entry by contributing facts, media, and other evidence of notability and mutation.
About
"It's The Law" is a memorable quote uttered by Mr. Moseby from the 2005 TV comedy The Suite Life of Zack & Cody. The quote is used alongside a frame from the show depicting Moseby's character shouting "it's the law" as a reaction image and exploitable image macro to an above caption, comment or screenshot, typically to show that something is an unspoken rule, often without needing any justification or reason.
Origin
The original scene that the meme originates from is in The Suite Life of Zack & Cody season one, episode 10 called "Cody Goes to Camp," which aired on June 6th, 2005 on the Disney channel. During the clip (shown below), Mr. Moseby is teaching the character London Tipton how to drive while explaining various rules of the road. At one point, he tells London to put on her seatbelt and when she argues about it, he then proclaims "it's the law!" which is the scene referenced in the meme.
Although the exact first use of the scene as a meme format is unknown, the earliest known example was posted to the /r/MemeEconomy[1] subreddit by Redditor ThomasdeB1505 on December 10th, 2019. The meme (seen below) received over 22,300 upvotes and 99 comments in six months.

Spread
On February 21st, 2020, the Instagram[2] page jokezar posted another example of the meme to its page, receiving over 97,600 likes in 10 months (seen below, left). On March 15th, Redditor sheltiefosho posted a version to the /r/AnimalCrossing[3] sub using the format, receiving over 25,200 upvotes and 340 comments in six months (seen below, right).


On October 29th, 2020, Redditor villakillareal28 posted a variant to the /r/memes[4] subreddit, accumulating over 42,800 upvotes, 169 comments and several Reddit Awards in almost two months (shown below, left). On November 29th, the Instagram[5] page dogmemejunkie posted another example to its page, accumulating over 28,500 likes in roughly one month (shown below, right).


Various Examples



Template

Search Interest
External References