This submission is currently being researched & evaluated!
You can help confirm this entry by contributing facts, media, and other evidence of notability and mutation.
About
Joe Biden Moveset refers to a series of photographs and AI-generated images of United States President Joe Biden performing video game-like moves, such as casting a blast or dashing, similar to a fighting game character's moveset. Spawned by a viral YouTube thumbnail in late 2021, the format achieved virality on Twitter in February 2023 with Biden Shout and Biden Bolt, developing further as more images got added to the pool over the following months.
Origin
While the earliest Joe Biden Moveset image to gain meme popularity is Biden Shout around late 2022, the image known as Biden Blast originated earlier, beginning in late 2021.
Biden Blast
On November 30th, 2021, YouTuber[1] Michael Knowles uploaded a video titled "Biden Bans African | Ep. 895" in which he reviewed a ban on travel from seven African countries over the spread of the Omicron variant of COVID-19. The video, which garnered 188,000 views, used a photoshopped image of President Joe Biden holding out his hand in a "stop" gesture (video and thumbnail shown below, left and right).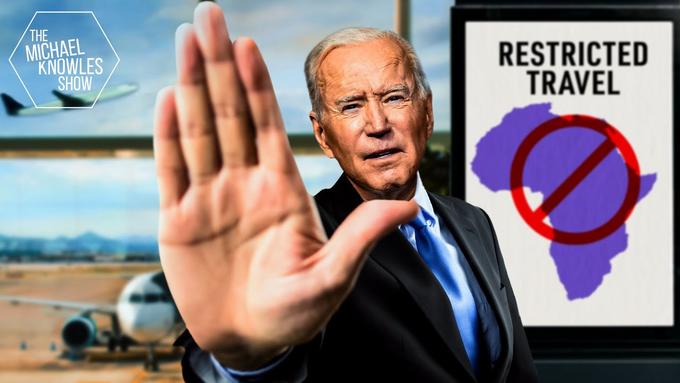 Biden Shout
On December 6th, 2022, Redditor smaltkarna posted a collage of four images of President Joe Biden generated with AI Midjourney from the prompt "Joe Biden screaming as he sees a nuclear warhead about to detonate outside his window." The post received over 2,300 upvotes in the /r/weirddalle[2] subreddit in two months.

On December 6th, the Twitter[3] gimmick account @weirddalle then reposted the image, with the post gaining over 4,400 retweets and 91,000 likes in two months.
Biden Bolt
On February 7th, 2023, Twitter[4] user @ImLazyAsHell posted an AI-generated image of Joe Biden running at high speed, captioning it, "You won't get away this time, バイデンボルト[BIDEN BOLT]," which referenced @Kazoodingus's Biden Blast tweet posted three days earlier. The tweet (shown below) gained over 4,600 retweets and 27,900 likes in three days.

Biden Back Dash
On March 16th, 2023, Twitter[5] user @bennyjohnson posted a photograph of Joe Biden bending awkwardly near the boarding stairs to a plane, commenting, "WTF is happening here!?" The post (shown below) gained over 4,500 retweets and 37,100 likes in four days.

Biden Moveset
The name "Biden Moveset" was coined by Twitter[10] user @turnitipspam, who on February 8th, 2023, tweeted Biden Bolt, Biden Blast and Biden Shout images, commenting, "Biden's moveset so far." The tweet (shown below) gained over 6,800 retweets and 43,300 likes in one month.

Spread
The Biden Shout image was the first among Joe Biden Moveset memes to gain viral spread online in early December 2022.
In the December 2022 @weirddalle Twitter thread, users created memes with the bottom left panel of the image in which Biden is shown screaming as an explosion takes place behind him. For example, on December 6th, 2022, Twitter[6] user @DavidToons_ captioned the image, "SODA!!!!!!!!!!!!," referencing the Obamna / SODA! meme. The post gained over 30 retweets and 400 likes in two months (shown below, left). On the same day, Twitter[7] user @bedenreal posted a Team Fortress 2 version of the image in which Joe Biden is ubercharged, with the post gaining over 140 retweets and 1,800 likes in a similar timeframe (shown below, right).


Each Joe Biden Moveset image was followed by users using it as an exploitable, usually editing it to appear as if Joe Biden is a character in a video game. For example, on February 9th, 2023, Twitter[8] user @nescartridges posted a Pizza Tower edit that gained over 530 retweets and 3,200 likes in one day (shown below, left). On March 18th, Twitter[9] user @MatttGFX posted a Castlevania: Symphony of the Night edit that gained over 9,500 retweets and 59,800 likes in three days (shown below, right).


Various Examples






Templates




Search Interest
External References