About
Marisaface, usually called "Kanjuden Marisa" (Japanese: 紺珠伝魔理沙) or "KanMarisa" (紺魔理沙) on the Japanese web, refers to a glassy look by Marisa Kirisame in the 15th title in the Touhou Project series "Legacy of Lunatic Kingdom" (東方紺珠伝, Touhou Kanjuden).[1] Since late 2015, her weird facial expression has been a subject for parodies on the Japanese anonymous imageboard community Futaba Channel (2chan), and she also became to appear on 4chan as well.
Origin
This Marisa's face was drawn by the creator ZUN, which made the first public appearance in LoLK's demo version released at Touhou-dedicated convention Reitaisai[2] 12 on May 10th, 2015.

ZUN's illustrations, given the nickname "ZUN-style Illustration" (ZUN絵, ZUN E) by Touhou fans, are known amongst fans for its odd art style and unstable touch where the same characters can have quite different looks in each titles. To distinguise them, there is a manner among the fans to call the characters together with each title's name. In accordance with the 15th title, Touhou Kanjuden, this Marisa became to be called "Kanjuden Marisa" or "KanMarisa".
Spread
Shortly after the release, Kanjuden Marisa's weird facial expression was brought up to a topic among Touhou fans. Particularly, she was much featured on /55/ (Alt-Touhou) in 2chan, where the board users already started creating parody photo collages of emotional facial expressions by "ShinMarisa", Marisa in "Urban Legend in Limbo" (東方深秘録, Touhou Shinpiroku)[3] which was also released at that Reitaisai. Kanjuden Marisa has also joined onto the stream and a lot of parody photo montages of her soulless facial expression became to be generated on /55/ and other 2chan boards. Through the parodies, she got her own personalities: speaking in "-Je" (じぇ) suffix and often associated with the line "Who the heck are you?" (誰だお前, Dareda Omae). Those 2chan's works and manners are sometimes shared on the outside of the imageboard via Matome blogs, controversial blog sites which thieves posts and contents from anonymous communities for earning advertising revenues.[4] Besides, tens of illustrations featuring Kanjuden Marisa are also uploaded to illustrators communities Pixiv[5] and Nico Nico Seiga.[6]
Marisaface spread the Touhou western fandom around 2016 in 4chan /jp/.[7]
Official Merchandise
On December 22th, 2016, Team Shanghai Alice released the 2nd edition of official Touhou character stickers for an instant messaging application LINE.[8][9] This edition picked up Kanjuden Marisa with that facial expression and the iconic line "Who the Heck Are You" (shown below). This was designed by ZUN himeself and reflected fans' similar joke which was circulating on Twitter and other social newtworking services.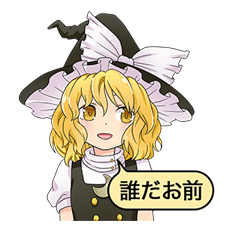 "WHO THE HECK ARE YOU"
Various Examples






Search Interest
External References