Oh Joy Sex Toy's "Cuck" Comic
Warning: This page contains material that may be considered not safe for work.
About
Oh Joy Sex Toy's "Cuck" Comic refers to a comic produced by the sex-positive webcomic Oh Joy Sex Toy, written by Erika Moen and Matthew Nolan, that attempts to explain and destigmatize the kink of cuckolding. It became the subject of jokes and exploitable variations after its publication.
Origin
On April 4th, 2017, Oh Joy Sex Toy[1] posted a comic titled "What the Fuck's a Cuck?" The comic attempts to explain the kink of cuckolding as well as the role each participant plays and what they get out of the kink (shown below). In the comic, the characters are represented by Joe (the cuck), Kate (the lady), and Craig (the bull). Oh Joy Sex Toy also posted a blog post talking about the comic and the kink itself.






Spread
The comic was instantly mocked on Tumblr, in addition to being criticized for ignoring the racial and homophobic origins of the kink.[3] Many panels of the original comic were turned into exploitable images on Tumblr as well. Some of the most popular include "Joe Shut Up I'm Going to Fuck Your Wife!", the "Awww, ok" text message reaction, and the Cucker's explanation panel.



On April 5th, popular YouTuber Shoe0nHead[2] tweeted a link to it to her 144,000 followers, saying "im the last person that should kink shame but damn this is hilarious damage control for "cuck" becoming an insult" (shown below).

Various Examples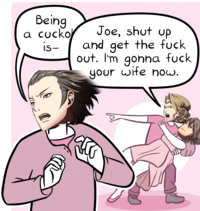 Search Interest
External References