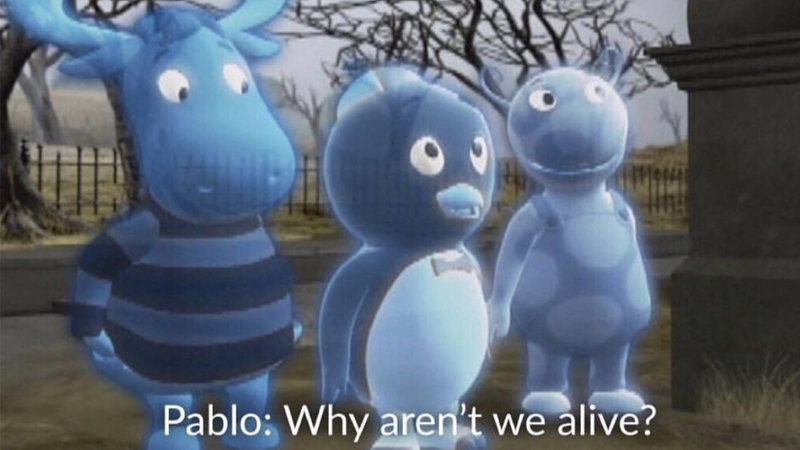 Pablo: Why Aren't We Alive?
This submission is currently being researched & evaluated!
You can help confirm this entry by contributing facts, media, and other evidence of notability and mutation.
About
Pablo: Why Aren't We Alive? is a memorable quote uttered by the character Pablo on the American children's animated television series The Backyardigans. Online, a screen capture of Pablo saying the line has been used as the punchline to jokes about death and exhausted trends.
Origin
On October 25th, 2004, The Backyardigans' Halloween episode "It's Great to be a Ghost" premiered in the United States.[1] In the episode, the characters Pablo, Uniqua and Tyrone are ghosts and Pablo (voiced by Zach Tyler Eisen) asks, "Why aren't we alive?"
14 years later, on October 24th, 2018, Redditor [4] AWESOMEPRESTON used the image of Pablo asking the question as the punchline to the following joke: "parents: *refuse to vaccinate their kids* their kids." The post received more than 44,000 points (94% upvoted) and 470 comments (shown below).

Spread
That day, Twitter [2] user reposted the image and received more than 59,000 retweets and 200,000 likes in two days.
Following the post, variations on the format were shared on various subreddits. For examples, Redditor[3] Specklecore shared the image with the caption "My team after Blitzcrank hooks the enemy Darius" in the /r/LeagueOfMemes subreddit. The post received more than 200 points (100% upvoted) in two days (shown below, left). Over the next few days, examples were shared on /r/dankmemes, /r/me_irl and /r/historymemes, as well (examples below, center and right).



Various Examples






Search Interest
External References
Recent Videos
There are no videos currently available.