This submission is currently being researched & evaluated!
You can help confirm this entry by contributing facts, media, and other evidence of notability and mutation.
About
Amethyst Amelia Kelly, better known as "Iggy Azalea", is an Australian rapper who rose to fame in 2011 after her controversial music video for the track "Pu$$y" was uploaded to YouTube.
Early Career
In 2006, Kelly traveled to the United States at the age of 15 and informed her parents she would not be returning to Australia. After living briefly in Miami, Florida and Houston, Texas, Kelly joined the hip hop collective Dungeon Family in Atlanta, Georgia and took the stage name Iggy Azalea. During the summer of 2010, Kelly moved to Los Angeles, California, where she was briefly managed by Interscope Records.
Online History
In September, 2011, Azalea released the music video for her song "Pu$$y" on YouTube. On September 13th, the video began widely circulating online after being highlighted on the entertainment news blog Perez Hilton.[1]
That month, Azalea released videos for the tracks "Two Times" (shown below, left) and "D.R.U.G.S" (shown below, right). The original uploads of each video were subsequently removed from YouTube due to copyright claims by Wine Enterprises, Inc.
On July 21st, 2012, the music video for Azalea's track "Murda Bizness" was uploaded to YouTube (shown below, left). On March 13th, 2013, Azalea released the music video for her song "Work" (shown below, right).
"Fancy"
On March 4th, 2014, the iggyazaleamusicVEVO[1] YouTube channel uploaded the music video for the track "Fancy", which recreates scenes from the popular 1995 teen film Clueless. Within four months, the video gained over 81.4 million views and 56,000 comments. The song has since spawned dozens of fan-made parodies and covers.
Food That Looks Like Iggy Azalea
On August 17th, 2014, the Tumblr blog Food That Looks Like Iggy Azalea was created, which features photos of food juxtaposed with images of Azalea which bear similarities in pattern or color.

Feud with Snoop Dogg
On October 12th, 2014, rapper Snoop Dogg posted a photograph of a person with albinism and the caption "Iggy Azalea no make up" to his Instagram[2] feed, gaining over 48,000 likes in the first 48 hours (shown below).

Azalea subsequently tweeted at the rapper, asking why he posted the insulting image (shown below). Several of the tweets were subsequently deleted.

Iggy's Freestyle Rap
In June 2013, Iggy Azalea was interviewed live on-air by former MTV host and hip hop deejay Sway, during which she was asked to give a spur-of-the-moment performance. A video recording of Azalea's impromptu freestyle was eventually posted to YouTube via Sway's official channel on June 18th, 2013 (shown below).
However, the video remained under the radar for more than a year until in December 2014, when a short clip from Iggy's freestyle performance was shared on Vine with the title "Iggy Azalea slaying every rapper in the game with this freestyle on Sway in the Morning #iggyazalea" (shown below). Following the upload of the video on Vine, it instantly began spreading to other well-known social media platforms, including Twitter, Tumblr and Reddit.
#SparkedAChange
On January 19th, 2015, GQ Magazine[3] published an interview article with Iggy Azalea, who had recently received four nominations for some of the most coveted awards at the upcoming 2015 Grammy Awards. In the article, Azalea discussed her reaction to the Grammy nominations, life on tour, the anti-fandom online, as well as her musical ambitions.
Q: Fast-forward to the end of your career. What do you want your legacy to be?
A: You never know how long you'll be in people's good graces, especially in this business. So I hope it's long--but I could be here for three or four years and then be out, like most artists. So it depends. I might be here for a long time. At the very worst, if I have a short-lived career, at least I could say I sparked a change--that I inspired some leniency in what people accept in hip-hop. And if I have a very long career and can be gyrating in a leotard at 35, that would be great.
On January 21st, Hot New Hip Hop[4] picked up on the GQ interview in an article titled "Iggy Azalea On Her Impact: "I Sparked A Change; I Inspired Some Leniency In What People Accept In Hip-Hop"
[…] But lastly and more importantly, Iggy was asked about her legacy and where she sees herself in the future, and that's what caught our attention. Given both outlooks (short term & long term), Iggy explained that at the very worse right now, she's sparked a change and "inspired some leniency in what people accept in hip-hop", but if she can, she'd like to be "gyrating in a leotard" when she's 35.
On January 22nd, Hip Hop Wired[6] posted a tweet calling on its followers to share their reactions to Iggy Azalea's notion of her music sparking a change in hip hop music.




On the following day, Hip Hop Wired[5] reported on an exchange between Azalea and one of the participants, @OldManeBro, during which she called the hip hop news site the "biggest hater."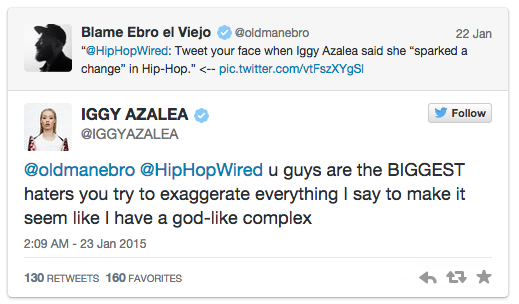 Personal Life
Kelly was born on June 7th, 1990 in Sydney, Australia. She grew up in the town of Mullumbimby, New South Wales in a house built by her father by hand. Azalea began dating rapper A$AP Rocky in 2011 until July 2012. In November 2013, Azalea began a relationship with Los Angeles Lakers basketball player Nick Young.
Search Interest
External References