Kombucha Girl / Brittany Tomlinson
This submission is currently being researched & evaluated!
You can help confirm this entry by contributing facts, media, and other evidence of notability and mutation.
About
Brittany Tomlinson, also known as Kombucha Girl or Brittany Broski, is an American TikTok influencer from Dallas, Texas who has gone viral for her short comedic videos. In August 2019, a TikTok video in which she reacts to trying Kombucha launched her stardom on the app leading to a large following on Twitter and YouTube.
Online History
On July 16th, 2019, @brittany_broski uploaded her first TikTok video in which she shares her "depression meal" of apple slices and chocolate chips (shown below, left). On August 6th, 2019, Tomlinson uploaded the viral Kombucha video which gained over 1.8 million likes and 336,300 shares in three days (shown below, right).
The kombucha video increased her following to 1.5 million on TikTok in four months and she soon became known for her impressions of Love Island contestants and southern mothers (shown below).
Following her viral success on TikTok Tomlinson began selling merchandise with Mantis Merchandise[6] (shown below). Her clothing design parodies the Waffle House signage.

On August 20th, Brittany_Broski uploaded her first YouTube video "Crackhead Makeup Tutorial" which accumulated over 702,600 views in two months (shown below).
On August 22nd, Brittany_broski joined Instagram.[5] Her first post which garnered over 8,900 likes stated:
SHE HAS ARRIVED TO THE GRAM!! just wanted to thank everyone for all the love on the #kombucha video that went #viral. I've had such wonderful opportunities to be interviewed by some of the best journalists and featured on the best online magazine. We're coming up on 50,000,000 views on twitter and 4,000,000 on TikTok. LIFE IS CRAZY! Lots of exciting stuff is in the works!!
Interview with Know Your Meme
On January 14th, 2021, Know Your Meme interviewed Brittany Tomlinson about the origins of her memes, history with internet culture, her career as a content creator and more.

Reputation
As of November 1st, 2019, Brittany Tomlinson has over 147,000 subscribers on YouTube, 564,100 followers on Twitter,[4] and 162,000 followers on Instagram.[5] She has been interviewed by The New York Times [1]and Hollywood Reporter.[2]
Related Memes
Trying Kombucha for the First Time
Trying Kombucha for the First Time, also known as Kombucha Girl and Woman Drinking Kombucha, is a reaction video in which TikTok user @brittanyt445 takes a sip of kombucha before having a mixed reaction to the taste of the fermented beverage, appearing to flip-flop between disgust and appreciation. On August 6th, 2019, TikTok user @brittanyt445 uploaded a video with the description "Me trying Kombucha for the first time" (shown below). In the video, she smells a can of kombucha and declares "it smells like a public restroom" before taking a sip, then appears to go back and forth on whether it tastes pleasant or foul (shown below).
The video then evolved into a two panel exploitable commonly used posted on Twitter and Instagram (shown below).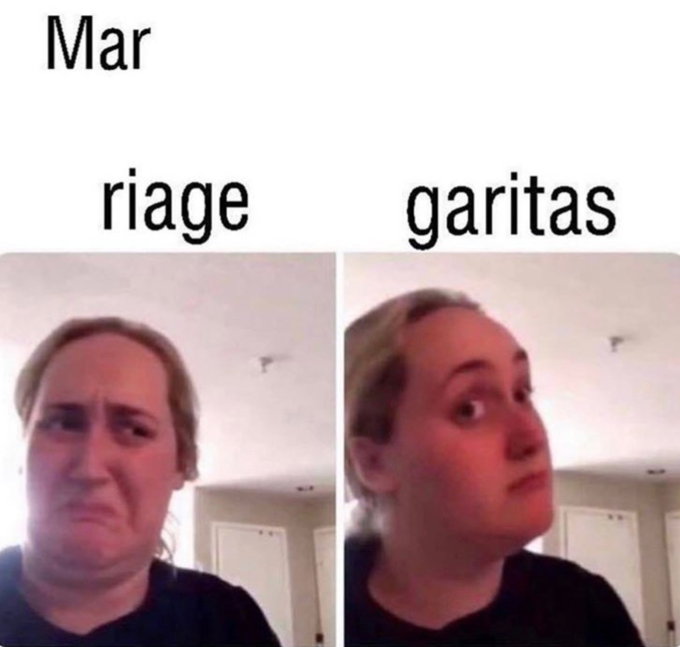 Noodle Weenie Dogs
Kombucha Girl's Noodle Weenie Dogs refers to TikTok user @brittany_broski's October 2019 video upload in which she invites "the boys" Giovanni, Romeo, Mario and Tony over to "Ma's" because she's making "noodle weenie dogs" all while sitting in front of an image of hotdog pieces pierced by spaghetti. The video quickly gained popularity due to the user's established TikTok following after her kombucha reaction August 2019 video went viral. On October 23rd, 2019, TikTok user @brittany_broski uploaded the Noodle Weenie Dog video and gained over 1.1 million likes and 65,700 shares in eight days.
On October 24th, 2019, TikTok user @trvgiic contributed to a chain duet video in which people were pretending to be one of "the boys" (shown below, left). The video garnered over 493,900 likes and 20,200 shares in a week. The next day, TikToker @weelitwasoneayas uploaded a video in which they cook "noodle weenie dogs" while using the sound clip of @brittany_broski's video and accumulated over 412,100 likes and 5,900 shares in six days (shown below, center). Many other TikTok users also made the dish while using the sound in their videos. On October 28th, @quirkygal123 uploaded a video of a Google Forms version of @brittany_broski's words (shown below, right). Various other users created slideshows using the sound clip.
Personal Life
In an August 2019 interview with Vulture,[3] Brittany Tomlinson revealed that she is a 22 year-old Dallas, Texas native. She recently graduated from Texas A&M and now works as a banker.
Search Interest
External References
Recent Videos
There are no videos currently available.