This submission is currently being researched & evaluated!
You can help confirm this entry by contributing facts, media, and other evidence of notability and mutation.
About
Pink Grimacing Pink Grimacing is a reaction image featuring a picture of the pop singer Pink appearing to scowl during Christina Aguilera's tribute to Whitney Houston at the 2017 American Music Awards.
Origin
During the American Music Awards on November 19th, 2017, singer Christina Aguilera performed a tribute to Whitey Houston. As she performed, cameras at the event cut to singer Pink, whose mouth and eyes were turned downward.
Spread
Shortly after the performance aired, people online began sharing pictures of Pink's face, making comments about how she encapsulates their own opinion of Aguilera's performance (examples below).



Later that night, Pink responded to the picture by retweeting a tweet asking people to not creating a beef between the two singers. She added the comment, "Yes. THIS. Christina fucking killed it tonight for one of our favorite singers ever. This about Whitney, and I am in awe of Christina's talent. Show the clip where I'm in tears, you negative Nancy's 🤘🏽✌🏼❤️. The post (shown below) received more than 7,500 retweets and 39,000 likes in two days.
Several news outlets covered the popularity of the reaction, including BuzzFeed, [3] TMZ,[4] Billboard,[5] HuffPost,[6] USA Today[7] and more. On November 19th, Twitter[8][9] published two Moments pages regarding Pink's reaction to Christina Aguilera's performance.

Various Examples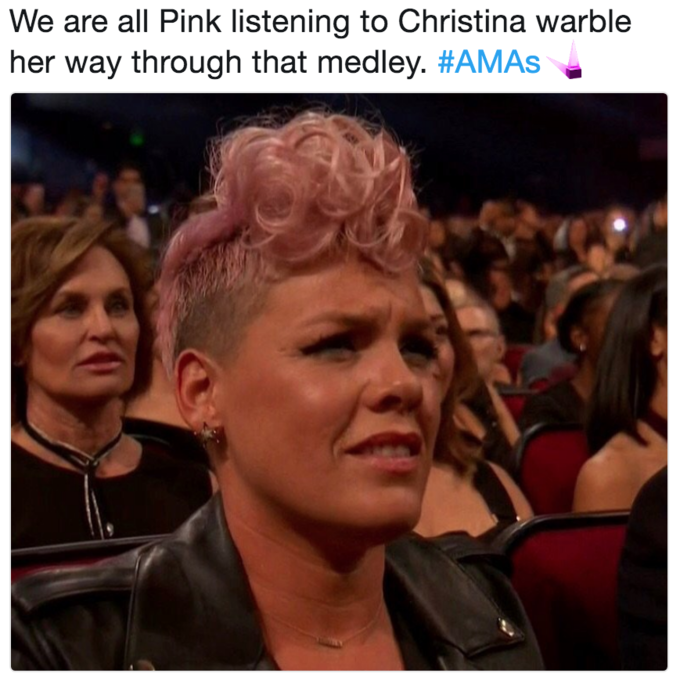 Search Interest
Not Available
External References
Recent Videos
There are no videos currently available.