This submission is currently being researched & evaluated!
You can help confirm this entry by contributing facts, media, and other evidence of notability and mutation.
Editor's Note: This entry and its image gallery contain spoilers.
---
About
Rey's Jedi Training refers to a Star Wars fan theory that imagines a scene wherein Luke Skywalker, the protagonist the first trilogy, would make Rey, the central character in the sequel trilogy, give him a piggyback ride as part of her Jedi training in the upcoming film Star Wars: Episode VIII.
Origin
The story of Star Wars Episode VII: The Force Awakens, the seventh installment in the Star Wars saga and the first film in its sequel trilogy, concludes with the film's protagonist Rey (portrayed by Daisy Ridley) and Luke Skywalker (portrayed by Mark Hamill) meeting face-to-face for the first time since the latter's self-imposed exile, during which Rey presents Luke with his long lost lightsaber and implicitly volunteers to be his Jedi apprentice.


Shortly after the premiere of the film in December 2015, fans were quick to speculate on various online forums[1][2] that Rey would become a Jedi, while joking that Luke Skywalker would ask Rey to carry him on her back, as Yoda did with his Jedi apprentice Luke in Star Wars Episode V: The Empire Strikes Back. On December 19th, 2015, the earliest known fan depiction of such scene was posted by Redditor Diregal in a /r/StarWars[3] thread titled "Imagine if the ending went…"

Spread
On December 22nd, 2015, one of the first fan-made webcomics illustrating the imagined scene was uploaded by Tumblr user Alex Bing.[3]

That same day, Tumblr user Hansolosbutt[4] described a similar scene in a headcanon story inspired by the shipping of Finn and Poe Dameron (also referred to as "Stormpilot").
[…] "piggyback rides are totally a thing r u kidding and once rey gets back (with luke! and no one had seen general organa as happy as she was that day in… ever), piggyback rides become even more of a thing."
On December 26th, Tumblr user Kelgrid[5] shared a multi-pane webcomic illustrating a similar scene between Luke and Kylo Ren, which went on to garner more than 27,000 notes.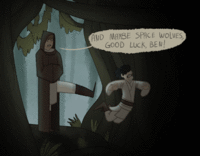 On December 31st, Star Wars-themed novelty Twitter account @VeryLonelyLuke tweeted a joke about how Kylo Ren had turned to the Dark Side, accruing over 1,800 retweets and nearly 3,900 likes.

On January 2nd, Fanfiction.net user Yung Warrior shared a short fanfiction of Rey training to become a Jedi under the guidance of Luke Skywalker in a post titled "Preparations."[7]
Various Examples






Mark Hamill's Re-enactment
On April 10th, 2016, American actor Mark Hamill posted a tweet of himself and Daisy Ridley re-enacting the proposed scene off the set of Star Wars Episode VIII. Hamill's tweet proved to be immensely popular, garnering over 74,000 retweets and more than 110,000 favorites within the first 48 hours. While images portraying Rey piggybacking Luke were fairly popular beforehand, photoshops of the tweeted image became even more prominent as Hamil's tweet drew a greater deal of attention.

Search Interest
External References