Warning: This page contains material that may be considered not safe for work.
About
Seggs is an intentionally misspelled and mispronounced variation of the word "sex." The phrase is used online to mimick the way articulate the way say the word "sex" in speech (similar to Secks).
Origin
The origin of the term is unknown. On August 23rd, 2013, an anonymous 4chan user posted the earliest known usage of the term (shown below). They wrote in the /wg/[1] imageboard, "I LOBE bigg diggs, I really do :D but if I meet a spurdo with an average digg I'm okay with it :-DDDDDD as long as he hutt :DD and knows how to use it :D A huge digg spurdo can be even more unsprodo as long as he can use it and a small digg spurdo has NO chance D: Seggs :-DD is such a huge part of any relationshib :-DDDD his size and ability to use it is important :-DD theas are not : D only >: D requirements for a potential mate they are super important :-DDDDDDDDDD."

Spread
Over the next decade, the term continued to see usage on 4chan, where some people favored it to other variations of the word "sex." For example, on November 18th, 2018, an anonymous 4chan user, responding to the question "What would you do if Greninja were real?" in the /vp/[2] imageboard, wrote, "Have seggs with it" (shown below).

Additionally, the word spread to Twitter [3] in 2018. For example, on March 8th, responding to a tweet that reads, "I can hear my very old neighbors having the secks upstairs," Twitter[3] user @Lex_ehh tweeted, "They're having seggs" (shown below, left).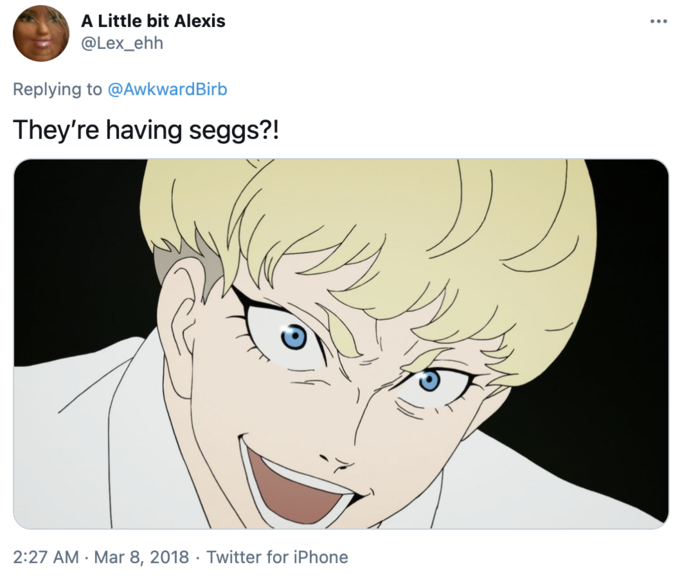 In 2020, the term spread TikTok, [4] where the hashtag has more than 272 million views. For example, on May 30th, 2020, TikToker @alex2epic posted a video that featured the chyron, "Would you rather? Like: eat a swag meal. Comment: have seggs. Share: Look for the gummy bear album in stores on November 13th." The post received more than 1 million views and 255,000 reactions (shown below).
On July 30th, Urban Dictionary [5] user Someone1357246 defined the word as "Seggs is when pp go in girl." The post received more than 995 reactions in less than one year (shown below).

Various Examples
Search Interest
External References