This entry has been rejected due to incompleteness or lack of notability.
To dispute this DEADPOOL flagging, please provide suggestions for how this entry can be improved, or request editorship to help maintain this entry.
Bash.org is a database featuring many funny quotes from mainly IRC chat, ranging from the deranged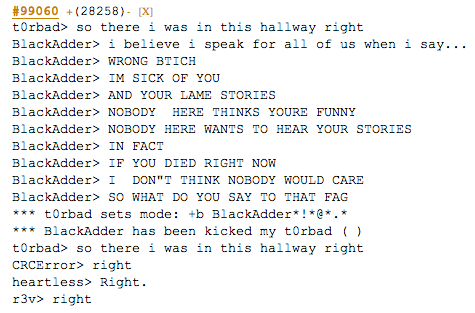 to bizarre





to epic.


A (possible) meme has sprouted from here: Disregard that, I suck c*cks!

According to Encyclopedia Dramatica, Bash.org is a spinoff site from Geek issues.org

Urban Dictionary entry


Teh google insights:


A French derivative :www.danstonchat.com (thx Ayuyu!)
Another site…:www.qdb.us

As long as there are IRC chatrooms there's always going to be noobs and stupid people post stupid and funny things, and as long as that is going on, there's always someone with the wherewithal to take those funny statements, questions, exclamations,(whatever) post them to quote databases.

Especially ones like Bash.org
Recent Videos
There are no videos currently available.