HQ - Live Trivia Game Show
This submission is currently being researched & evaluated!
You can help confirm this entry by contributing facts, media, and other evidence of notability and mutation.
About
HQ -- Live Trivia Game Show is an online, app-based trivia game hosted by Scott Rogowski. Users log on to the app and are brought into a game by a push notification. Once logged on, Rogowski asks a series of 12 questions, the last user still in the game is eligible for cash prizes.
History
Created by Vine founders Rus Yusupov and Colin Kroll, HQ launched on August 26th, 2017 for Apple's iOS operating system.[1][2]
Colin Kroll's Death
On December 16th, 2018, HQ co-creator and CEO Colin Kroll was found dead at the age of 34 in his apartment New York City, New York. Kroll's girlfriend requested a wellness check on Kroll from the New York Police Department, who found Kroll's body. He was pronounced dead on the scene.[13]
A spokesperson for HQ said: "We learned today of the passing of our friend and founder, Colin Kroll, and it's with deep sadness that we say goodbye. Our thoughts go out to his family, friends and loved ones during this incredibly difficult time."
Kroll was also the co-creator of short-form video recording and sharing application Vine.
Authorities are investigating the death as a narcotics overdose. Daily Beast Senior Editor Pervaiz Shallwani tweeted,[14] "Kroll, 34, was found laying face down in his bed unconscious and unresponsive during a welfare check. Narcotics and drug paraphernalia were discovered in the SoHo apartment and Kroll's death is being investigated as a narcotics overdose."

Scott Rogowski's Departure
On April 12th, 2019, HQ host Scott Rogowski[15] tweet his goodbyes in a thread. (shown below). He announced that, "Sadly, it won't be possible for me to continue hosting HQ concurrently as I had hoped, and because I wasn't given the courtesy of a farewell show, please allow me to use this thread to say all the things I would have said on my final broadcast." The thread of five tweets gained over 23,000 likes in three days. The prime time spot will now be taken over by HQ's second host Matt Richards.


On April 14th, Tech Crunch [16] reported "According to multiple sources, more than half of the startup's staff signed an internal petition to depose CEO Rus Yusupov, whom they saw as mismanaging the company. But Yusupov then fired some core supporters of the mutiny, leading to a downward spiral of morale that mirrors HQ's plummeting App Store rank." Writer Josh Constine revealed that multiple sources informed Tech Crunch that, in a plot to retain power, Yusupov suggested that Rogowski become CEO instead of the late Colin Kroll back in September 2018. Employee's hatred for Yusupov's apparent greediness led to employees speaking out against him to the Board of Directors. Several of the employees that spoke out were fired on March 1st and since then they have been on a hunt for a new CEO.
Controversies
Daily Beast Profile
On November 21st, 2017, The Daily Beast[6] published an article detailing their issues attempting to produce a profile on host Scott Rogowsky. After speaking with Rogowsky, CEO Rus Yusupov objected to the article, saying that the Daily Beast was "'completely unauthorized' to write about Scott or HQ." Yusupov went on to say that if the Daily Beast wrote anything about either, Rogowsky would be fired.
After being given a copy of the article, Yusupov continued his objections. When he read that Rogosky said that he "enjoys making people happy and giving them the trivia they want," the CEO responded, "He cannot say that people want trivia"
"It's highly unprofessional. Highly unprofessional of you to reach out to one of our contract employees without my permission and without going through proper press channels."
However, despite his objections, Yusupov, as of November 2017, had not terminated Rogowsky.
Allegations of Misconduct Against Women
On December 18th, 2017, Record[7] reported that investors were hesitant to invest in the app because of alleged behavior toward women by co-founder Collin Kroll. The report states that at least three investors decided against funding the application due to allegations of troubling conduct, garnering a reputation of exhibiting a "creepy" behavior toward women while he was the CEO of Vine.
Jeremy Liew, an investor with Lightspeed Venture Partners and a board member at Intermedia Labs, who owns HQ, released a statement to Recode, defending Kroll's position at the company. He said:
"We heard back from a couple of firms that they were not going to move forward, specifically because of rumors of what was characterized as womanizing on Colin's part. I was concerned that this might be code for sexual harassment. So in my capacity as a board member, I conducted an investigation to find out what actually happened. I spoke to about a dozen current and former Twitter execs. The investigation was exhaustive and included the most knowledgeable primary sources. I found a good deal of negative sentiment about Colin and the Vine team and some discomfort with his behavior, but I did not find evidence that warrants his removal from the company."
#DeleteHQ
On February 1st, 2018, the tech news site Recode[9] reported that HQ Trivia was poised to raise upwards of $100 million in an upcoming round of funding, with $15 million expect from billionaire Peter Thiel's venture firm Founders Fund. Over the next 24 hours, critics of Thiel, many of whom objected to his funding of a lawsuit against Gawker and support for President Donald Trump, began tweeting the hashtag "#DeleteHQ" in protest of the Founders Fund investment in the app (shown below).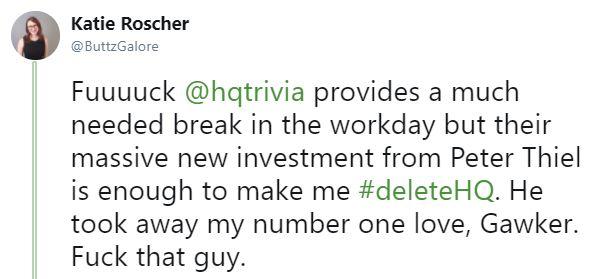 In the coming days, several news sites published articles about the hashtag campaign, including The Daily Dot,[10] Mashable[11] and NY Mag.[12]
Payouts
On July 8th, 2019, former Jeopardy winner Alex Jacob[17] tweeted "Guys, I need your help. I won $20,000 on @hqtrivia on June 10 and still haven't heard anything about payment. Sadly, I don't think they're going to pay. Please RT to tell HQ they should honor their jackpots. If I'm wrong, I'll happily delete this & give $100 to someone who RT'd" (shown below). The tweet received over 1,500 retweets and 1,500 likes in two days.

That day, in a statement made to TechCrunch[18] HQ Trivia said "It may take some eligible winners up to 90 days to receive cash prizes, however 99% of players have been able to cash out within 48 hours of winning a game and we have paid out a total of $6,252,634.58 USD to winners since launch."
Features
The game combines game show elements from such games as Who Wants to be a Millionaire? and Jeopardy and combines them with live-streaming capability. The game is played daily at 3 PM and 9 PM for about 13 minutes each.
HQ is hosted by comedian Scott Rogowsky or British personality Sharon Carpenter. In each version, the game is comprised of 12 multiple choice questions answered in a live chat at the bottom of the screen.
Unlike other games, HQ is played for real money, giving away up to $500 a day.[5]
Highlights
On July 17th, 2017, the official HQ Twitter [3] account launched, garnering more than 12,000 followers in four months.
According to a November 2017 report, nearly 90,000 people played the game on November 12th.[4]
Search Interest
External References
Recent Videos
There are no videos currently available.