This submission is currently being researched & evaluated!
You can help confirm this entry by contributing facts, media, and other evidence of notability and mutation.
About
Rumblr was a fictional app developed to match those who would like to engage in fist fighting with other users in the immediate geographic vicinity would also like to fight. Based on the interface of dating sites like Tinder or Grindr, the app allows users to not only match with others looking for a fight, but also to view the physical locations of fights happening in the area for the purposes of viewing or attending. The app was subsequently revealed to be a hoax by the marketing company von Hughes.
History
The Twitter account for Rumblr first tweeted on October 29th,[2] and the domain getrumblr.com was first registered on October 30th, according to the WhoIs database.[1] It was reported by the New York Daily News that the team of developers who were creating Rumblr worked from Soho, in New York City. In an email with the reporter, the team claimed that the app was ready to go as of November 9th, when a web-only beta launch would occur, but that the mobile app was waiting on App Store approval.[3]
However, later that day, reporter James Cook of Business Insider claimed that the app was fake, invented by two men named Matt Henderson and Jack Kim, as a publicity stunt. However, it was unclear what the app was meant to promote.[4]
Features
According to screenshots released on the promotional web site, the app offers "Casualty-free casual fighting for free." Users can anonymously view profiles and then choose who they would like to fight. If two users both choose each other, they are matched, and prompted to choose a central geographic locations. That location is added to a public map available to all users in the area.[1]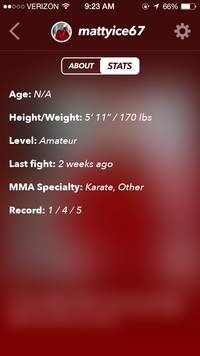 As of 5 pm on November 9th, 2015, a web-only beta was set to be released to the first 2,000 users who signed up for the getrumblr.com mailing list. According to the New York Daily News, the Rumblr team said "We have raised relatively substantial funding from private American investors and the app is fully developed."[3]
In addition, Rumblr promised the additional features of "RumblrHER" which would only match women with other women interested in fighting, and a group matching function to encourage brawling.
Online Presence
As of November 9th, 2015, Rumblr has established only a Twitter profile and a web site. The Twitter profile, which has tweeted more than 1,800 times in just 10 days, has just over 1,000 followers.[2] In addition, Rumblr was mentioned by other users on Twitter more than 10,000 times.[5] Traditional news about the app has been widespread as well, including articles in many mainstream publications like the New York Daily News, New York Magazine, and an interview with a local television station in Tuscon, Arizona.
Tucson News Now
Search Interest
Note: This search interest mostly refers to the Tumblr Rumblr blog, which sets two separate Tumblr users against each other in a fan art battle, and Rumblr girls, a Tumblr featuring women of Tumblr.

External References