SoulCalibur VI Custom Characters
About
SoulCalibur VI Custom Characters refers to fighters created by players of the fighting video game SoulCalibur VI which grow popular online as a result of their grotesque appearance or similarity to a famous character or person.
Origin
SoulCalibur VI, the sixth installment in the SoulCalibur series, features an extensive character creation system with many customizable options, allowing for a wide range of characters including detailed recreations of pop culture characters. Strange and amusing creations began appearing online the day of the game's release, October 19th, 2018.[1]
Spread
The day of release saw several popular tweets featuring detailed recreations of pop culture characters. One of the first popular examples included a post by Twitter user @maniadrone[2] that was a grotesque representation of Kirby (shown below, left). The tweet gained over 5,200 retweets and 17,000 likes. User @Altronage posted several creations, including recreations of Pepsiman, Thanos, Deadpool and Kill La Kill's Ryuko, gaining over 3,900 retweets and 10,000 likes (shown below, right).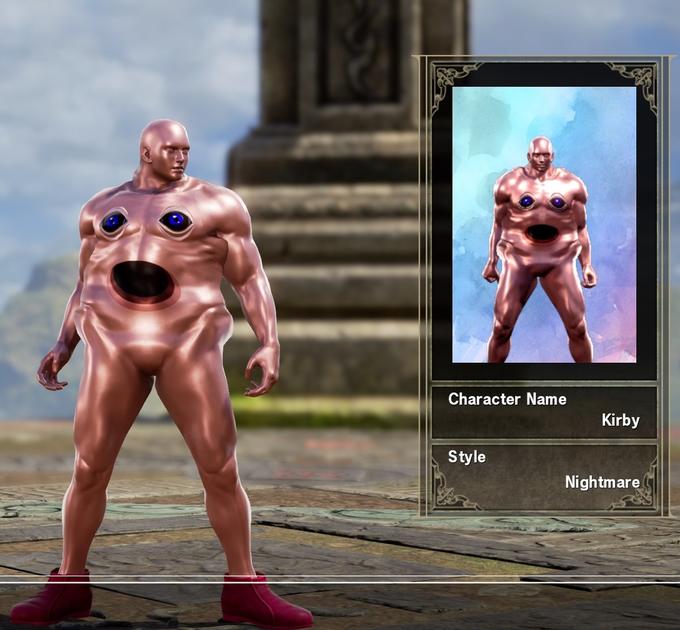 Other popular creations without a corresponding pop culture character included a creation by Redditor TheMightyBellengar of a pistachio that gained over 1,500 points in /r/SoulCalibur (shown below, left) and an original character by Twitter user @whatgoat called "kawaiibones" that gained over 1,000 retweets (shown below, right).


Various Examples






Search Interest
External References