About
Kirby (Japanese: 星のカービィ, Hoshi no Kābī; lit. "Kirby of the Stars") is a fantasy video game franchise starring a pink-skinned spherical creature as the eponymous protagonist created by Masahiro Sakurai, developed by HAL Laboratory and published by Nintendo. Since the release of the original title in 1992, Kirby has grown into one of Nintendo's most widely recognized video game characters with nearly 20 sequel titles and cross-media adaptations into comics, manga and anime series.
Gameplay
The gameplay of a majority of the games in the series consists mainly of action, platform and puzzle-solving elements. The series is known for its bright and artistic settings; simplistic gameplay; cute characters; upbeat, cheerful music; and the protagonist's in-game ability to inhale enemies, thereby gaining a characteristic ability from them.
History
The Character
Kirby is a small, pink, spherical creature (occasionally described as a living pink marshmallow) with large red feet, stubby arms, and trademark pink cheek-blushes. His body is soft and flexible, allowing him to be flattened. His first appearance took place in the 1992 video game Kirby's Dream Land, where he was portrayed by a 2D sprite; since Kirby 64: The Crystal Shards for the Nintendo 64, he has made several appearances in 3D. He has been featured in other video games from Nintendo, on Nintendo's merchandising, on comic books, and even on a television show. Kirby also appears in the Super Smash Bros series.
He is supposedly eight inches tall, according to the Super Smash Bros. games. His weight is unknown, although several parts of the anime, the game Kirby 64: The Crystal Shards, and the Super Smash Bros. series suggest that he is light enough to be carried and for the wind to cause him to move in an unwanted direction. Kirby hails from the planet Pop Star, where he lives in a dome-shaped house in the kingdom of Dream Land. His appearance has changed subtly over the years, becoming more rounded and defined, mainly in his face and larger eyes. The new design has been used in all subsequent games.
Kirby's Dream Land (1992)
Kirby made his first appearance in Kirby's Dream Land (星のカービィ, literally "Kirby of the Stars"), a platforming action video game developed by HAL Laboratory and published by Nintendo for the Game Boy handheld console in 1992. As with other Game Boy titles that were released during the early 1990s, the game was set in a greyscale, 2D landscape environment with pixelated sprite characters. Upon its initial release in North America, the greyscale visual caused a minor confusion when Nintendo of America presented the character as a white-skinned creature. This ambiguity was later mended with the releases of GameBoy Color and GameBoy Advance, which offered an option for a color palette that depicts Kirby in its true pink skin tone.
Kirby 64: The Crystal Shard
The Kirby franchise first 2.5/3D Debut was Kirby 64 ,where it follows the Dreamland Trilogy,right after Dream Land 3. Ripple Star, a planet populated by fairies, is invaded and taken control by Dark Matter. Ribbon, one of the fairies, flees from the planet with their sacred treasure, the great Crystal. In its pursuit of Ribbon, Dark Matter shatters the Crystal into pieces, which scatter throughout the solar system. Ribbon, stunned by the attack, falls onto Pop Star.
Ribbon, heartbroken to find she is left with only one of the shards, is consoled by Kirby, to whom she reveals her predicament. Kirby agrees to help her retrieve all the Crystal Shards and save Ripple Star from Dark Matter's control. Kirby and Ribbon enlist the help of Waddle Dee, Adeleine, and King Dedede, and they continue to search for the pieces across the solar system.
Reception
Kirby's Dream Land
Kirby's Dream Land has initially received mixed to mildly positive reception, with an aggregate score of 64.83% from six reviews on Game Rankings, making it the 13th most highly-rated Game Boy title and the 7,279th highly-reviewed video game on the list. By May 28th, 1995, Kirby's Dream Land had sold 1.3 million copies worldwide, becoming the fourth biggest Game Boy release ever and the breakout title for the third-party developer HAL Laboratory. To date, it has sold in excess of five million copies worldwide. As a result of its commercial success, the game went onto spawn a total of twenty sequel titles that have sold over 30 million units worldwide, including Kirby's Adventure , Dream Land 2 , Super Star ,and Dream Land 3, before his first 3D Debut in Kirby 64.
Kirby 64: The Crystal Shard
Many accused the game of being short and easy while others enjoyed the varied level design and colorful graphics. The game sold 1.07 million copies in Japan and 541,600 copies in the United States. Gamespot gave the game 69% saying "While some might be initially put off by the youthful nature of Kirby 64, the depth of the power combo system really brings a lot to what would otherwise be an average platform game."
Subsequent Releases
The subsequent Kirby releases in 2D and 3D platforms, such as Kirby and the Amazing Mirror, Kirby:Canvas Curse, Kirby Squeak Squad, Kirby's Epic Yarn, Kirby Mass Attack, Kirby: Return To Dreamland, and Kirby Star Allies have been met with positive receptions.
Online Presence
Nintendo maintains two official websites for its Kirby franchise for the English-speaking and Japanese-speaking fans, as well as a semi-official Facebook community page dedicate to the franchise, which has garnered more than 300,000 likes as of August 2014.
Fandom
Outside of its officially branded presence in the social media, there are numerous Kirby video game communities, including several unofficial fan pages on Facebook, FanPop and Weebly, as well as independently-run fan news sites like The Kirby Club, Kirby's Rainbow Resort and MetaNaito, in addition to a few resource hubsites on Wikia and GameFAQs.
Fan Art
There are thousands of fan art illustrations, Let's Play-style videos, live-action sketches and musical remixes available for viewing on online communities dedicated to fan art, most notably on DeviantART and Tumblr. The phenomenon is also referred to as Kirbyfication in similar vein to other custom character fan art trends like Pokefication and Ponification among the fans of Pokemon and My Little Pony, respectively.
Related Memes
Hypernova Yourself!
Hypernova Yourself! is an online photo editor launched by Nintendo in which users can decorate any image with the "Hypernova" special effect, a newly introduced ability in Kirby: Triple Deluxe that allows Kirby to inhale giant objects through a colorful explosion of energy. Aside from applying the Hypernova effect, the site also allows to add various Kirby-related stickers on the pictures.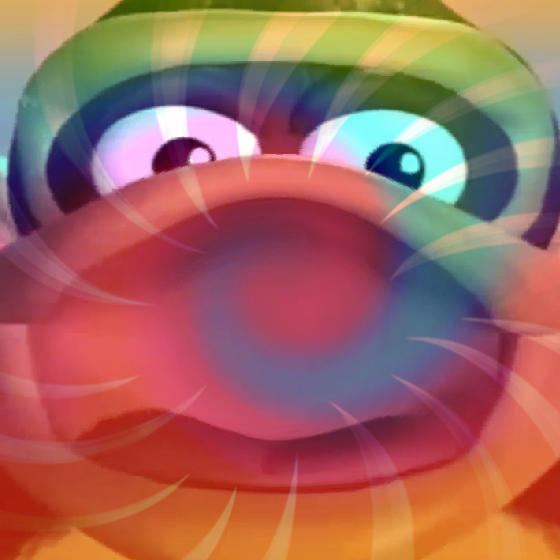 Kirby's Gourmet Race Remixes
Gourmet Race (Japanese : グルメレース) refers to a style of MAD videos that use the audio track for Gourmet Race that is a mini-game in Nintendo's 1996 game Kirby Super Star. This song written by a Japanese composer Jun Ishikawa is the most famous song representing the music of Kirby series, and its remixes are included in many other games in this series and Super Smash Bros. series. Around the end of 2007, This song caused explosive boom in the Japanese video sharing service Nico Nico Douga (NND), and This shock like a megaton punch was also received in all over the world through YouTube.
Kirby's Sky High Remixes
Sky High (Japanese: スカイハイ) refers to a style of MAD videos and YouTube Poop Music Videos (YTPMVs) that use the audio track "Dynablade Area 4", also entitled "Candy Mountain" in later series, from the Nintendo's 1996 game Kirby Super Star.
Kirby's Masked DeDeDe Remixes
Masked DeDeDe, also known as "VS. Masked DeDeDe" (Japanese: VSマスクドデデデ), refers to a style of MAD videos and YouTube Poop Music Videos (YTPMVs) that use the audio track "Masked DeDeDe Theme" (マスクド・デデデのテーマ), from the Nintendo's 2008 game Kirby Super Star Ultra, a remake for Kirby Super Star.
Kirby's Sand Canyon Remixes
Sand Canyon (Japanese: サンドキャニオン) refers to a style of MAD videos and YouTube Poop Music Videos (YTPMVs) that use the audio track having no specific title for Sand Canyon 1, one of the stages in Nintendo's 1997 game Kirby's Dream Land 3.
Zero
Zero is the final boss character in Kirby's Dream Land 3 originally introduced as the question mark symbol (?) who resembles Dark Mind's second and third form. Although never directly stated to be related to Dark Matter, Zero is first seen in the Dark Matter oblivion Hyper Zone, and is theorized to be the creator and manipulator of Dark Matter.

Zero, as well as 0²'s, propensity to use red globs as projectiles leads to speculation,as well as the wide belief that it is blood being used. While the idea has logical merit and certainly likely, since Zero has no backstory the nature of the said liquid is not actually known. Regardless of what it is, the fact that Zero spews red liquid makes it, along with its counterpart,the most gruesomely-depicted character and enemy in the series. Zero, as well as 0², are often depicted as creepypasta characters due to the use of "blood" as their attacks and resemblance to the another well-known creepypasta Zalgo.
Kirby Explains
Kirby Explains (X) is a YTMND fad featuring a clip with Kirby from the anime Kirby: Right Back at Ya!! explaining various things, only to get humorous lines that were used from other media.

Search Interest
External References
Recent Images 1,256 total