Mystery Science Theater 3000 (MST3K)
This submission is currently being researched & evaluated!
You can help confirm this entry by contributing facts, media, and other evidence of notability and mutation.

About
Mystery Science Theater 3000 (usually abbreviated MST3K) is an American comedy television show that originally aired between 1988 to 1999, 1996 feature-length film, and 2017 Netflix series. The show is about an average guy who is launched into space by his evil scientist boss and is forced to watch bad movies. To stay sane he and his robot friends (Tom Servo & Crow T. Robot) make fun at the films or "riff" the films.
History
In 1988, standup comedian Joel Hodgson created and started production on Mystery Science Theater 3000 on the Minneapolis public access station KTMA.[1] The show premiered on November 24, 1988. The cast included Joel Hodgson as Joel, Trace Beaulieu as Crow T. Robot and Dr. Clayton Forster, and Josh Weinstein as Tom Servo, Gypsy, and Dr. Erhardt.
Between 1989 and 1996, the show ran on Comedy Central, after the company bought the show. Mystery Science Theater became the channel's signature show, thanks, in part, to the 30-hour Turkey Day marathon Comedy Central began running on Thanksgiving 1991. During this season, Trace Beaulieu began voicing Gypsy. In 1991, Frank Conniff joined the cast as TV's Frank and Kevin Murphy was cast as the new Tom Servo.
Hodgson eventually left the show after season five, citing a dislike of being on camera as well as a refusal to make Mystery Science Theater 3000: The Movie. One of the show's writers, Mike Nelson, replaced him.

On April 19th, 1996, Universal Pictures released Mystery Science Theater 3000: The Movie in 26 theaters. The film was a box office disappointment, grossing roughly $1 million. MST3K: The Movie currently has an 80% fresh rating on Rotten Tomatoes.[3]
Comedy Central dropped the show after the seventh season. In 1997, the show moved to the Sci-Fi channel, where it ran until 1999. For these final seasons, Bill Corbett played Crow.
Rifftrax MST3k Reunion
In spring of 2016 the cast of Rifftrax set up a Kickstarter campaign to hold a reunion show with their other MST3K cast members, the Kickstarter was a huge success going way over their base goal. On June 28, 2016, in Minneapolis, Minnesota the reunion show was hosted by Mike Nelson, Kevin Murphy, Bill Corbett, and guests Joel Hodgson, Bridget Nelson, Mary Jo Pehl, Trace Beaulieu, and Frank Conniff.
Netflix Revival
In November 2015, Hodgson launched a Kickstarter to make a new season of Mystery Science Theater 3000. The Kickstarter raised $6,364,229, enough for 14 new episodes episodes and a holiday special.
During the Kickstart, Hodgson announced the new cast: comedian Jonah Ray would host, Hampton Yout as Crow, and Baron Vaughn as Tom Servo. Felicia Day and Patton Oswalt would play the show's villains.
The new season had guest writers such ad Rick and Morty's Dan Harmon and Justin Roiland; also artists such as Rebecca Sugar (Steven Universe) and Pendelton Ward (Adventure Time). There was also cameos by actors such as Neil Patrick Harris, Mark Hamill, and Jerry Seinfeld.
Netflix renewed for one more season (season 12, The Gauntlet) before cancelling.
Gizmoplex
After the Netflix did not renew for a 13th season Joel Hodgson launched another Kickstarter on April 7, 2021 earning $6.5 million dollars, well surpassing its minimum goal of 2 million. 13 episodes were made including for the first time a Halloween Special. All episodes of season 13 are available at their website gizmoplex.com
Fandom
Fans of the show have been known to call themselves "Msties" (pronounced "Misty"). Before the internet, fans would record the episodes and send the tapes to friends and family, this lead to the phrase "Keep Circulating the Tapes" which could be seen in the end credits of the show.
Some Msties have made or purchased their own replicas of the bots, since the bots are made out of various objects some fans have provided how-to guides, providing a list of what parts you will need; or websites like MST3KBots.com just provide a kit to purchase that has all of the parts needed to build your own bot without having to search for the parts yourself.
Related Memes
Msting
Msting is a way of mocking a form of media (film, tv, ect) in the style of Mystery Science Theater 3000, and a form of fan fiction where writers mock other works by adding their own humorous comments into the story.
Spin-offs Rifftrax & Cinematic Titanic
Since the show's cancellation in 1999, the cast and crew have continued to riff movies. Mike Nelson, Kevin Murphy and Bill Colbert created the website Rifftrax, where fans can download MP3s of riffs and play them as they watch the movies. Rifftrax has had many guest riffers as well such as Weird Al Yankovic, Neil Patrick Harris, and Doug Walker. Rifftrax have also hosted like events, where the cast riffs in real time.
Joel Hodgson did a series of DVDs called Cinematic Titanic with his formers cast-mates Trace Beaulieu, J. Elvis Weinstein, Frank Conniff, and Mary Jo Pehl.
MST3K Turkey Day
During the show's Comedy Central years on Thanksgiving Day there would be a marathon of MST3K episodes with Special segments that were shown between episodes, from 1992 onwards featured the premiere showing of at least one new episode. Even after the show's cancellation many Msties keep the tradition going by watching a marathon of the show every Thanksgiving.
On November 28th, 2013, Turkey Day returned with Joel Hodgson himself hosting, the marathon was streamed via YouTube. Fans were able to chat live while watching the marathon and Joel did skits in between episodes.[3]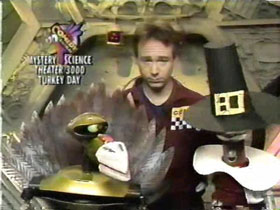 Search Interest
External References
[1] Wired – Mystery Science Theater 3000: The Definitive Oral History of a TV Masterpiece
[2] Wikipedia – Mystery Science Theater
[3] Rotten Tomatoes – Mystery Science Theater 3000: The Movie
[4] Shout Factory TV – MST3K Turkey Day '16 Marathon