This submission is currently being researched & evaluated!
You can help confirm this entry by contributing facts, media, and other evidence of notability and mutation.

About
Kickstarter is an online crowdfunding platform that facilitates grassroots fundraising campaigns for a wide range of creative projects, from indie films, music and print publications to journalism, video games and food-related projects.
History
Kickstarter launched on April 28th, 2009 as a collaborative project by Perry Chen, Yancey Strickler and Charles Adler, with Andy Baio serving on the board of directors as its chief technology officer until November 2010. Upon the site's launch, numerous crowd-funding projects quickly emerged as success stories on the site, such as building a temporary wedding chapel in Manhattan and converting an old bus into a mobile Thai restaurant among many others. In 2010, the site hosted 3,910 successful projects. By 2011, the number had jumped to 11,836 completed projects.
News Media Coverage
In August 2009, Kickstarter was covered in an article published by the New York Times, which described the start-up project as "the people's NEA (National Educational Association). In 2010, TIME Magazine named the site one of the "Best Inventions of 2010" and in the following year, it was listed in the magazine's "Best Websites of 2011."
Social Media Presence
Kickstarter maintains several social media accounts including a Facebook page[12] with more than 361,000 likes, a Twitter account[13] with more than 583,000 followers and a Tumblr[14] blog that highlights new submissions as well as special events, album reviews and in-use photos of already-funded projects.
Features
Anyone can join the site for free by either creating an account or connecting through the Facebook account. Once signed up, users can explore projects in progress[24] and pledge money for any project on the site, which are sorted into thirteen categories: Art, Comics, Dance, Design, Fashion, Film & Video, Food, Games, Music, Photography, Publishing, Technology and Theater. Additionally, the projects can be viewed by staff picks, the most popular, as well as dates of submission and deadlines. Kickstarter also has a section called Curated Pages[26] where dozens of art schools, non-profit organizations and other websites (shown below) including YouTube, Tumblr, Etsy, Laughing Squid, and TIME LightBox showcase projects that are supported by the staff and in alignment with their respective goals.


To create a project, the submission must adhere to three guidelines[27]: 1) funding must have a clear goal and something will be produced in a certain amount of time; 2) it must fit into one of the categories provided by the site and 3) projects cannot be used for charities or to increase the quality of the creators' life, for example, paying the bills or vacationing. There is also a list of items that are prohibited for sale on the site, including but not limited to alcohol, bath and beauty products, drug paraphernalia, energy drinks, firearms, infomercial-type products, pet supplies and real estate. To satisfy Amazon Payments, the creator also must be older than 18, a permanent United States resident with a US adress, bank account and state-issued ID and must have a US-issued credit or debit card
Highlights
Top Grossing Projects
Kickstarter keeps track of their most funded projects[25] by different categories As of September 2012, the most funded project of all time is the Pebble[19], a watch that would run on the Android platform and sync with the wearer's phone, which raised more than $10.2 million in May 2012. The top six rounds out with Ouya, an open-source gaming console, Oculus Rift, a virtual reality headset and three indie video games. All of these projects raised more than $2.9 million.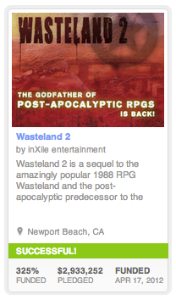 Failed Projects
In April 2012, a single topic Tumblr called Shitstarter[28] was launched, highlighting Kickstarter projects that received little to no funding. Later that month, a similar blog called Your Kickstarter Sucks[29] began posting screenshots of these unsuccessful ventures. The following month, Buzzfeed[30] posted screenshots of 37 of these projects deemed the "saddest."




Controversy
Hiding Failed Projects
On May 24th, 2012, tech journalist Dan Misener published a blog post[15] pointing out that Kickstarter adds a "robots" meta tag to all failed projects as to prevent them from getting indexed by search engines. While these projects are still available via direct link or through Kickstarter's internal search, Misener argued that the lack of easy accessibility to them makes it harder for new entrepreneurs to see what projects have already failed and what has not worked in the past. Six days later, co-founder Yancey Strickler issued an official response via TechCrunch[16], excusing the ability to browse failed projects as poor user experience due to the lack of interaction available. He also asserted that removal of failed projects from the index was at the request of the creators, as their unsuccessful endeavor would be near the top of Google search results for their names. In August 2012, Misener launched The Kickback Machine[17] as a way to research these failed projects, breaking them down by category as well as allowing the user to view both failed and successful projects side by side.
Incomplete Projects
On September 3rd, 2012, NPR's All Things Considered[18] took a look at several Kickstarter projects that had trouble producing the promised item even after receiving sufficient funds. Two of the projects mentioned in the report include the Pebble E-Paper Watch[19], the most funded Kickstarter ever at the time which has been postponed indefinitely[20], and the PopSockets iPhone case[21], funded in February 2012 with $18,000, whose creator refunded 40 of his 500 backers after being unable to ship the product.
The NPR report also raised the question of accountability with Kickstarter projects: when an item is funded and the creator does not actually produce anything, Kickstarter does not have the ability to issue a refund. In response, Kickstarter released a public statement via their blog[22], noting that the site's terms of use state that creators are obligated to either fulfill all rewards they establish or refund what they cannot. On September 20th, Kickstarter put new guidelines[23] into place, which requires creators to publish the risks and challenges of the project so backers do not equate pledging with shopping at a store.
Amanda Palmer's Tour Project
In April 2012, recording artist Amanda Palmer launched a project to fund a record, art book and tour[31], which was funded with nearly $1.2 million on May 31st, surpassing its initial goal of $100,000 by many folds. As of September 2012, it is the top funded project in the music category with more than $800,000 ahead of the previous record holder in the category. In a project update[32], Palmer broke down how she was planning to spend the money, noting that after the fees and creating the rewards, she would be left with less than $100,000. In late August 2012, Palmer announced the tour and began attempting to recruit musicians to come play for free via her blog.[34]

In early September, musicians unions[35] began speaking out against Palmer's "gift" to her instrument-playing fans, followed by legendary audio engineer Steve Albini criticizing her on the Electrical Audio message board.[37] Her refusal to pay fan musicians was covered by a number of music interest blogs and news sites including Gawker[33], Stereogum[38], Pitchfork[41], Gigaom[39], New York Times[36] and the Huffington Post.[40] On September 19th, Palmer revealed on her blog[42] that she would be compensating the musicians with cash for playing with her on the tour, a sentiment that was reiterated by the New York Times[43] and the LA Times.[44]
Traffic
As of September 2012, Kickstarter has a Quantcast[8] score of 404 and an Alexa[9] global traffic rank of 714. As for internal statistics, the team maintains a statistics page[10] which is updated at least once a day, breaking down dollar amounts raised for the site's projects. The official blog also has a section specifically designated for data-related posts.[11] As of September 26th, 2012, there have been 72,062 projects launched on the site and $368 millions pledged. The projects have a success rate of 43.83% with $311 millions of total pledges actually paid out.

Search Interest
External References
[1] Kickstarter – Fund & Follow Creativity
[2] Waxy – Kickstarter Launches
[3] New York Times – A Few Dollars at a Time, Patrons Support Artists on the Web
[4] TIME – The 50 Best Inventions of 2010
[5] TIME – The 50 Best Websites of 2011
[6] New York Times – The Trivialities and Transcendence of Kickstarter
[7] Kickstarter – Frequently Asked Questions
[8] Quantcast – Kickstarter.com
[9] Alexa – Kickstarter.com
[10] Kickstarter – Statistics
[11] Kickstarter Blog – Posts tagged "Data"
[12] Facebook – Kickstarter
[13] Twitter – @Kickstarter
[14] Tumblr – Kickstarter
[15] Misener.org – Kickstarter hides failure
[16] TechCrunch – Kickstarter Responds To Hidden "Failed Project" Claims
[17] The Kickback Machine – Home
[18] NPR – When A Kickstarter Campaign Fails, Does Anyone Get The Money Back?
[19] Kickstarter – Pebble: E-Paper Watch for iPhone and Android
[20] Business Insider – Pebble, Kickstarter's Biggest Crowdfunding Success, Hits A Bump In The Road
[21] Kickstarter – PopSockets iPhone Case: It Pops, Props, Kicks and Clips
[22] Kickstarter Blog – Accountability on Kickstarter
[23] Kickstarter Blog –
[25] Kickstarter – Most Funded
[26] Kickstarter – Curated Pages
[27] Kickstarter – Guidelines
[28] Tumblr – Shitstarter
[29] Tumblr – Your Kickstarter Sucks
[30] Buzzfeed – 37 Saddest Failed Kickstarters
[31] Kickstarter – Amanda Palmer: The new RECORD, ART BOOK, and TOUR
[32] Kickstarter – Update #5 – all you ever wanted to know about all this kickstarter money & where it's going.
[33] Gawker – Amanda Palmer's Million-Dollar Music Project and Kickstarter's Accountability Problem
[34] Amanda Palmer's Blog – we said we'd do it, and we're DOING IT! the GRAND THIEVING IS UNDERWAY.
[35] Twitter – @Local76_493
[36] New York Times – Rockers Playing for Beer: Fair Play?
[37] Electrical Audio – Steve Albini's commentary on Amanda Palmer
[38] Stereogum – Steve Albini: Amanda Palmer Is An Idiot
[39] Gigaom – Amanda Palmer brouhaha exposes the dark side of crowdsourcing
[40] The Huffington Post – Amanda Palmer Wants You For Her 'Theatre Is Evil' Tour, Will Pay in Beer and High-Fives
[41] Pitchfork – Steve Albini Slams Amanda Palmer for Asking Fans to Play in Her Band for Free
[42] Amanda Palmer's Blog – what we're doing about the crowdsourced musicians. also: we charted at motherfucking #10.
[43] New York Times – In Switch, Kickstarter Darling Amanda Palmer Will Now Pay Volunteer Musicians
[44] LA Times – After 'crowd-sourcing' controversy, Amanda Palmer to pay musicians