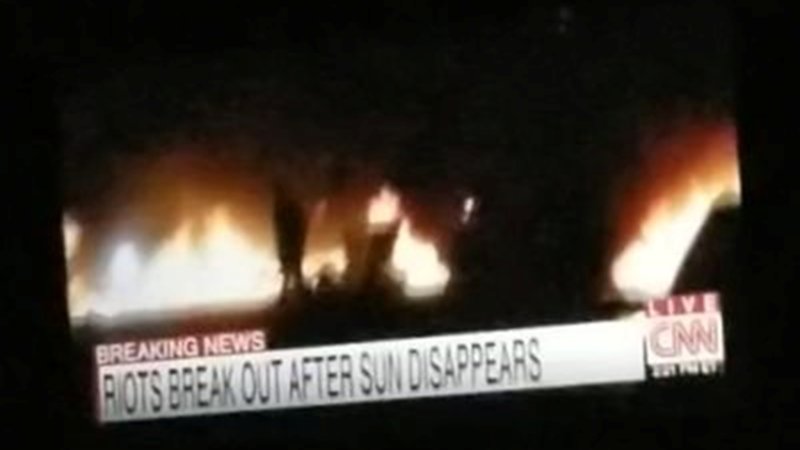 About
The Sun Vanished is an ongoing Alternate Reality Game centering around the plight of an unnamed individual as he tries to survive in a parallel universe where aliens have effectively blocked off all sunlight to Earth and are hunting humans down. The game mainly takes place on the Twitter account @thesunvanished[1] and the accounts which is follows, @lostsunnews[6] and @thmadjoy[7], where the protagonist documents events going on around him and often asks his audience for advice on what to do as situations arise. The Sun Vanished has proven to be popular as the Twitter account has accumulated over 300,000 followers over the span of four months.
History
On April 30th, 2018, @TheSunVanished (TSV) launched, with their first tweet simply reading, "Help." This launched the fictional world where the sun has vanished after the planet is invaded by unfriendly extra-terrestrials.

The account also posted videos of doctored newscasts covering the "news" (shown below).
April 30, 2018
The story developed to include strange lights and zombified humans, and the fiction expanded to include communications TSV had with others going through the events.


Over the course of hundreds of tweets, many of which included footage of TSV's experiences, the story developed such that evidently some sort of alien life form invaded the planet, and with the use of lights has taken to hypnotizing humans into some sort of strange zombie-like creature who walk around in a trance. Many of the tweets involve TSV's friend Danyon, who may or not be infected. As of July 17th, 2018, there have been over 210 tweets on the account, and the story is ongoing.
Reception
The Sun Vanishes was quickly praised as an ARG. In addition to amassing over 300,000 Twitter followers, a subreddit[4] for the ARG has gained over 1,800 subscribers. The ARG has also gotten a page on TV Tropes.[3] The Odyssey[2] published an article praising the ARG early in its run. Redditor krabxdd[5] published an encyclopedia for the various terms used in the ARG and among its fandom. On YouTube, several videos discussing the ARG have grown popular, including one by Inside a Mind, which gained over 410,000 views (shown below, left), and a video by Night Mind, which gained over 92,000 views (shown below, right).
Search Interest
External References