About
SCP Foundation[1] is a creative writing wiki centered around documenting descriptions and containment procedures of fictional objects and entities that are considered scientific anomalies and often pose a threat to society or the personnel containing it. Every entity that has its own entry is labeled with a number, with "SCP" as a prefix. Aside from SCP entries, the site contains various stories consisting of either tales of Foundation researchers experimenting or discussing SCP entities, or monologues of senior staff members introducing new employees to the foundation.[11] "SCP" is an abbreviation for the phrase "special containment procedures" and the Foundation's name, "Secure. Contain. Protect".[13]
Features
SCP Entries
Every SCP entry explains in full detail the description and containment procedures of the object it describes. Additionally, many entries have addenda that usually contain experiment logs, incident reports or notices left by the staff assigned to the object.
SCP objects are divided into four classes:[18]
Safe – Object is either sufficiently understood, easily contained, or harmless.
Euclid – Object requires strict containment, and in some instances can be dangerous if not under constant supervision.
Keter – Object is notably difficult to contain, and more often than not is highly dangerous to humanity.
Thaumiel – Classified anomalous object that is utilized (or was created) by the Foundation.
The Foundation
While SCP entries are the primary focus of the website, there are many stories on the site which give a backstory to the Foundation, the organization that contains anomalous objects. No official canon of the universe exists, and users are free to propose their own storylines that are backed up with stories. Popular canons include "Unfounded", "Resurrection" and "lolFoundation".[14][15][16][17]
History
The SCP series is rumored to have started in a thread containing information regarding SCP-173 on the /x/ (paranormal) board on the imageboard 4chan in 2007. The SCP Wiki was founded in 2008 on an Editthis Wiki, and numerous similar articles were subsequently added to the database. The site later moved to Wikidot due to content and moderation restrictions. As of August 2013, the database holds around 3000 entries of fictional anomalous objects.
Pride Logo Controversy
On June 3rd, 2018, the official SCP Wiki Tumblr[22] blog published a set of rainbow-colored SCP logos in honor of Pride month (shown below). On June 7th, the @scpwiki[24] Twitter feed posted a tweet claiming to have received "a lot of mentions" from people criticizing the wiki for participating in Pride month, followed by a tweet referring to the SCP's 4chan origins as "toxic baggage" (shown below).


On June 9th, an /r/SCP[23] moderator submitted a post titled "The First Amendment and You: How to Avoid Getting Your Knickers in a Twist Because of Some Colors," which announced that complaints about the logo would be ignored. The post has since been removed.
On June 17th, YouTuber Mister Metokur uploaded a video titled "LGBSCP," which criticized SCP Wiki owners for creating the Pride logo (shown below), and showcased several controversial comments and articles. Additionally, Metokur accused the SCP Wiki owners of purging any users who took issue with the logo. Within 18 days, the video gained over 259,000 views and 8,900 comments.
The following day, Redditor Ozplod submitted a post arguing that the pride flag did not suit "the theme of the SCP foundation" to /rSCP,[25] where it gained over 2,200 points (76% upvoted) and 960 comments within one week. On June 20th, members of 4chan's /x/ board created the RPC Authority Wiki[26] as a response. The following day, YouTuber Eastside Show SCP uploaded a video about the RCP Authority site.
On June 24th, a response from the moderation team apologized for the actions taken, and have acknowledged their mistake in banning people by dealing with the moderators responsible, while affirming their stance on LGBT rights.

Andrey Duksin Trademark Registration Controversy (May 2019)
Starting in late April 2019, Russian SCP Foundation communities spread information that on July 5th, 2018, Russian entrepreneur and administrator of ARTSCP community Andrey Duksin (Андрей Дуксин) managed to claim ownership of SCP Foundation trademark (logo) in Eurasian Customs Union countries (Russia, Belarus, Kazakhstan, Kyrgyzstan and Armenia).[32][38]
On April 30th, 2019, Andrey Duksin posted a response to the claims, saying that he obtained the trademark with the intention of publishing SCP artbooks in CIS countries and potentially enabling the creation of films and computer games based on the SCP Foundation universe.[33]
On May 5th, 2019, unofficial Russian SCP Foundation branch SCP Foundation Russian Branch Fan-Community made a detailed post accusing Andrey Duksin of obtaining SCP Foundation trademark in violation of Creative Commons Attribution-ShareAlike Unported license adopted by the main branch of the SCP Foundation.[34]
Ownership of the trademark granted Duksin exclusive rights to sell SCP-branded merchandise such as magnets, board games, notebooks and other item categories in these countries, as well as prevent the free distribution of derivative intellectual content such as books and films. Additionally, the trademark ownership granted the control over "online publications", which could potentially provide its owner with the possibility of taking over the Russian branch of the SCP Foundation.[35] According to the post, supported by screenshot evidence, Andrey Duksin had used the trademark ownership to prevent competing business Geekfunco from selling SCP-branded products in Russia, with some screenshots showing attempts of extortion. The Russian SCP Foundation branch claimed that Duksin had also used the trademark against other competitors.
The post was consecutively reposted by the ARTSCP community managed by Duksin with the disclaimer that "the ARTSCP Project had no intention of attempting to hide the information or escalating the conflict."[36]
The position of the Russian SCP branch received support from the main branch of the organization (screenshots shown below). An officially translated version in English is also posted on the main website, which can be accessed here (external link).



According to the terms of CC-BY-SA 3.0 license that our works are released under, publishing derivative works under a different license is impossible, as well as altering the existing license. Trademarking the SCP Foundation is nothing other than an attempt to change SCP Foundation content licensing rules.
Therefore, the registration of trademark #661748 to A.V Duksin's name contradicts the license in terms of distribution, is a gross violation of said license, and any actions taken towards brand protection of said trademark are manifestly illegal and illicit. Our following actions are based on our determination to maintain proper license usage and deter the dishonest use of collective SCP Foundation legacy.
Not willing to leave the situation as it is, we addressed the English wiki, other wikis, and different authorities for help in that matter. Currently all of them are providing substantial legal and information support. We also took various protective measures to hinder Andrey in his use of said trademark for unlawful purposes.
It should be noted that not only did the English wiki support our claims towards Andrey Duksin, but provided documentary support for it.
Our stance in these matters is a matter of principle and will not change.
SCP Foundation is a unique collective writing project. The fact that anyone can develop it and benefit from it, given their adherence to the license, gives it an immense advantage over other similar projects.
The SCP Foundation license ensures that anyone can make money on our creative works. This is perfectly legal. In terms of our content, copyright can only be violated through violating the license.
The registration of trademark #661748 on 05.07.2018 directly and gravely violates the clauses of said license. Registering the trademark to hinder the competition only aggravates it further and violates Russian and international law. We will consistently and in a lawful manner pursue the rescindment of this trademark, and will invoke any resources and authorities we deem necessary.
We believe that harassment of competition and sympathetic persons is completely unacceptable and inadmissible. We strongly condemn Andrey Duksin's actions in these matters and cease any and all cooperation with him and his partners. We stop supporting all of his projects and initiatives on all the resources that we control. Andrey's membership on our site is permanently revoked from now on.
We call on our readers to cease any support towards this person and the goods and services he provides. We understand that punishing a product for its creator's despicable actions towards competition, consumers, readers and every person interested seems wrong, but supporting Andrey financially would be detrimental for the whole community. The SCP Foundation is our common heritage, not a plaything for a single person whose actions and motives are morally and legally questionable.
On May 6th, prominent SCP personality TheVolgun posted a video detailing the information to spread awareness of the issue among the English speaking audience. The video was posted to /r/SCP, where it recieved over 3000 upvotes.[39]
On May 8th, 2019, Duksin announced that he will be giving up his ownership of the trademark, clarifying that the process will be taking some time due to existing obligations to a film company producing an unannounced film related to the SCP Foundation.[40]
I am willing to comply with the demands of the SCP community and officially give up my ownership of the trademark. However, this can not be done instantly. The trademark is being used for the production of a film. I have an agreement with the film company which allows them to work on the film and receive investments. […] I'll be notifying them of my decision and annulling the trademark as soon as we readjust our agreement.
On May 8th, 2019, Russian news website TJournal ran a feature story on the controversy.[37] The controversy spawned widespread negative reaction towards Andrey Duksin, with multiple memes criticizing and ridiculing the entrepreneur posted in Russian- and English-speaking SCP communities. It is unclear if legal proceedings will be filed.
Andrey Duksin Trademark Registration Controversy (November 2019)
On November 6th, 2019, unofficial Russian SCP Foundation branch SCP Fundication Russian Branch Fan-Community made a detailed post about Russian entrepreneur and administrator of ARTSCP community Andrey Duksin (Андрей Дуксин) resuming to utilize his unlawfully obtained SCP Foundation trademark to force competition out of the market.[41][42] This had been done in violation of Duksin's previous promises to give up the ownership of the trademark.[40] Russian SCP Foundation branch also accused Duksin of introducing himself as "SCP Foundation Team" in his messages.
In the following days, Andrey Duksin contacted the administration of Russian social network VK and reported that several SCP-related groups which were critical of Duksin previously were unlawfully using the SCP Foundation trademark.[43][44][45] In the following days, VK administration banned two of the communities reported by Duksin, including the SCP Foundation VK community established in 2011,[46] while Duksin renamed his own VK community as SCP Foundation.
On November 12th, 2019, the main SCP Foundation community reacted to the development by announcing that legal action will be taken against Andrey Duksin, asking the SCP community to donate to a legal fund to finance the upcoming legal battle.[47] Additionally, #StandWithSCPRU hashtag was launched to express solidarity with the Russian branch of the community. On the same day, summary posts were made in /r/DankMemesFromSite19 and /r/SCP subreddits, gaining over 12,000 and 33,800 upvotes in one day, respectively (shown below, left).[48][49] Additionally, a number of memes about Duksin were posted in /r/DankMemesFromSite19 subreddit (examples shown below).




Notable SCPs
SCP-173
SCP-173 was the first SCP object written and served as the inspiration for the project. SCP-173 is described to be a statue-like entity that cannot move while in direct eyesight and can kill by breaking the neck of a victim if not observed, similar to the behavior of the Weeping Angels from the British television series Doctor Who. The original sculpture which the SCP was based upon was created by Japanese artist Izumi Kato.[3] SCP-173 is the first SCP to be written, and the original author did not expect it to expand to the Foundation today.[4]

SCP-087
SCP-087 is a seemingly endless stairwell that limits the vision of those exploring it by absorbing excessive lighting. People who descend the stairwell begin to hear the voice of a child call for them in distress from deep below the top floor. Additionally, a featureless face will be encountered by those who descend further, causing them to experience intense paranoia and fear.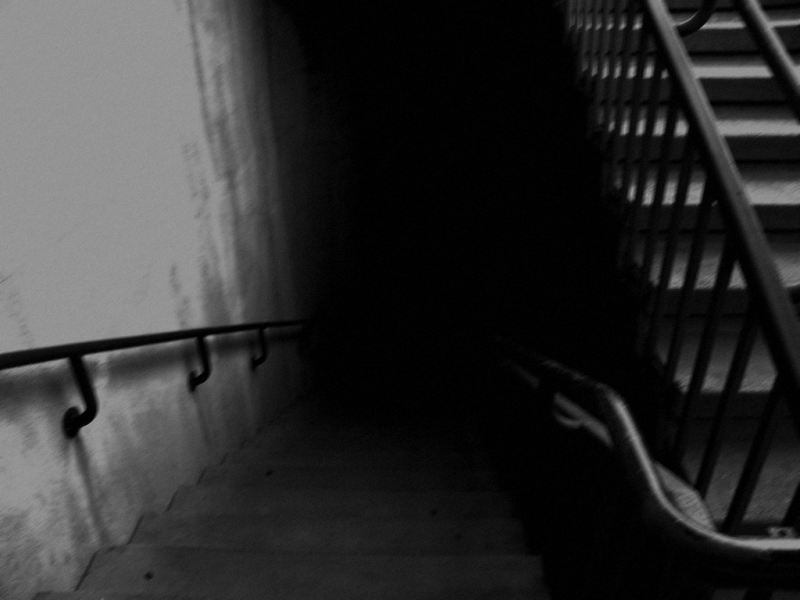 SCP-682
SCP-682 is a sentient, indestructible and highly adaptive reptilian creature. It's noted for being having a highly destructive nature when provoked, resulting in various containment breaches. Because of them, SCP-682 is the only entity on the site which the Foundation explicitly seeks to destroy, and has a test log detailing various attempts at destroying it, often using other SCPs as weapons. It is associated with a picture resembling a large skeleton covered in burned moss, which is said to be SCP-682 after being burned with acid. The picture was part of an article written in 2006 on EnglishRussia, simply describing the object being found on the Sakhalin shoreline in Russia.[4]

SCP-682 recovering from acid immersion
SCP-231-7
SCP-231-7 is the seventh in the group of allegedly underage girls impregnated with nondescript lethal creatures, and is the only survivor of the seven. The only way of suppressing the creature's birth is through Procedure-110 Montauk, which is never described in detail, but heavily implied to involve some sort of sexual torture. SCP-231-7's entry is notable for its heavy use of censorship regarding the girl's description and excessively strict security protocols.[5]
SCP-914
SCP-914 is a machine that allows users to place any object (even a biological being) into its input, after which SCP-914 modifies it into a related object, its quality depending on which of the five settings is selected: Rough, Coarse, 1:1, Fine or Very Fine. Because of its little understood mechanism and unpredictability of its modifications, SCP-914 has been popularly tested with various objects.
SCP-426
Hello. I am a toaster, known by the Foundation as SCP-426. Whenever I am referred to, whether vocally or textually, the speaker unknowingly refers to me in the first person. If a human being is near me, they will eventually believe that they are a toaster themselves, after which they will try to emulate a toaster's functions, and will even try plugging their fingers into a power outlet.
Fandom
Largely due to the popularly of the fan-made horror game SCP: Containment Breach, the SCP Foundation has become highly popular online. An official r/SCP subreddit exists with over 28,800 subscribers.[19] On DeviantArt, there are over 20,000 images tagged with "SCP", and there is an official group for SCP fan artists.[20][21]
Fan Videos
Many YouTube users have created fake documentary videos inspired by the series, as well as readings from various entries on the site.
SCP Games
Several games based on SCPs are under production, including Area-34 and SCP-682. One of the most popular games is SCP: Containment Breach[12] developed by Regalis. The game revolves around a containment breach of SCP-173 and involves SCP-106 and SCP-914 among others. Another game, featuring the exploration of SCP-087, lets the player explore the seemingly endless stairs of SCP-087. Neither of these games are produced by or affiliated with the Wiki but many members of the wiki have shown support for their development.
RPC Authority
RPC Authority (Research, Protection, Containment.) refers to a split-off creative writing wiki created on June 18th, 2018, following the Pride Logo controversy.[26] The proclaimed goal of the RPC Authority split is "keeping politics separate from a fictional universe".[27]

In the RPC universe, the contained entities (RPCs) are referred to as both "objects" and "anomalies". Each object is assigned a Containment Rating and a Lethality Rating, with the first signifying the difficulty of containing it (Greek letter-coded, ranging from Alpha to Omega with several exceptions), and the second signifying their lethality (color-coded, ranging from white to black).[28]

As of April 24th, 2019, RPC Authority had over 420 anomaly submissions, with the highest-upvoted entries being RPC-940-J, RPC-916 and RPC-✋-J (shown below).



On April 22nd, 2019, Redditor DustySniper provided an analysis of differences between SCP Foundation and RCP Foundation, the stances the two communities hold towards each other, and validity of bigotry accusations towards the latter. The post gained over 770 upvotes in two days.[29] In the same thread, Redditor -Wonder-Bread- provided multiple screenshots made on the official RPC Discord server in which RPC Authority moderators and users used racial slurs.[30][31]
Search Interest
External References
Recent Images 1,259 total