Words You Must Never Search
Warning: This page contains material that may be considered not safe for work.
About
Words you must never search, also known as "Keywords you must never Google," is a list of search engine keywords that are directly associated with shock sites and other undesirable media.
Origin
The indexing of "words you must never search" (Japanese: 検索してはいけない言葉), or "keywords you must never Google" (Japanese: ググってはいけない言葉) on the Japanese web began as a compilation of individual threads discussing all sorts of NSFW content and shock sites on the anonymous text board community 2channel. While discussions of shock sites, gory media and computer viruses have occasionally taken place on 2channel's /news4vip/[1] board since late 2007, the first prototype list of "words you must never search" was started on 2channel's /occult/[2] (paranormal & spiritual phenomenon) board in January 2008 and continued to be updated until 2012.
Spread
These keywords compiled in /occult/ board threads had been increasing its online presence by affiliated blogs; blogs which summarize 2channel's threads to generate money via Amazon affiliate program or Google Adsense. Additionally, these keywords have been compiled in Naver matome pages[3] and videos on YouTube[4] and the Japanese video sharing service Nico Nico Douga[5] where several videos have been watched over a million times. There is also a wiki dedicated to compiling these keywords[6]. Several online encyclopedic articles have been created about these keywords.[7][8] Japanese internet users often share these blog posts and videos on social networking services, mainly Twitter, and are sometimes simply spread word-of-mouth.
In the Media
In the Japanese mass media, the "Words you must never search" fad is treated like an urban legend. It has sometimes been included in articles about scary rumors by gossip magazines. Several books and magazines dedicated to these keywords have been occasionally released since 2009 (shown below).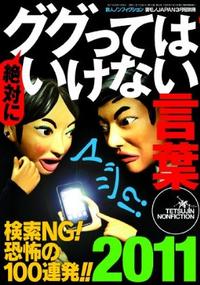 Categorization and Trauma Levels
Note: The following rule was created to avoid directly linking the content to the keywords when introducing them. Because of this, users often note what category the content falls under and how traumatic it could be, as well as including a brief description of what it is.
List of Categories
Note: This table is a translated rendition of the original tables provided in Japanese.

The Seven Levels of Trauma
Note: This table shows how traumatic the content is rated on a scale of 1 to 7, with 7 being the most severe (Original Japanese Table).

Notable Examples
The List




Keyword
(Romanized)
English Translation
Category
Lv.
Search Result
2girls1cup
-
Gore
5
2 Girls 1 Cup
愛の妖精ぷりんてぃん
(Ai No Yousei Printyn)
Printyn The Angel Of Love
Denpa
1
Very spiritual web page by a Japanese old lady
赤い部屋 完全版
(Akai Heya Kanzenban)
Red Room Complete Edition
Jump scares
4
A parody site of the famous interactive Flash animation adaptation of the urban legend "Red Room" (赤い部屋)[9]
アナゴさん
(Anago-San)
-
lolz
1
Vast amounts of voice samples of Anago-san from the Japanese TV anime Sazae-san.
あたしはもうお嫁にいけません
(Atashi Wa Mou Oyome Ni Ikemasen)
I Can't Marry Anymore
Mind Crasher
3
Title of a traumatic illustration by a Japanese illustrator Yuko Tachibana
Brian Peppers
-
Deformities
2
Brian Peppers
チャージマン研!
(Chājiman KEN!)
Chargeman Ken!
lolz
1
Chargeman Ken!
チェチェンの首切り
(Chechen no Kubikiri)
Chechen Guillotines
Gore
5
A snuff film of Chechen soldiers killing a Russian captive
クレイジーゴースト
Crazy Ghost
Jump scares
4
Scary pictures of a lady well-used in old jump scare flash videos. She's also known as the Red-Eyed Lady
ディルレヴァンガー
(Dirlewanger)
Dirlewanger
Gore
4
Username of a cat killer, filed as a Japan Animal Cruelty Case in 2002[10]
恵方巻き
(Ehō Maki)
Fortune Roll
Mind Crasher
3
Hissu Amoto San / Airmoto
exe ファイル 捨てたい
(Exe File Sutetai)
Remove Exe Files
Computer Damage
4
Malware that will leak your personal information
グリーン姉さん
(Green Neesan)
Sister Green
Gore
4
Photo of a decomposing corpse
ハッピーセット スポンジボブ
Happy Set Spongebob
lolz
1
Insane Set
ハラハラ
Harahara
Mind Crasher
2
Hissu Amoto San / Airmoto
蓮コラ
(Hasukora)
Lotus Collages
Gore
4
Photoshopped photos of people (esp. women) with lotus pod holes on their bodies
8月32日
(Hatigatsu Sanjū Ninichi)
August 32nd
Horror
1
Scary glitches in 1998 video game Boku no Natsuyasumi[11]
ひとりかくれんぼ
(Hitori kakurenbo)
One-Man Hide and Seek
Horror
4
One-Man Hide and Seek / Hide and Seek Alone
イケメン トラウマ
(Ikemen Torauma)
Good-looking guy Trauma
Gore
3
A scary picture of a boy with a long tongue
イキグサレ
(Ikigusare)
Fresh-looking but rotten
Deformities
2
Virtual idol group of deformed girls
淫夢
(Inmu)
Lewd Dream
Abnormal Fetishes
1
A midsummer night's lewd dream
淫乱テディベア
(Inran Teddy Bear)
Nympho Teddy Bear
Abnormal Fetishes
2
Gay porn video of a hairy fat man
イルカの夢でさようなら
(Iruka No Yume De Sayounara)
Goodbye with a Dolphin's Dream
Horror
3
Interactive horror story that progresses by killing a girl
JAL123
-
Gore
3
Pictures of horrific crash of Japan Airlines Flight 123[12]
樹海のおとしもの
(Jukai No Otoshimono)
Lost Items In The Sea Of Trees
Gore
4
Pictures of suicides' belongings left in Aokigahara, known as the suicide forest[13]
ジングルベル 逆再生
(Jungle Bell Gyakusaisei)
Reversed Jingle Bell
Jump scares
3
Jump scare Flash movie
暗い日曜日
(Kurai Nichiyoubi)
Gloomy Sunday
Mind Crasher
2
A depressing song known as the 1933 Hungarian suicide song[14]
黒い太陽 731
(Kuroi Taiyō 731)
Black Sun 731
Preposterousness
3
1988 Hong Kong-Chinese horror movie that used real corpses called Men Behind the Sun[15]
クソみそテクニック
Kusomiso Technique
Abnormal Fetishes
1
The original manga title of Yaranaika?
森の妖精
(Mori No Yousei)
A Fairy Of Forest
Abnormal Fetishes
1
Billy Herrington
モーターサイクル(モタ男)
(Motorcycle (Mota-Otoko))
-
Gore
3
Photo of a man who lost his face
野崎コンビーフ
(Nozaki Conbīfu)
Nozaki Canned Beef
Horror
3
Scary illustrations by a japanese artist
終わらない夏休み
(Owaranai Natsuyasumi)
Never ending Summer Vacation
Horror
4
Eroguro novel posted to the web circa 1998
POSO
-
Gore
5
Video footage of a religious war that occurred in indonesia from 1998 to 2001[16]
佐川一政
Issei Sagawa
Gore
5
Issei Sagawa[17], a Japanese man who killed and cannibalized a Dutch woman in Paris, 1981
先行者
(Senkōsha)
-
lolz
1
Senkōsha
sm666
-
Horror
3
Username666 (a.k.a. sm666)
騒音おばさんの真実
(Sō on obasan no shinjitsu)
The Truth of Mrs. Noisy
Fact
1
A conspiracy theory in Miyoco / Mrs. Noisy
スープおじさん
(Soup Ojisan)
Uncle Soup
Gore
3
Photo of a decomposing corpse in a tub
タイヤネックレス
Tyre Necklace
Gore
5
Pictures of necklacing[18]
ウクライナ21
Ukraine 21
Gore
6
Snuff films of Dnepropetrovsk maniacs[19] (21 stands for the number of victims)
ウォーリーを探さないで
(Wally Wo Sagasanaide)
Don't look for Waldo
Jump scares
3
Shocking flash video spoofing "Where's waldo?"
ウェスト夫妻
(West Fusai)
Mr. & Mrs. West
Gore
1
English serial killer Fred West and his wife[20]
検索してはいけない言葉
(Kensaku Shitewa Ikenai Kotoba)
Words you must not search
-
7
Pictures/videos suggested by the whole of the keywords in this series
Reaction Videos
There are many reaction videos on YouTube and Nico Nico Douga in which users film themselves while searching these keywords upon request. These videos are usually composed of video screenshots of the search results with a commentary from the user.
Search Interest
External References