Billy Herrington / Gachimuchi
Warning: This page contains material that may be considered not safe for work.

About
Billy Herrington was an American adult film actor and bodybuilder affectionately nicknamed "Aniki" (兄貴, jp. "Big Brother") in the Japanese online communities 2channel and Nico Nico Douga. Herrington's internet fame in Japan began in 2007 after clips from one of his films titled "Workout Muscular Men 3" became used as a bait-and-switch video and the source material for high-quality MAD remixes.
Online History
Born and raised in Long Island, New York, Herrington began pursuing his acting career after his high school graduation in 1996 when one of his nude submissions won him Playgirl magazine's "Real Men of the Month" contest. In the following years, Herrington modeled for French nude calendars and starred in a number of hardcore adult films that made him one of the best known same-sex adult films stars of the late 1990s. However, his internet fame began many years later on September 30th, 2007 with the upload of a video clip from Herrington's "Workout Muscular Men 3" via video-sharing community Nico Nico Douga (NND). Titled "Professional Pants-Wrestling" (本格的 ガチムチパンツレスリング), the video gained more than 5.5 million views in less than five years.
Billy Herrington's homoerotic wrestling clips soon emerged as a popular source for bait & switch trolling on 2channel in similar vein to Rickrolling that became widespread through the English imageboard site 4chan.
Gachimuchi Remixes
Herrington's videos spawned an extensive collection of MAD remixes numbering in tens of thousands on Nico Nico Douga. One of the more complex video-editing memes on the site, the footage was remixed in many different ways, including phonetic translation, sampling the sound of butt spanking, as well as remixes featuring 3D model characters and fanart of the actors. Eventually, the videos featuring Herrington's underwear wrestling scenes became known as "Gachimuchi Pantsu Wrestling"[2] videos. As of June 2012, there are more than 11,000 videos tagged with the label on Nico Nico Douga.[1]
Ultimate Muscle Roller Legend
Ultimate Muscle Roller Legend is a 3D animation video in which two Gachimuchi muscle men chase down and defeat the road-building, steam-rolling Kagamine Rin, characters from the second installment in the Vocaloid2 series.
The YouTube version of the video was uploaded on August 21st, 2009 and received more than 2.9 million views as of June 2012. According to the video description:
Deep in the forest lived Billy and his charming companions. They peacefully honed their bodies and listened to music there. But a wave of development came upon the forests. One who would turn all to road. Kagamine Rin had come. Billy must stop the construction before all is turned to road.
Related Tags
Billy Herrington wrestling videos are deliberately tagged with misleading labels like "Wrestling Series (レスリングシリーズ resuringu shirīzu))", "Forest Fairy" (森の妖精 mori no yōsei) and "Philosophy" (哲学 tetsugaku). The nickname "Fairy of Forest" (森の妖精 or "Mori no Yousei") stems from a scene in one of his works, where he appears as a fairy coming from the forest. In Japanese, "forest fairy" is a slang term used to describe a homosexual person.
The Three Major Principles of the Big Brother
Based on three specific phonetic translations of the dialogues between Herrington and other actors in the films, a set of principles emerged to seal Billy Herrington's persona on the Japanese web as a philosophical guide embodied in the Big Brother nickname.
Those three lines represent the three major beliefs of the "Fairy Philosophy" (妖精哲学, Yousei Tetsugaku).

Other Misheard Lines
Another famous misheard line is "How do you like that huh?", which became "Ankake Chaahan" (あんかけチャーハン?), meaning fried rice with sauce on top in English. Ankake Chaahan became a well-known tag used for Gachimuchi/Touhou crossovers. There is also "Ass We Can", based on Barrack Obama's well known line "Yes We Can".
Two other famous lines pertaining to the meme aren't uttered by Billy Herrington but by actor/dancer Danny Lee, nickname Kazuya by Japanese fans of the meme, during the wrestling scene.
The first one is "Tsuyokunaritai!", meaning "I want to get stronger!", a misheard line from a brief exclamation by Danny Lee which is quite unintelligible. The other one is "Two can play it!" that became misheard as 新日暮里! (Shin-Nippori!). Because it sounds like a place name or a station name to Japanese ears, it has become a sacred place among fans, located somewhere in the east side of Tokyo, probably around an actual station called Nippori.
Thus, while Billy Herrington is depicted as a philosophical figure and a leader, Danny Lee is more depicted as a hard-working fellow in this meme's universe.
A precise list[8] of most of the lines can be found on a Japanese wiki-based page about the phenomenon, even though it doesn't state which actor/character says them. The tags there work as follows:
空耳 = Misheard Phrases
英語 = Original Phrase
発音 = Pronounciation
意味 = Original Phrase Meaning
Reputation
On February 14th, 2009, Herrington visited Japan after he was invited to make an appearance in a special Nico Nico Douga livecast for Valentine's Day. According to the YouTube video description, more than 10,000 fans of Billy Herrington showed up at the Nico Nico Douga event in Tokyo's Akihabara district.
During his visit, Herrington also made other appearances in the media, including an interview with Japanese site Ascii (shown below, left) and a guest spot on a late night talk show (shown below, right).
The male idol has then attended several other Nico Nico Douga conventions in Japan through out the years.
On the same day as the event, Japanese model kit makers Good Smile Company announced that they would manufacture a limited-edition Billy Herrington action figure[5] to be released in July 2009. The news quickly spread through the grapevines of both Japanese and English blogs Kakaku[4], Ascii[6] and Gawker[3] among others.



Death
On March 1st, 2018, Herrington got into a car accident and was transported to a hospital, where he died the next day at the age of 48. On March 3rd, pornographic film director Chi Chi LaRue tweeted a memorial tweet for Herrington, which gained over 4,000 retweets and over 1,500 likes in less than 12 hours.[9] Shortly after, Herrington's mother, Kathleen Wood, confirmed the death in a Facebook post which recieved over 1,400 reactions over the same time,[10] revealing he died in a car accident. The hashtag #ビリー兄貴 ("Billy aniki") was used on Twitter in memory of Herrington.[11]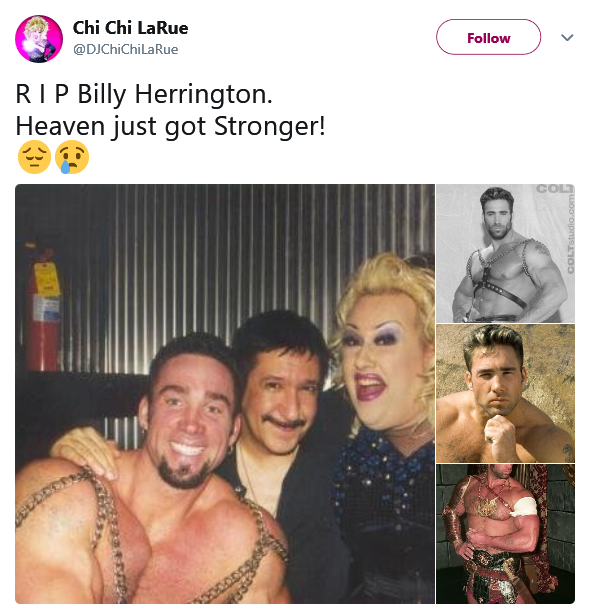 On March 16th, 2018, content creator MowTenDoo uploaded a tribute video dedicated to Herrington that gained over 400,000 views in two years (shown below).
Memorial
As a smaller footnote in the larger War in Ukraine, a petition was put in that had enough signatures to force the Ukrainian President Zelensky to officially consider the city of Odessa putting up a statue of Billy Herrington to replace a Russian statue of Catherine the Great. The petition needed 25,000 signatures, which it acquired, meaning Zelensky is now legally obligated to consider the proposal. The proposed idea is claimed to be a way to remove Russian influence from Odessa, while the statue which would be of Billy Herrington Drinking Beer.
Notable Examples
Search Interest
External References