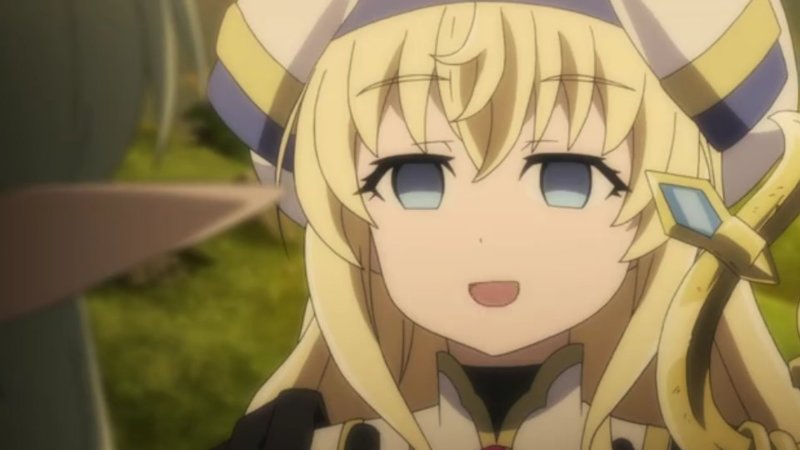 About
You Get Used To It refers to a popular scene of the anime Goblin Slayer, which gained notoriety for being used as an Object Labeling meme and as a Reaction Image using the Priestess and High Elf character's expression.
Origin
On October 27th, 2018 the fourth episode of the Goblin slayer anime premiered in which the Goblin slayer's group enter a ruin to hunt a group of goblins. Before entering the ruins, the slayer grabs a goblin corpse and stabs it to get some blood to hide their scent. Shocked for this action the High Elf Archer asks for help from the Priestess who responds "You Get Used To It" with a deadpan expression (scene shown below).
On the same day /r/Animemes user Frocharocha[1] uploaded an object labeling meme about anime viewers and graphic content and manga readers telling them that they will get used to it. This image managed to score 4,600 points in the coming days (shown below).

Spread
After the episode aired, multiple edits of the scene using the Priestess expression were uploaded to the subreddit. For example, user Dragoniod20[2] uploaded a Steven Crowder's "Change My Mind" Campus Sign edit about dead memes (shown below left), while the users diucap[3] and Rig5terj[4] uploaded other object labelings using the character Izuku Midoriya from My Hero Academia and a joke of the FBI checking "fucked up porn" (shown below, center, right). These images gained 8,300, 4,900 and 4,500 points respectively.



Various Examples






Search Interest
External References
Recent Videos
There are no videos currently available.