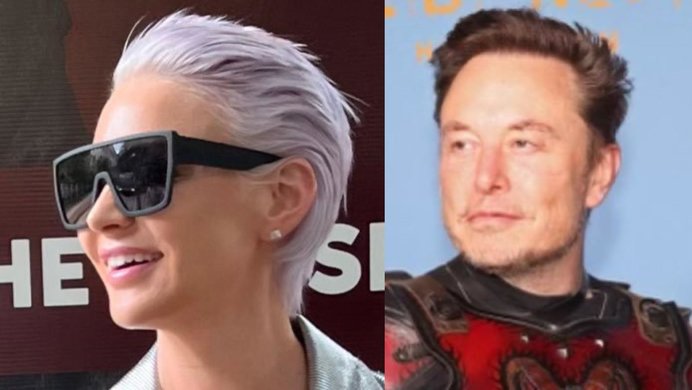 A series of accusations that activist-influencer and purported human trafficking survivor Eliza Bleu lied about large parts of her life story has kicked up conversations about alleged corruption at Twitter in the Elon Musk era in recent days.
Bleu, who purportedly has connections high up at Twitter, notably helped push the narrative that under Musk the platform was doing a better job at taking down child pornography and videos of nonconsensual sex — and her follower count ballooned in recent months. Now, accounts posting accusations against Bleu claim that Twitter is allegedly banning them and locking them out.
Gotta say one thing for Eliza Bleu.

She's singlehandedly waking people up to the hypocrisy that is Elon Musk's "free speech" Twitter.

— ThatUmbrellaGuy (@ThatUmbrella) January 26, 2023
The accusations have been circulating for a while, but online news source The Quartering put them together in a series of "#ElizaBleuFiles," leading the news to spread online today.
In Yesterdays #ElizaBleuFiles I re-introduced the internet to Eliza Bleu, the activist that has the power to change the rules at twitter & ban/censor her critics.

Today we get part 2: How A Clout Goblin Falsely Took Credit For Twitter Removing Child Porn… pic.twitter.com/pWaMpJoO6n

— TheQuartering (@TheQuartering) January 31, 2023
Eliza Bleu, a relatively obscure small account on twitter gained 48,000 followers in November and an additional 116,000 new followers on the back of being touted as the slayer of child porn on twitter.

The only problem is…it was still there, it never went anywhere

— TheQuartering (@TheQuartering) January 31, 2023
Bleu describes herself as a "human trafficking survivor advocate and a survivor herself," according to her personal website, and runs a podcast about the topic. Her account on Twitter now has over a quarter of a million followers.
Amind the recent controversy surrounding her, some accusers allege that Bleu is a "grifter," was not sexually trafficked and has concealed details of her past — though this is unproven. They also claim that her father is an Illinois politician and that Bleu has allegedly stolen money from charity.
Putting this in my timeline as a reminder for later when she's exposed. Eliza Bleu/Cuts/Knows is really Eliza Morthland, daughter of a politician, who claims she was sold to someone for $500. Eliza is a fraud using victims for her own financial and narcissistic gains. pic.twitter.com/oke4uIRmUy

— In The Middle (@MarcMiddle) January 12, 2023
My "trending" page.🤣🤣🤣

Eliza Bleu is the next Amber Heard!

So many allegations with no proof, names, dates or places. Evidence of her life show the exact opposite of her "victimhood".

All while ripping off real victims of human trafficking! What a POS! pic.twitter.com/LxQM3oht4a

— David Kellner (@Decay101) January 31, 2023
After Musk's acquisition of Twitter late last year, several news outlets reported that the quality of the platform's content moderation was actually worse since most of the people doing the work of removing sexually exploitative material from the site had been fired or quit.
The issue of sex trafficking and the exploitation of children has been a prominent right-wing fixation for a long time, as well as conspiracy theories like Pizzagate and QAnon that are often centered around supposed child trafficking and accusing liberals of systematically exploiting children.
Closer to the mainstream, Elon Musk notably replied to a series of tweets last month that alluded to Twitter's old head of Trust and Safety, Yoel Roth, being an alleged pedophile and that Twitter itself was supposedly complicit. Bleu was prominent in Musk's replies helping to push this narrative.
This explains a lot

— Elon Musk (@elonmusk) December 10, 2022
Bleu also went viral in December 2022 for tweeting about how Twitter before Musk was purportedly complicit with exploitation. Her pinned tweet is from September, criticizing the platform in the pre-Musk era.
Reminder: a 13 year old minor survivor begged Twitter to remove a video sexually exploiting him.

Twitter reviewed the content and said NO.

They had his government ID showing that he was a minor at the time.

The video had over 160k views. Over 2k retweets.

— Eliza (@elizableu) September 4, 2022
Various accounts that have shared accusations about Bleu, including The Quartering, claim to have been banned or locked over the last week. They point to this as purported evidence of corruption at Twitter, speculating that Bleu must have asked her supposed connections to punish these accounts. The evidence given of Bleu's connections is slim, but as some pointed out, she is followed by both Ella Irwin, current head of Twitter's Trust and Safety, and Jack Dorsey.
elizableu</a> is a lying, grifting, clout-chasing narcissist who used her friendship with <a href="https://twitter.com/elonmusk?ref_src=twsrc%5Etfw">elonmusk to silence those who questioned her story. This person is just evil IMO. I encourage everyone to call out her hypocrisy and demand proof of her being "trafficked".#ElizaBleuElon https://t.co/EIhtvWVsTf

— Nunchuk Norris (@NorrisNunchuk) January 25, 2023
Brittany Venti announced she is STILL locked out of Twitter because of Eliza Bleu.

STILL BANNED.

Elon Musk and Twitter seem intent on making this THE ISSUE and tanks the platform. pic.twitter.com/IaPUjACLUD

— ThatUmbrellaGuy (@ThatUmbrella) January 31, 2023
Eliza Bleu helped Elon design the very reporting mechanism she is now using to get everyone who proved she's a trafficking survivor fraud permanently banned.

Oh and they're definitely banging

— Abby Libby (@abbythelibb_) January 30, 2023
Bleu has pushed back against the accusations publicly today. She also says that claims she asks Musk or others for favors are not true.
He doesn't need me to stand here, but I've decided that I'm not moving. Let that sink in.

As far as being an advocate goes, I'll die an advocate. My advocates went to hell and back for me, I have not forgotten their kindness. The least I could do is the same thing.

— Eliza (@elizableu) January 31, 2023
I also don't ask him to do favors for me.

If I was going to ask for a favor from Elon Musk, I would ask him to make humans a multi-planetary species. So basically what he's already working on. I don't need to ask.

— Eliza (@elizableu) January 31, 2023
If everyone is wrong about Eliza Bleu, I would still dislike her based on how she has handled criticism. She has clearly shown that she values her own image and gimmick than she does the cause she claims to be advocating for.

— Steel Toe Morning Show (@AaronImholte) January 26, 2023
The Eliza Bleu accusations are all unconfirmed as of now despite widespread speculation, but what is reported is a pattern of haphazardness around Twitter content moderation in the Musk era. As Bloomberg reports, staff cuts to Twitter have led to a smaller content moderation team that appears to operate not by a set of rules but according to what Musk and others direct them to do.