On August 6th, 2021, Twitter user @Mattybtweets69 tweeted, "If the Mona Lisa was painted today, she would have big boobs, be taking a 'selfie,' have a cellphone, huge boobs, be wearing a ton of makeup, and have ginormous boobs."
Just over one year later, artist Greg Lansky created Algorithmic Beauty, a statue imagining a 21st-century version of the Ancient Greek sculpture Venus de Milo with many signifiers of 21st-century beauty standards, chief among them being massive breasts.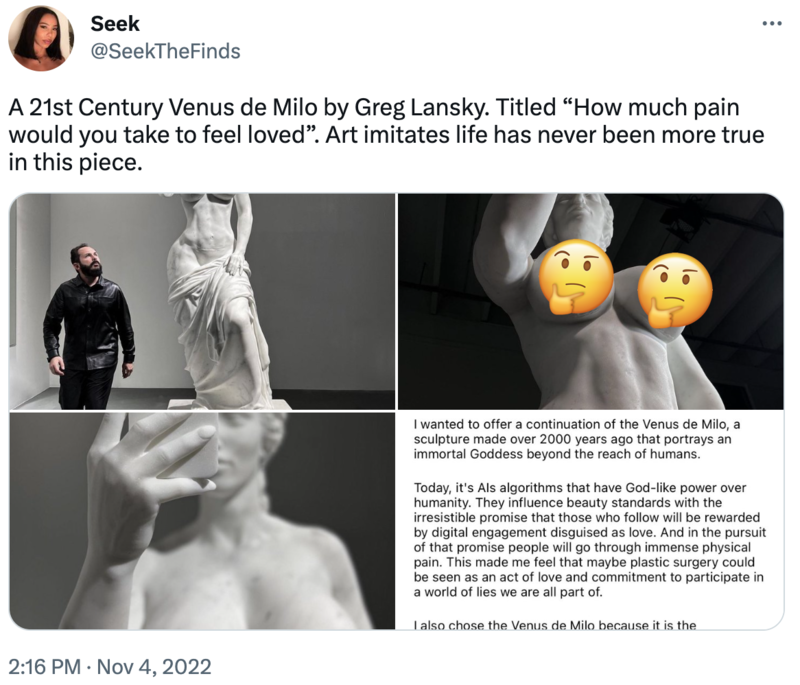 The Thinky Emoji-less version of the statue was originally posted to Lansky's Instagram in November last year. There, viewers can take in his modern interpretation of the classic marble statue, which shows the sculpture taking a selfie with a phone. The model also has several scars, suggesting she underwent multiple surgeries in pursuit of the perfect body.
About Algorithmic Beauty, Lansky explained:
"I created this work reflecting on the relationship between pain and feeling loved in a world driven by AI algorithms … 'Algorithmic Beauty' has no beauty filters. The marks from plastic surgeries are displayed with grace and dignity like the battle scars of an endless war no one can win."
On Instagram, several commenters were impressed. Rapper Tyga gave the piece three fire emojis, while another user unironically commented "This says a lot about society."
On Twitter, however, the piece wasn't received as positively. It was tweeted days after it was first posted to social media by user Seek the Finds, but sparked a round of viral discourse when @Mattybtweets69 discovered he'd essentially invented the piece 18 months ago.
As the humorous observation spread on Twitter into today, users had plenty of critiques about Lansky's concept and technique. User @punishedcait noted that "none of the scars are where they're supposed to be," pointing out the "tummy tuck" scar looked more like a C-section scar and the others on her breasts are consistent with breast reductions, not enhancements.
just say you wanted to put big fake titties on the venus de milo, who cares. don't try to convince me it's actually feminist

— cait (@punished_cait) February 22, 2023
Others called it a "Boomer piece of Phone Bad artwork." One commenter condemned it as a "Hunt Down the Freeman type beat," which is a particularly devastating insult if you're familiar with the fan-created Half-Life 2 mod.
The critiques many people had for Algorithmic Beauty began to make more sense when they looked up Greg Lansky online and discovered that before he became a sculptor, he grew famous as one of the most influential pornographers on the internet. Lansky is the founder of adult film brands such as Blacked, Tushy and Vixen.
This made Lansky's pretensions of a deep message behind his piece ring hollow for some. As one commenter put it, "A pornographer put big stonking tits on the Venus De Milo and worked backwards to justify it, not even using the right surgery scars to do it."