PROTIP: Press 'i' to view the image gallery, 'v' to view the video gallery, or 'r' to view a random entry.
About
Abridged Series is a subgenre of video parody that involves narrating the condensed version of popular media that often poke fun at faulty or unconventional premise and plotlines found in the said media. Abridged parodies are especially popular with cartoons and anime series, due to their simplistic and easy-to-dub nature.
Origin
On July 14th, 2006, Martin Billany,(screen named LittleKuriboh) released a condensed spoof the well-known Anime Yu-Gi-Oh entitled Yu-Gi-Oh: The Abridged Series. After being removed from youtube twice for copyright claims, littlekuriboh made his own website to host all the episodes.

The series consisted of parodying the absurdity of the plot of Yu-Gi-Oh while using outside references. It's dubbed brilliance gave great lulz from the otakus to people who were basically unfamiliar with the show itself.
Yu-Gi-Oh: Abridged Series

Yu-Gi-Oh: The Abridged Series is a dramatically shortened down version of the original series, cutting each episode down from its original twenty minutes.
The series is focused on making fun of the eccentricities of the series, most prominently the fact that Duel Monsters is a children's card game, yet is played by teens and adults with unfaltering seriousness and unreal consequences. This leads to frequent commentaries about the role of the game in the series and the plot of such. It also lampoons the changes made to the series in the English dub, and greatly exaggerates the characters' personalities from that version, to comic effect.

Intrest Over Time

Creation of a Genre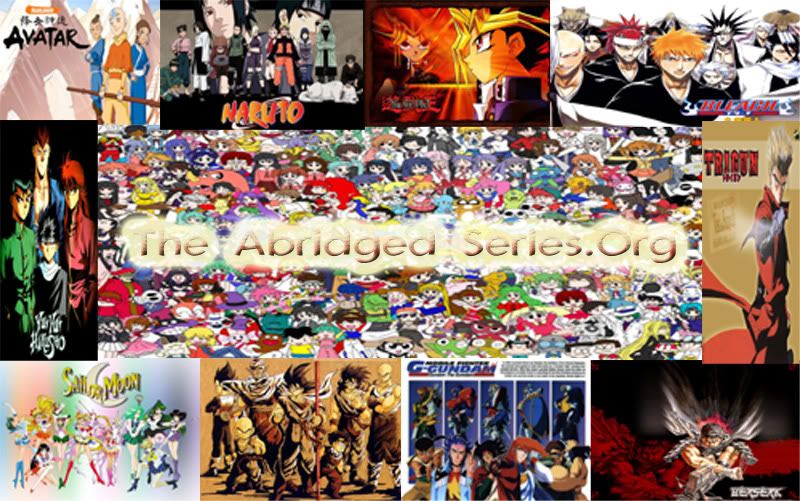 Since Martin's first abridging, many other have followed. Many who did so credited LittleKuriboh as an inspiration. Most abridged series follow the same format of YTAS, making a comedic redub of an anime show. Below are a few early key abridgers who began their own individual youtube shows. Due to the grey legal nature of an abridged series (Using footage that isn't theirs, but it being a parody protects it under fair use, and that they do not make money off of the footage) many accounts have been deleted and videos removed, making exact dates difficult to pinpoint. These are in an approximate order.
MasakoX and Vegeta3986 created Naruto The Abridged Series which was for a time the second most popular Abridged Series and strongly competed with YTAS. Likely not the first abridged series after LittleKuriboh, but definately the second one to gain popularity.
Lanipator is known for his excellent Chris Sabat impressions. After an injury that kept him down, he wandered around the interwebz and stumbled upon LittleKuriboh's show and it inspired him to create his own Yu Yu Hakusho Abridged Parody.
hbi2k is a man of renown when it comes to abridging. Few finish their series, losing interest or losing time to work on it. hbi2k has not only finished Berserk: The Abridged Series, but after that he went on to start Gantz: The Abridged Series. Then he finished that. Not done there he began and completed Vision of Escaflowne: The Abridged Series. Other things to note are that in a genre where episodes are released a very best a week apart, often months going between updates, during Berserk he released two episodes within the same week. Also, in Escaflowne, he had a different opening for every episode.
GanXinba began an abridged series that was not Japanese Animation, but instead of an American title. Avatar: The Abridged Series
KaiserNeko, the editor of TeamFourStar (And provider of some stellar voices) had struck out on his own originally with his Lupin The 3rd The Abridged Series. Which has had a whole lot of legal trouble. Which is why there are blue haired tigers on the screen of that video.
Takahata101, the voice of quite possibly the most popular abridged character, Nappa. He is also constantly called a voice whore, as he lends his voice a large number of series for large or small parts.
Megami33 is one of the rare female abridgers and created Sailor Moon Abridged.
Antfish created and completed the short but wonderful Jojo's Bizarre Adventure The Abridged Series Parody.
Creation of TeamFourStar

TeamFourStar was formed in late 2008 primarily by KaiserNeko, Lanipator and Takahata101 and employs voice work from all of the above abridgers (including LK), who are considered the best and most successful abridgers of 2006 though 2008. The assembly presents what can strongly be considered the greatest (And is most certainly the most popular) abridged series as it features great video quality, fabulous voice work from it's all star cast and the masterful editing of KaiserNeko. They currently work at about an episode a month, which for abridging, is a very respectable rate of content. In addition to the series they have some standard extras like FAQ's, bloopers and con promotions. In addition they have abridged two of the Dragon Ball Z Movies, BARDOCK Father of Goku and The Tree of Might (And a little side project of One Piece).
Other Significant Abridged Series
The current de facto Prince of Abridging who has captured the attention of many involved in or fans of abridging is purpleeyeswtf. June 10, 2010, he submitted the first episode of his Code MENT. A stellar episode that is shockingly, astoundingly good for what is a first attempt at abridging. The speed of his humor is more akin to a youtube poop than your usual Abridged Series, and his video quality and editing are both outstanding. After ten more episodes of Code MENT he made an episode paroding One Piece called None Piece. This series is his true claim to fame. Since starting Code MENT he had only gotten better, and through a little Like boost by LittleKuriboh, his name splashed onto the Abridging curcuit.
MasakoX had also started a different project without Vegeta, Kamfer The Abridged Series. A number of star abridgers and other voices are also involved.
GuttedWrenStudios has made themselves a respectable abridged series with respectable views called GWS: MSG Abridged.
TShibusenProductions' Soul Eater Parody. It features five of the members of TeamFourStar in it's cast but was made by Ezekeiru. It seems they planned on only doing the first three episodes though.
1KidsEntertainment's Pokemon 'bridged.
Facebook Comments