PROTIP: Press 'i' to view the image gallery, 'v' to view the video gallery, or 'r' to view a random entry.
This submission is currently being researched & evaluated!
You can help confirm this entry by contributing facts, media, and other evidence of notability and mutation.
About
Bad Joke Eel is an advice animal image macro series featuring a close-up photograph of a Moray eel with various captions delivering unfunny puns and jokes, very similar to Lame Pun Coon.
Origin
The photograph[1] (shown on left) was originally taken by Jeffrey N. Jeffords while scuba diving in the Philippines for his site, Dive Gallery.[2] The first known image macro instance (shown on right) was posted via AdviceAnimals subreddit on January 12th, 2012. The thread[6] reached the frontpage of Reddit and the image has been viewed over 400,000 times in the first four days.


Prior to becoming associated with the title "Bad Joke Eel" on Reddit, the same image was used as a punchline for the phrase "That's amore" by a commenter on FARK[3] forum on October 13th, 2009 and in an image macro on the humor site So Much Pun[4] on January 25th, 2011. The series shares similar characteristics with several image macros including Lame Pun Coon and Chemistry Cat.
Spread
The Quickmeme entry[5] for "Bad Joke Eel" was created on the same day of original Reddit post, spawning over 700 instances on the site in four days. A variety of derivative instances were soon posted on a number of internet humor blogs like I Can Has Cheezburger[9], Sad and Useless[8], Tastefully Offensive[11], FunnyJunk[12] and BuzzFeed[10] among others. Additional image macros has been posted on various Tumblr blogs[13], which can be tracked with the hashtag #Bad Joke Eel.
Notable Examples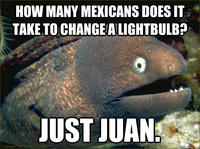 Search Interest
[not available]
External Links
Facebook Comments