PROTIP: Press 'i' to view the image gallery, 'v' to view the video gallery, or 'r' to view a random entry.
This submission is currently being researched & evaluated!
You can help confirm this entry by contributing facts, media, and other evidence of notability and mutation.
About
Brave Perspective (Japanese: 勇者パース, Yūsha Pāsu; abbr. "Brave Pers.") refers to a style of animation drawing in which robots or other warrior characters are portrayed with a long sword or a weapon at a wide angle. Also referred to as the "Brave Stance" (勇者立ち, Yūsha Dachi), "SUNRISE Perspective" (サンライズパース, Sunrise Pāsu; abbr. "SUNRISE Pers.") or "SUNRISE Stance" (サンライズ立ち, Sanraizu Dachi), as it is often featured in anime produced by the Japanese animation studio SUNRISE,[1] the style has been parodied on Japanese illustrators communities since around 2010.
Origin
The invention of the style has been credited to the 1990s SUNRISE TV anime series Brave Series[2] and two Japanese anime creators who were involved in its development: Masami Ōbari,[3] who has created the opening credit sequences for many titles in this series and whose individualistic drawing style has deeply affected to SUNRISE robot anime titles not only by himself but also by his followers since 1990s, and Mitsuo Fukuda,[4] who had attended to several early titles in this series as technical director or storyboard writer.
Brave Exkaiser
The first appearance of the shot drawn in this style is the movement of Great Exkaiser's special attack "Thunder Flash" in the first title in this series Brave Exkaiser[5] aired from February 1990 to January 1991. In that Ōbari-like movement designed by Fukuda, he inserted an impressive shot where Great Exkaiser is taking an oblique stance with lowering the center of the gravity, and holding a long sword from left to right. In addition, this pose is drawn in very free perspective that swords looks like so huge and heavy.
Since this perspective drawing style was also utilized in protagonist robots' special attacks in subsequent titles even after those creators left from the series, it became to be known as the characteristic drawing style in Brave Series among Japanese anime Otakus in the early days. Therefore, otakus began to call it as "Brave Perspective" in the same manner to a famous anime drawing style called "Kanada Perspective" (金田パース, Kanada Pāsu) by a Japanese influential anime creator Yoshinori Kanada.[6]

"Brave Perspective" in Brave Series
In the following years, Fukuda told on his Twitter[7] that he had designed this special attack movement by referring to other designers works. So, it's generally understood among Japanese anime Otakus that Ōbari is the originator of this drawing style and he with Brave Series staffs including Fukuda established his style into a standard rendition technique.
Spread
Though Brave Series ended in the last century, "Brave Perspective" itself had continued increasing its presence gradually by many SUNRISE titles produced by Ōbari's followers in the first half of 2000s as well as Gundam titles Gundam SEED[8] and Gundam SEED Destiny[9] directed by Fukuda. Because those titles drew impressive scenes in "Brave Perspective", it was re-found as an iconic drawing style in SUNRISE titles, and became to be dubbed as "SUNRISE Pers." or "SUNRISE Stance" in the middle of 2000s. However, substantial increase of its presence had to wait till this kind of photos compiling shots drawn in this style began circulating on Twitter in late 2009 and 2010.
Against the backdrop of the large popularity among Japanese people which had been developed throughout about 20 years, nowadays "Brave Perspective" is often utilized in fan creations or parodies to cite the special aura. There are many illustrations of characters holding some long tools or weapons drawn in this style on online illustrators communities pixiv[10] and Nico Nico Seiga[11] that have been posted since around 2010.
Notable Examples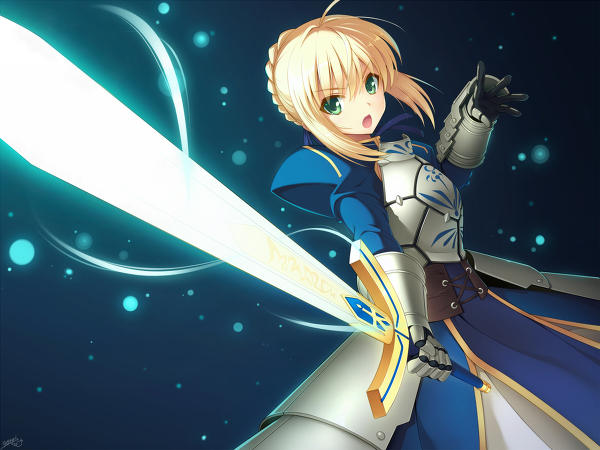 Search Interest
In a reflection of its history, nowadays this drawing style is mostly called as "SUNRISE Pers." (サンライズパース) or "SUNRISE Stance" (サンライズ立ち). It's occasionally called "Brave Stance" by mixing those words and "Brave Pers".
External References
Editor's Note: Registration is needed to browse the original illustrations listed in this section.
Recent Videos
There are no videos currently available.
Facebook Comments